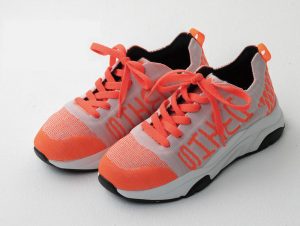 NC State student's research project evaluated how natural fibers performed compared to man-made fibers in knit structures commonly found in shoe uppers.
By Zoe Newman
Textile research and innovation is important for many students, faculty, and staff at the Wilson College of Textiles at North Carolina State University in Raleigh, N.C. It is also not uncommon for the campus community to be aware of the latest fashion trends. The introduction of knit footwear by Nike and Adidas in 2012 became popular on campus and around the world. Access to advanced technology and machinery at the Wilson College of Textiles led to a study focusing on the integration of natural yarns in knit footwear uppers. Sustainability is of increasing importance in the industry. This study was prompted by the current global environmental crises and textile impacts currently facing our world.
Climate Change; Sustainable Textiles
In 2015, the Paris Climate Agreement brought nations together to fight climate change and reduce global warming.
The fashion and textile industries are contributors to climate change, producing a copious amount of waste, including footwear materials. However, the introduction of knit footwear to the industry was groundbreaking for sustainable initiatives. The product changed how some footwear is made, using only a single piece of fabric for the upper of a shoe as opposed to multiple pieces that produce waste in a cut-and-sew process. The Adidas Primeknit shoe is one example of a shoe featuring a single panel of fabric.
In such a shoe, as in many knit footwear pieces, man-made or recycled man-made polymers are used. Man-made polymers offer unparalleled strength in comparison to natural fibers. However, the use of man-made polymers is detrimental to the environment. Man-made waste in landfills results in runoff containing microplastics, which travel to bodies of water and eventually impact our ecosystem. One study showed 35 percent of microplastics in the oceans come from man-made textiles.* The introduction of recycled man-made polymers has been groundbreaking for this reason. Companies such as Parley for the Oceans and Greensboro, N.C.-based Unifi Inc. have developed recycled man-made fibers made using plastic bottle waste diverted from or found in the oceans. The use of this yarn in many products has been helpful to delay man-made plastic waste in landfills, however it is not a solution to the environmental crisis our world is facing.
Ideation
The goal of the research project was to evaluate how natural fibers compare to man-made fibers in the development of knit structures commonly found in footwear uppers. This study may allow product developers and researchers to consider more natural components for use in footwear. While footwear made using natural fibers may not be as strong as those using man-made fibers, it may have a beneficial impact on our environment.
In the study, three knit structures were developed using Unifi's Repreve®, 100-percent cotton, and 100-percent hemp yarn (see Table 1).
Research was limited to Shima Seiki's N.SVR123 weft flatbed knitting machinery, and did not test all types of man-made or natural yarns. Repreve was chosen as a regenerated man-made fiber for this study because of its popularity in the industry for such footwear uses. Cotton was chosen for its known comfort and strength; while hemp was chosen for its emerging market in the United States as well as its possible applications in other components of footwear, including, but not limited to, composites for soles.
The following research questions were addressed:
How does yarn content impact the performance attributes of knit structures?
How does the knit structure impact the physical properties of fabrics for footwear applications?
Fabrication
Table 1 shows specifics regarding the fabrics that were developed. Each fabric was controlled for best performance on the knitting machine.
Testing
Each fabric was tested for thickness, weight, abrasion resistance, air permeability, moisture regain, burst strength and elongation. The Repreve fabric performed markedly well in many of the categories as a result of its crystalline orientation developed during processing and extrusion. In comparison to hemp, the cotton fiber performed well in the air permeability, burst strength and moisture regain categories. Hemp had a low burst strength likely due to the processing of the fiber, and the use of only one end in the making of the fabric. The hemp fiber also provided greater moisture regain results than cotton, which may be useful in certain footwear markets. The fabrics developed for the study are shown in Figure 2.
Conclusions
The results of the study may conclude that a breathable, open structure such as the mock mesh may be expected to perform with greater air permeability and lower burst strength standards. The integration of an inlay yarn will develop a stronger fabric for footwear applications. Ultimately, further research may address the use of different structures in footwear and it will be necessary to evaluate the efficacy of hemp and other natural fibers in the footwear market. The research in this study may act as a steppingstone for future footwear development with the integration of natural yarns. Future research may be performed in which natural fibers are blended to provide certain properties in a footwear fabric. It may also be important to evaluate the performance of natural fibers in wet environments.
The development of knit footwear using natural yarns is a step in the right direction in addressing the environmental crisis. Eventually, we may see students at the Wilson College of Textiles and universities around the world wearing knit footwear derived from natural fibers.
---
Editor's Notes: Zoe Newman is a student graduating with a Master of Science in Textiles in December 2020, and graduating with a Ph.D in Textile Technology Management in December 2022 from NC State's Wilson College Of Textiles, Raleigh, N.C.
If you are interested in supporting this project or would like more specifics on this research including fabric specifications, please contact Zoe Newman (zlnewman@ ncsu.edu) or Dr. Andre West (ajwest2@ncsu.edu), Director, Zeis Textile Extension, TATM.
---
November/December 2020