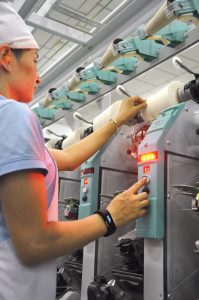 Spinning technology introductions make efficient, cost-effective and high-quality yarn production more attainable than ever before.
TW Special Report
Spinning technology is a more mature segment in the textile machinery industry. Beginning with Eli Whitney's cotton gin in 1794, and after several centuries of revolutionary ideas and rapid technology advances, the modern-day spinning plant now is highly automated and technologically advanced. New technology introductions to the space tend to offer incremental improvements rather than earth-shattering innovations. However, spinning remains a highly important textile process and machinery manufacturers continue to innovate for both the staple fiber and man-made fiber spinning sectors.
ITMA 2019 in Barcelona, Spain, provided the perfect opportunity for suppliers to the spinning industry to showcase their latest innovations. Most innovations focused on efficiency improvements and Industry 4.0 concepts.
Savio Group
Italy-based Savio Macchine Tessili S.p.A. is focused on product innovation and Industry 4.0. Its winding systems are suitable for many different needs including challenging operations such as managing man-made fiber yarns and elastomeric yarns. Its Polar Evolution and EcoPulsarS winding machines are designed to handle such challenging yarns with features including special splicing and tension control devices.
The customer's request for fully automatic link solutions instead of freestanding winders and ring spinning frames without doffing devices led Savio to offer its bespoke Direct Link System solutions. Savio's Multi Link connects multiple ring spinning frames to one winder compared to the traditional system that is a one spinning frame to one winder configuration. A special iPeg tray circulates the bobbin to and from the winder. Savio reports the Multi Link optimizes space, as well as reduces both energy consumption and production costs.
When it comes to Industry 4.0, Savio is focused on connectivity, data management, remote machine set up and real-time operator interactivity with smart components for online data transmission. Savio offers three levels of sophistication with its Savio Industrial IoT — Basic, Business or Executive — varying from simple connectivity and machinery data downloads to remote machine set up and operator real-time interactivity. The company also offers a new control system that can alert an operator of a machine problem directly to his or her smartwatch. The Savio Smart Bracelet smartwatch communicates the type of intervention required and the operator can act quickly to minimize machine downtime. Today's Savio Group incorporates Savio, Loepfe, Mesdan, BMSvision, Eutron, Sedo Engineering and Sedo Treepoint. The group provides state-of-the-art solutions for yarn finishing and quality control through its machinery, components, laboratory and systems companies.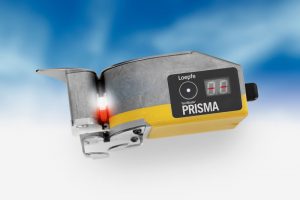 Savio Group company Switzerland-based Loepfe Brothers Ltd. offers spinning quality control solutions including the YarnMaster PRISMA yarn clearer, which was in development for several years, according to the company. It has four integrated sensors — the DM Sensor, which integrates the optical and mass yarn clearing sensing technologies into a single sensing head for dual measurement; the RGB F sensor that sees the full spectrum of light for foreign matter detection; and the P4-Sensor that uses the triboelectric effect to measure electric charge differences for reliable white and transparent polypropylene sensing — that interact intelligently and ensure fault visibility and data quality. According to Loepfe, the yarn clearer takes 480,000 measurements per second. The Prisma GUI operation system is straightforward and intuitive to use; and Loepfe's MillMaster TOP 2.0 data management system for online quality monitoring is an integral part of the YarnMaster Prisma.
Marzoli
Italy-based Marzoli Machines Textile S.r.l. recently rebranded and changed its logo to reflect the idea that textile engineering is the company's main activity moving forward. The main message the company hopes to promote is that it is a global partner of customers for the future. Marzoli offers complete spinning lines, components and digitalized solutions for the spinning process.
At ITMA, Marzoli introduced a concept known as the Marzoli Innovative Spinning Module. The new module features 24,000 spindles arranged in a space saving way, which can save on initial investment costs in land, building and lighting; and operating costs such as conditioning, labor and logistics, according to the company. The concept features a new CMX comber, TA Trash Analyzer System, a fully automated LT10 Lap Transport System, MCT for automatic can transportation and FT640 Flexo Roving frames.
The CMX comber features 10 combing heads and a production capacity of up to 115 kilograms per hour. According to Marzoli, this capacity results in an increase of 25 percent over the previous generation model and means a customer needs fewer units for the same production output.
Marzoli's TA Trash Analyzer combined with its software offers constant waste analysis, which enables optimization of the blow room and carding machine settings. Marzoli also offers the TaomApp for trash analysis. The user may take a photograph of the raw material and the app calculates a value — A, B, C or D — that represents four levels of trash in the raw material.
The company also highlighted Brain Box at ITMA, which is new software for optimization of the entire spinning mill.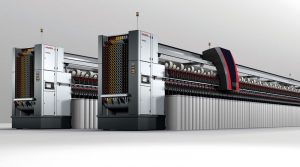 Saurer Spinning Solutions
Today, Saurer AG comprises two segments: Germany-based Saurer Spinning Solutions GmbH & Co. KG offering staple-fiber processing solutions from bale to yarn; and Saurer Technologies GmbH & Co. KG specializing in twisting, embroidery and polymer solutions.
Saurer Spinning Solutions reports it is the only global supplier that offers technologies for all five methods of staple fiber manufacturing — ring, compact, worsted ring, rotor and air.
The company introduced the Autoairo, its first air-spinning machine, which features autonomous spinning positions with individual drives, integrated intelligence and digital piecing. SynchroPiecing 24 can carry out 24 piecing operations simultaneously, so positions can return to spinning immediately after a yarn break versus waiting for a central piecing unit. The machine incorporates a compact, double-sided design for increased productivity and space savings. In addition, MultiLot allows up to four different lots to be produced on the Autoairo at the same time, while PilotSpin can reserve up to 12 spindles for spinning trials while production continues on the remaining spindles. The machine also fits in with Saurer's E3 concept — optimizing energy, economics and ergonomics — with the addition of intelligent features. Yarns produced on the Autoairo may be branded with the Belairo seal of quality. According to Saurer, its machines have self-learning features that allow the machine to optimize the speeds based on the materials processed.
Saurer also introduced the modular Z 72XL ring spinning machine platform for short-staple applications. According to the company, the machine is universally configurable and flexible with up to 2,016 spinning positions. The platform is available for conventional ring spinning or compact spinning, and the customer may choose a mechanically or electronically controlled drafting system. Ring yarns, compact yarns, core yarns, SiroSpun yarns, DuoCore yarns and fancy yarns all may be produced on the Z 72XL.
Another new Saurer introduction is Spinnfinity, a device for doffing without underwinding from Texparts. Benefits include lightweight construction, which reduces spindle friction for lower energy consumption; a dust-resistant design; a cleaning position that can be locked in place for improved ergonomics; longer maintenance intervals; and reduced yarn waste.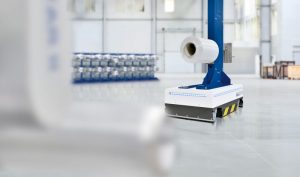 Sahm's BoDo
Germany-based Georg Sahm GmbH & Co. KG — a producer of precision winding machinery, and member of the Austria-based Starlinger Group — recently introduced the BoDo bobbin doffer. This fully automatic doffing and transport system features one or more bobbin-handling robots designed to take up to two bobbins from the winding machine, transport them to a pre-defined position and deposit the bobbins ready for the next stage in the manufacturing process. BoDo also places an empty tube on the winding head to ensure a continuous workflow. According to Sahm, BoDo's path in the plant, and the pick-up and drop-off points can be freely programmed; while obstacles, including objects or people, are detected in a fraction of a second using BoDo's laser safety scanner to ensure safe operation. When used with Sahm's optional radio frequency identification (RFID) IntelliTexCORE RFID system, BoDo tracks bobbins and allows workflows to be visualized and monitored for an Industry 4.0 solution.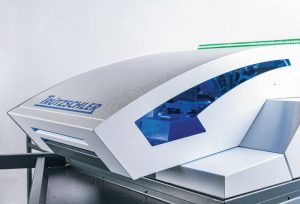 Trützschler Spinning
Trützschler Spinning, a Germany-based Trützschler GmbH & Co. KG company, is a complete supplier for spinning preparation machinery.
With its intelligent TC 19i carding machine, Trützschler Spinning uses state-of-the-art sensor technology along with digital integration to combat cost pressures, personnel bottlenecks and fluctuations in the quality of raw materials.
According to the company, the carding gap — the gap between the cylinder clothing and flats clothing — is a key measure in cotton yarn quality and the smaller the gap, the greater the quality. The TC 19i offers a narrow constant minimum carding gap of three one-thousands of an inch, which is automatically set even as production conditions change. "This [gap] allows us to measurably improve our customers' raw material utilization and productivity while achieving consistently high quality," said Dr. Dirk Burger, Trützschler Group CEO.
Trützschler reports three components comprise the intelligent concept of the TC 19i: Gap Optimizer T-GO; WASTECONTROL, which optimizes raw material use and minimizes waste; and; NEPCONTROL.
T-GO optimizes the carding gap even under fluctuating production conditions. Before the cylinder starts up, a functional check occurs. Once the nominal cylinder speed is reached, a reference measurement is taken.
T-GO takes additional reference measurements after the material transport is activated, and after the machine has heated up. Then, the machine performs permanent leveling based on T-CON data. Every time the carding machine is stopped and restarted — even after maintenance work including grinding the card clothing — T-GO automatically repeats the checks and measurements to ensure it is running at the optimum carding gap — a feat that cannot be achieved by even the most experienced technologist, according to Trützschler.
The intelligent Wastecontrol TC-WTC feature uses an optical sensor to monitor waste quality at the licker-in. If too many "good" fibers are seen in the waste, the system automatically adjusts the mote knife via the servo motor. This ensures waste is minimized, which results in raw material cost savings. According to Trützschler, in a mill using 20,000 tons of cotton each year, increasing the yield of good fibers by just 0.4 percent can save approximately 320 bales of cotton a year. If cotton is 63 cents per pound, this yield increase translates to $110,900.
Nepcontrol TC-NCT monitors the card web during production for quality by taking approximately 20 images per second using a precision camera. The images are evaluated by a computer loaded with analysis software to distinguish between neps, trash particles and seed coat fragments. In addition, possible clothing damage can be detected using distribution profiles of nep and particle levels. In this way, Trützschler reports every meter of card sliver is monitored.
Trützschler also offers cloud-based digital monitoring and management systems. The new My Wires app digitizes management of card clothings in just a few minutes. The app offers an overview of key data including clothing condition, service and maintenance, and allows the user to plan and manage clothing-related tasks such as grinding, clothing changes and reorders. The app also is compatible with machinery and clothing from other carding manufacturers. "With the smart networking of machines as well as production and maintenance, we support customers in simplifying their entire spinning process," said Dr. Christof Soest, chief technology officer, Trützschler Group. "This is why our digital platforms work not only for Trützschler technology."
Trützschler also recently introduced the Portal Bale Opener BO-P for the blowroom, which offers production speeds of up to 3,000 kilograms per hour; and the autoleveler draw frame TD-10, which automatically adjusts the perfect break draft for optimal sliver quality and cost savings.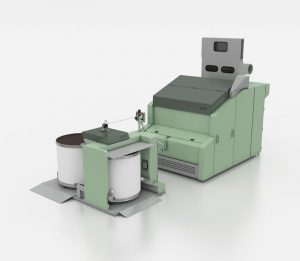 Rieter
Switzerland-based Rieter Machine Works Ltd. provides complete systems for staple-fiber spinning with technology for ring spinning, compact spinning, rotor spinning and air-jet spinning. The company also offers fiber and spinning preparation machinery, precision winding machines, yarn texturing machines and automation technologies. The Rieter Group's component manufacturers Bräcker, Graf, Novibra, SSM and Suessen specialize in key components of all its spinning technologies.
For the blowroom, Rieter's VARIO line featuring the new UNIClean B 15 precleaning unit processes up to 2,400 kilograms of fiber per hour. According to Rieter, the line consumes approximately 40-percent less energy than other solutions and offers raw material savings of 1 percent.
Rieter's new card, the C 80, improves upon its predecessor with 30 percent more capacity by using a larger active carding area. This reduces the need for machines from four to three. The company reports the card also offers a higher yield of better quality fiber with a 1-percent raw material yield increase.
The draw frame RSB-Module 50 handles shorter fibers, which is great for recycled products that tend to be shorter. The module may be combined with the C 80 card and new semi-automated R 37 or fully automated R 70 rotor spinning frame — featuring an improved spin box and single automation per spin box — for a cost-effective, efficient rotor spinning process, according to Rieter.
Rieter introduced three new compacting units — COMPACTdrum, COMPACTapron and COMPACTeasy — designed to easily plug in and pull off the ring spinning frame for simple, fast changes. Combined with Rieter's E 90 comber, F 40 roving frame and ROBOspin piecing robot, ring spinning and compact spinning is more cost effective, according to the company.
The E 90 can produce up to 100 kilograms of combed sliver per hour, and Rieter Quality Monitor ensures consistent quality.
The fully automated F 40 roving frame is efficient with rapid bobbin changes and a quick doffing time of 90 seconds. Its 252 spinning positions — ideal for working with long spinning frames —feature a specially designed spindle crown that ensures the roving tubes click into place correctly for high running performance.
ROBOspin automates the yarn piecing process on a ring spinning frame. A robot — one on each side of the machine — finds the yarn break, moves to the affected spinning position, threads the yarn through the traveler and pieces the yarn. Individual spindle monitoring (ISM) shares data on the ends down with the robot.
In line with Industry 4.0 solutions, Rieter offers the ESSENTIAL digital spinning suite — an all-in-one, modular mill management system that allows the spinning plant to be digitized gradually. ESSENTIALbasic is a starter package offered free of charge to all Rieter customers, who may then add more modules individually according to individual needs. New additions to ESSENTIAL include ESSENTIALorder — which facilitates both urgent and standard orders 24 hours a day — and ESSENTIALconsult — a digital manual that offers quick access to important information including operation manuals. The new functions join ESSENTIALmonitor, ESSENTIALmaintain and ESSENTIALpredict for a system that can monitor and analyze the spinning process.
Recent introductions from Rieter component companies include the C1 ELM ring traveler from Bräcker, the SOLIDRING B 188 from Suessen and the preciforce and fancyflex from SSM, for bobbin build-up optimization and slub yarn production, respectively.
Man-Made Fiber Solutions
At ITMA 2019, Trützschler Man-Made Fibers, Germany, presented the MO40 four-end bulk continuous filament (BCF) machine, which is based on its proven M40 model. The new machine is tailor-made for carpet yarn plants and U.S. companies are showing interest, according to Jutta Stehr, senior marketing manager. The MO40 is a four-end machine with a modified draw panel layout to lead the BCF multifilament gently from the intake to the winder with high productivity and efficiency per square meter — but at moderate speeds to ensure a stable process. "Higher, faster, further is not always the solution," said Dr. Lassad Nasri, chief technology officer, Trützschler Man-Made-Fibers. "As with the entire Trützschler Group, individual customer requirements always have a priority for us. We support our customers with complete installation concepts, services and know-how from the product idea to new business models."
India-based Meera Industries Ltd. along with its U.S. subsidiary Meera Industries USA LLC, High Point, N.C., showed its TPRS Twister at ITMA 2019. After several years of research, the company engineered a machine that can add both S and Z twist in a single step. This means doubling yarns — including carpet yarns, embroidery yarns, sewing threads and tire cord — now may be produced in a single processing step whereas it previously required two steps. According to Meera, the resulting TPRS yarn is high quality because the reverse twisting takes place at the same uniform tension as the original tension of the individual pre-twisted yarn. The machine also offers space savings over the traditionally needed primary and secondary twisters, and cost savings are achieved because the final yarn is made directly from cops to the final package.
Meera also offers a lab sampling machine that features four positions — one each for cabling, 2-for-1 twisting, TPRS and four-spindle assembly winding — all built into one machine. This allows a company to trial a variety of products without disrupting production machines.
The Switzerland-based Oerlikon Group offers solutions for textile applications through its Oerlikon Manmade Fibers group, which comprises the Oerlikon Barmag, Oerlikon Neumag and Oerlikon Nonwovens brands. Barmag offers man-made fiber spinning systems and texturing machines, while Neumag supplies plants for BCF carpet yarn and man-made staple fiber plants.
Oerlikon Barmag recently introduced the eAFK Evo texturing machine. The unit is a compact 4.7 meters high, but is equipped with a four-deck winding system with up to 384 positions. The compact size is the result of a very short twisting zone with a new cooling component named EvoCooler, which is only 300 millimeters long. This active cooling technology allows machine speeds to increase by 10 to 20 percent compared to other technologies, according to Oerlikon. The eAFK Evo can produce a broad range of yarn sizes from 30 to 300 denier including microfilaments. The company reports customer-specific machine solutions with various component combinations are available. On the first day of ITMA 2019, it was announced that Greensboro, N.C.-based Unifi Inc. had placed an order for a significant number of the eAFK Evo machines. Unifi worked with Oerlikon to develop a custom machine for its virgin and recycled product lines, and Unifi was granted exclusive rights in the Americas to its unique design.
Oerlikon Barmag also offers new technology for producing fiber using recycled polyester from post-production and post-consumer waste. The VacuFil® recycling series, developed by Oerlikon Barmag with subsidiary company BBEngineering, features a vacuum filter that provides large scale filtration and controlled intrinsic viscosity build-up for consistent melt quality during polyester fiber production.
Oerlikon Neumag introduced the BCF S8 Tricolor for carpet yarn production. This is a platform for its new BCF S8 that allows yarns to be produced with any amount of color separation using the patent-pending CPC-T unit. This unit compacts each color prior to texturing, which prevents unintentional merging of individual colors during texturing or tangling, according to the company. Using just three different colors, more than 200,000 color shades may be produced as a result of individually controllable air pressures for each color.
The technology can handle up to 700 filaments per yarn end, and the Witras III-37 winder operates at a speed of 3,700 meters per minute for increased throughputs. The BCF S8 also is the first Oerlikon Manmade Fibers segment system that is supplied with its human-machine interface (HMI) for intelligent control and monitoring.
An ITMA show always coincides with lots of new textile innovations and there were many spinning introductions for both staple yarn and man-made-fiber yarn production. This article highlights just some of the recent innovations from only a small number of companies that participated in the spinning chapter at ITMA 2019.
July/August 2020