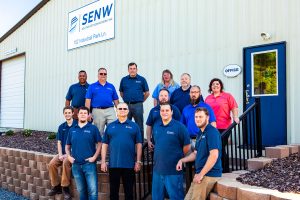 Clover, S.C.-based Southeast Nonwovens is growing a toolbox of machinery and staple fibers as well as knowledge into a thriving problem-solving business.
By Jim Kaufmann, Contributing Editor
"We think of staple fibers as tools in our toolbox," offered Paul Latten, director of research and development (R&D) at Southeast Nonwovens (SENW). "We use them to solve the problems our customers challenge us with. Our toolbox includes various raw materials, equipment, knowledge, experience and lots of other stuff. And like traditional tools, each has its own primary functionality and value. But the real value we bring is in knowing what else those tools can be made to do."
On a recent visit following an introduction to the variety of products and applications that SENW is or has been involved with, it quickly became obvious that this perspective really is where the company excels. It also explains how SENW has created a successful business over the last 20-plus years with a still growing list of unique and rather diverse clients.
SENW was first incorporated in 1997 in Charlotte, N.C., by Steve Nielsen and Bryan Thomas. The simple mission was to provide innovative and independent research and development, and of course to have a "little bit of fun." Nielsen and Thomas set their sights on providing R&D contract services to the growing and evolving nonwovens industry. Initial development activities centered on wet-lay nonwovens technology, where both gentlemen had extensive knowledge and experience from past employments in the paper, nonwovens and fibers industries. In those early years, as the nonwovens industry began to diversify into newer technologies and SENW's reputation for problem solving and discretion — a truly valued quality in an increasingly competitive industry — began to grow, additional equipment and technical capabilities began to grow SENW's toolbox. In 2000, SENW moved to its current location in Clover, S.C., which provided the room to expand and enhance the toolbox still further, in line with the nonwoven industry's increasing complexities.
The company's genesis came out of wet-laid nonwovens and expanded into melt blown and spun melt technologies for a period, but now remains primarily focused on staple fiber-based nonwoven technologies. Nielsen and Thomas determined that staple-fiber methodologies would present more varied opportunities for R&D projects and products without the restrictions that the other high throughput technologies, much of which is application specific, could create.
And as with any good toolbox, SENW has continued adding different pieces of equipment and expanding capabilities. In conjunction with the growing size and diversity of its prized toolbox, SENW also has been solidifying a reputation as a talented problem solver for the nonwovens industry.
"The funny thing about most toolboxes, at least the ones that I'm familiar with, is that new items are generally being added to it, but seldom if ever do any of the older items get thrown away because, as we've all experienced time and again, you never really know when you just might need it!" Latten said. He is also incidentally an avid restorer of antique farm equipment. As a result of not purging the toolbox periodically, SENW's Clover location now is comprised of four 6,000-square-foot buildings with plans for leasing additional space to allow for even more tools and room to grow. Knowing it has a well-stocked toolbox allows SENW to focus on listening to its customers to identify the real issue and then pick the right combination of tools required to properly address the problem.
Strong R&D Focus
In 2017, SENW opened a new R&D center specifically focused on product and application development where customers are able to purchase "lab days."
"We've basically evolved into a one-stop-shop that gets our customer from an idea to a thing," Latten said. "That thing is generally a functional nonwoven or variation thereof. We are able to add value throughout the product development process where there truly is no 'one size fits all' methodology. Or, if the product's not working as intended, we can assist in making it work. Customers can find out quickly if something will work because answers come fast here!
"For companies that may not want to invest in unique in-house capabilities or possibly larger companies needing a quick answer, SENW can assist," Latten continued. "Fortune 50 companies will most likely never buy roll goods from us, but they are some of our largest customers in terms of consulting and lab time because they recognize that we have smart, talented folks here who can generate practical results quickly and at a relatively low cost. Here we're not confined by what we did yesterday or a specific piece of equipment or technology and we're not afraid to manipulate or modify a machine as necessary. We don't want to be restricted by or beholden to any particular set of norms. We simply solve the problem at hand, and we're unique in that regard. Other institutions or companies may be harder to deal with due to possible layers of bureaucracy, conflicting priorities, restrictive technologies or concerns over intellectual property ownership. SENW makes every effort to be easy to work with and allow our customers to maintain their confidential intellectual property."
This approach certainly appears to be working well for SENW because according to Latten, who also joined the company in 2017, "this R&D center has allowed us to pretty much double our R&D business over each of the last three years."
Ever-Expanding Toolbox
With a focus remaining primarily on staple fiber-based nonwovens, SENW's toolbox also encompasses a wide range of staple man-made or natural fibers to choose from. To create nonwoven products from those staple fibers, SENW offers wet- and dry-laid web-forming technologies along with various web-consolidation methodologies and other capabilities specific to staple fiber forming. This includes opening and blending technology as well as a carding line. A new headbox was installed on its wet-lay line in 2018 increasing SENW's capacity for larger pilot and production runs. Needle punching technology recently was added along with a 72-inch-wide thermal laminator to provide more diverse capabilities, and there's additional plans for 2020. Expansion projects, already underway, include a 1-meter-wide Rando air-lay line, a new 12-inch wet-lay pilot line and an ultrasonic bonding line stocking the toolbox with even greater possibilities.
"It's not unique to have a variety of equipment," Latten stated. "Many companies do. But it is unique to have a variety of equipment, the know-how to envision what to do with it, and also the ability and knowledge to piece it together in creative ways so we can solve the problem at hand."
SENW also offers different levels of consulting services to companies as well. "While the company has invested in equipment and into people, we still retain that original DNA of an R&D company" said founder Thomas, who remains involved in the daily activities, while Nielsen has "mostly" retired.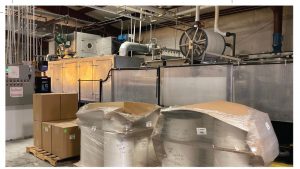 Specialty Manufacturing
While the original impetus of R&D is still rather prevalent, over the last several years SENW has evolved into a specialty manufacturer as well. It is part of the natural progression for R&D to evolve into some level of manufacturing.
"Many people are really surprised to learn we have roll-good manufacturing capabilities here at SENW," said Business Manager Kimberly Koenig. "Our specialty manufacturing side is now 3- to 4-times the size of our R&D business and a large focus of our long-term strategy."
"Our capabilities now range from technical consulting and idea generation through to lab-based concept prototyping, pilot line sampling and progress to scaled manufacturing for small to medium size production runs," Latten added. "We can run multiple processes in the same physical location at the same time which might otherwise require having to go to several different plants to achieve the same end results."
Latten continued: "We make! We don't stock! Everything we manufacture is specific to a particular customer. Our manufacturing sweet spot is really at the early and late stages of the traditional product life cycle bell curve, generally where the most scrutiny is and where everyone is paying the most attention. We can help entrepreneurs or various-sized companies with nothing more than an idea or a dream, to develop the technology to create models and even proof-of-concept prototypes, which can be in the form of something to be sold as a finished good or as input to a finished product. We can then progress into small initial production runs at the beginning of the product's life cycle or maybe 'pre-investment' production runs. As product demand grows, we are able to work with the customer to either expand into full production mode if warranted or we're also willing to hand off the production to the larger nonwoven companies depending on the reality of scaled economics. Then as the curve starts trending downward, but no longer fits the scale of large nonwovens manufacturers, our equipment again becomes viable for smaller production quantities to meet the remaining product life cycle needs."
While not focused on big volume items, SENW intends to remain in niche and specialty markets where the volumes are likely too small for the large producers to make profitably, but where the need is still very real in the marketplace.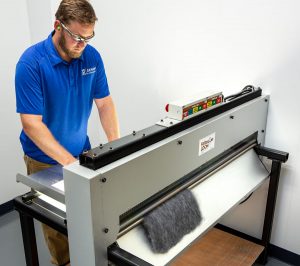 Versatility Fuels Future Growth
SENW continues to progress forward by adding still more to its toolbox. The company began to expand beyond "just a fabric producer" by adding varied converting capabilities, including slitting, sheeting and dye cutting, to provide more upstream offerings, though the plan is for SENW to stay firmly anchored in the nonwovens arena. "We have no intention to be a converter," Thomas said. "The addition of our converting capabilities helps us progress from a customer's idea to a tangible article, which can then be transformed into a commercial product for a finished goods or OEM customer. It's really a natural progression that increases our in-house ability to further service current and potential customers."
Given the versatility of nonwoven fabrics in general, SENW's ever evolving toolbox creates the opportunity to participate in a variety of different markets and wide ranging industries including acoustical and thermal insulation, filtration, mop pads, composites, aerospace, construction, transportation, agriculture, energy, electrical, and still others, the complexity of which seems almost unfathomable to many. It's truly invigorating to discover a small company in South Carolina that can directly influence new product and technology developments in applications as varied as intimate apparel, e-cigarette components, computers, soil stabilization and hydroponic growing mats, aircraft brakes and composites and the list doesn't stop there. There are other applications that can't be mentioned because of confidentiality restraints. SENW really doesn't seem to know any bounds and after spending a few hours with its employees, one realizes that the crazy ideas found in many futuristic comic books and sci-fi or fantasy novels perhaps don't sound that far-fetched.
What generally matters most from a development perspective is fit, form and function — the original tenants and traditional building blocks of any new product development cycle. Understanding this basic premise and having a well-stocked toolbox to pull from is what distinguishes SENW and what attracts its wide array of customers. It takes a talented group of individuals to pull that off, and SENW has the experience and accessibility that only comes from having been there. "We're very good at manipulating staple fibers into nonwoven products with rather varied compositions," Latten summarized. "We solve material science problems by means of technical development and rapid commercialization resulting in unique functional products."
As a wily gentleman once suggested, "if you want to be successful and aren't the 'guy,' you might want to make sure you know a guy." SENW, with its ever-growing box of tools, is definitely the kind of guy to know.
January/February 2020