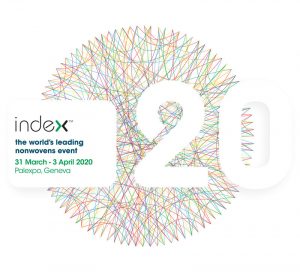 Triennial nonwovens exhibition gathers nonwovens industry to explore, learn and network.
TW Special Report
Every three years, EDANA — the Belgium-based international association serving the nonwovens and related industries — hosts INDEX™, an exhibition with a unique nonwovens-only focus and highly vertical format. According to the organizer, the trade show "is the largest global meeting place for the nonwovens market," offering insights, networking opportunities and the ability to explore the latest innovations the industry has to offer.
INDEX20 — the 13th edition of the show — will take place March 31-April 3, 2020, in the Palexpo convention center in Geneva, Switzerland. EDANA expects more than 12,700 visitors from 100-plus countries will attend to view the technologies and products on display from more than 660 exhibitors.
Sectors to be highlighted at INDEX include:
Filtration;
Geotextile & Civil Engineering;
Hygiene & Cleaning;
Medical: Infection Prevention;
Transportation; and
Packaging.
EDANA reports innovators, up-and-coming designers and thinkers will attend INDEX to participate in its schedule of conferences, seminars, tutorials, workshops and other special events. The INDEX schedule is designed to "provide numerous opportunities to learn about the diverse qualities of nonwovens, cutting-edge technical innovations and product developments," all with enhancing business networks and gaining inspiration in mind.
New For 2020
The INDEX Innovation Lab is a special area that will be featured at INDEX for the first time. The lab area aims to "showcase innovation and R&D, enable the discovery of nonwovens applications and enhance the understanding of their potential," according to organizers. Exhibits, poster presentations, seminars, tutorials and testing machines all will be showcased in the Innovation Lab. In addition, all recently announced nominees for the INDEX Awards will also be on display. The awards recognize "excellence in the nonwovens and related industries."
Three nominees were selected from among the submissions by a peer jury in each of seven categories — nonwoven roll goods; finished products made from, or incorporating nonwovens; raw materials or components (e.g. fiber, binder, polymer, tape) of special relevance to the nonwovens industry and related converted products; Innovation in machinery of special relevance to the nonwovens industry; Achievement for the most original marketing campaign for a product made from, or incorporating nonwovens; Sustainable product; and Sustainable process or management practice. Products had to be commercially available as of January 31, 2020, to be considered. According to EDANA, the INDEX Awards "are the highest accolade for the best examples of excellence in the industry, highlighting creativity and innovations from businesses of all sizes, and from all parts of the nonwovens supply chain."
The exhibition is open March 31-April 2 from 9 a.m. until 6 p.m., and on April 3 from 9 a.m. until 4 p.m. Visitors are encouraged to register online in advance to obtain a "print-at-home" ticket for rapid access to the exhibition.
---
For more information about INDEX20 including the seminar and other event details, please visit indexnonwovens.com
---
January/February 2020