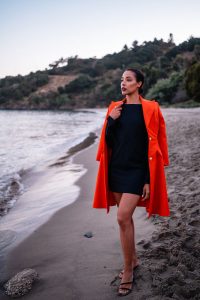 The DuPont™ Sorona® brand team invited brands, NGOs and media to an event on Angel Island to mingle and view some of the latest Sorona fashions.
By Rachael S. Davis, Executive Editor
The DuPont™ Sorona® brand team recently hosted a "Slow Food, Slow Fashion" event on Angel Island outside of San Francisco. Professionals from industry brands, non-governmental organizations (NGOs) and members of the media gathered to experience a fashion show and enjoy dinner featuring locally sourced food and wine.
"We know that thoughtful discussion and meaningful collaboration — even across industries — drives real change," said Renee Henze, global marketing director, DuPont Biomaterials. "With this in mind, the Sorona brand team brought together experts from the slow food and slow fashion movements to discuss how our industries can learn from each other and become more sustainable. By consuming food that is good for people and the planet, and manufacturing, selling and buying clothing that is sustainably sourced, durable and fashionable, we all can work together to promote and drive a more circular economy."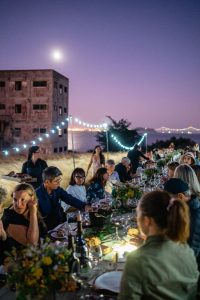 Featured Fashions
Models wore apparel — everything from high-end gowns to athletic apparel to linen shirts and everyday trousers — manufactured using Sorona fabrics from brands including The North Face, Club Monaco, Helly Hanson, Royal Robbins, prAna, Tommy Bahama and Taylor Stitch. Sorona, based on DuPont's 37-percent bio-based material, is a versatile fiber suitable for ready-to-wear clothing, outerwear and luxury goods. The fashion show also included products created in collaboration with industry partners such as prototype garments developed through a collaboration between DuPont and the INVISTA® CORDURA® brand. "Ready to wear designers will love the lightweight feel and smooth clean look since eco-efficient CORDURA + Sorona fabrics offer both stylish elegance with an easy pack and go functionality," said Cindy McNaull, CORDURA business development director. "We like to refer to the combination of these technologies as 'Performance Proof' since they give comfort, ease of movement and multi-faceted design options while helping you live more sustainably every day."
"When ChiaHer, one of our key certified mills out of Taiwan, showed us this new fabric for the CORDURA + Sorona collaboration, I could not wait to see it blowing in the San Francisco Bay breezes on Angel Island," explained Laurie Kronenberg, Sorona brand manager. "It created the perfect lightweight jacket for our athletic model creating a top to bottom spandex-free outfit."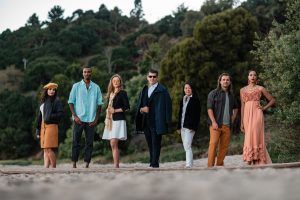 According to DuPont, Sorona polymer-based fibers offer a soft hand, as well as stretch and ease of movement. The fiber has an inherent stretch property that does not break down over time when exposed to heat, ultraviolet rays or chlorine. Bio-based Sorona may be recycled in any normal polyester recycling stream, so is an eco-friendly option for stretch in garments.
The company also introduced Sorona Profile fabrics during the Angel Island event. The fabric, showcased in the ECOALF jacket, is designed to be crease resistant for a smooth look, and retains its shape throughout the day and wear-after-wear, according to DuPont.
The bicomponent staple fiber also may be blended with other fiber types from down to recycled polyester to create insulation products with optimized softness, warmth and light weight, according to DuPont. Some of the garments worn during the fashion show featured ECOLoft™ ActiVe insulation manufactured by South Korea-based YOUNGONE Corp. The vertically lapped insulation is a blend of Sorona fibers and REPREVE® recycled polyester fibers from Greensboro, N.C.-based Unifi Inc.
"The Angel Island event has been extremely beneficial," reported Elyse Kaye, founder and CEO, Bloom Bras. "When I founded Bloom Bras, I searched high and low for materials and/or manufacturers that were sustainable but also technical. Sonora is a really interesting alternative. We are exploring ways to work together in the future. What a spectacular night!"
November/December 2019