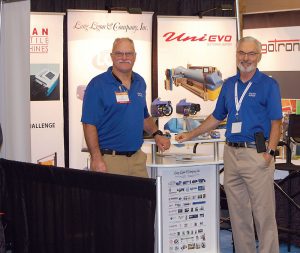 TW Special Report
The American Floorcovering Alliance (AFA) recent hosted FloorTek 2019 at the Dalton Convention Center, Dalton, Ga. The exhibition featured 80 exhibitors with the addition of several new programs to the satisfaction of exhibitors and visitors alike.
Zach Monroe of Card-Monroe Corp. called FloorTek 2019 the "best yet," saying, "It's really good to see that, as we invest in the show, they invest back."
His sentiments were echoed by Eltex U.S. Inc.'s President Jonathan Bell. "My overall impression was that FloorTek was a very well run show and seemed to be better attended this year than the last several shows," Bell said. Eltex was showcasing its new sensor for tufting machines, the COMPACT II, which was first shown at the recent ITMA show in Barcelona.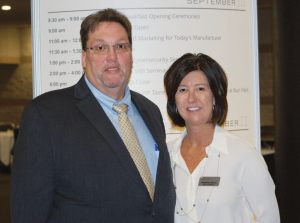 Focus On Future Connections
Future Connections was added to the FloorTek agenda as a way to network local, future talent with opportunities in the floorcovering industry.
Stephanie Manis, AFA executive director, stated: "FloorTek is the perfect opportunity to connect future leaders with the current industry. Partnering with local schools in an industry networking environment such as FloorTek is the perfect space to connect students and industry businesses to show what options are available in the industry."
According to AFA, "The inaugural Future Connections drew the HR departments of Engineered Floors, Apache Mills, Qualified Staffing, American Carpet Wholesalers, and Express Employment professionals, and students from Dalton State, Chattanooga State, Cleveland State, Georgia Northwestern, and Belhaven."
"Dr. Tremaine Powell, dean of Engineering and Information Technologies at Chattanooga State Community College, both staffed the Chatt State booth at FloorTek and participated in the Future Connections event," AFA reported. "Some of his students participated, but Powell and other education professions who attended intend to make FloorTek's Future Connections networking event a part of the curriculum for next year's classes."
Extending Networking In Dalton
The AFA also organized a new networking opportunity for FloorTek attendees and exhibitors with an opening night VIP reception titled "Taste of Dalton" held in Burr Park located in downtown Dalton. The event featured local fare, live music, drinks, and more, with the support of sponsors, participating Dalton restaurants and supporting members.
AFA To Make FloorTek An Annual Staple
The AFA announced at the exhibition's conclusion that because of the success of the event, and a high satisfaction rating among exhibitors, it intends to make FloorTek an annual staple as opposed to holding the exhibition every other year.
The AFA defines itself as a "not for profit association created to promote and market the flooring industry." It was mission success at this year's FloorTek 2019 exhibition.
November/December 2019