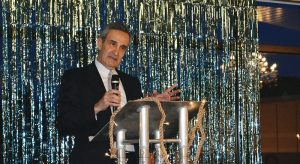 TW Special Report
Notable names from the U.S. textile industry recently gathered to celebrate former National Council of Textile Organizations (NCTO) President and CEO Augustine D. "Auggie" Tantillo and wish him well as he enters retirement. The cocktail reception and dinner featured a roast led by Allen E. Gant Jr., chairman of Glen Raven Inc. Executives in attendance had the chance to express their gratitude to Tantillo for his knowledge and dedication to the textile industry for more than 30 years, while also recounting personal anecdotes.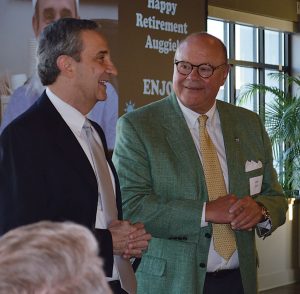 After the roast, Tantillo entertained the gathered crowd with stories from his time as an employee in the office of the late South Carolina Senator James Strom Thurmond Sr., which was his first job in Washington after he graduated from Clemson University with a B.S. in Agricultural Economics.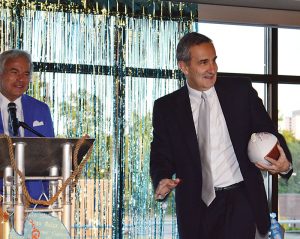 During his multifaceted, 38-year career in Washington, Tantillo represented the textile industry for more than 30 years in the policy arena. He was deputy assistant secretary for textiles & apparel at the U.S. Department of Commerce under President George H.W. Bush, and also served as the executive director of the American Manufacturing Trade Action Coalition.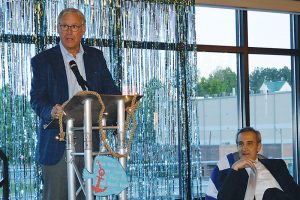 "Auggie Tantillo is a great institution and a great resource for the industry and has a strong legacy of really fighting for this industry on a whole host of trade and regulatory issues," said Kim Glas, newly-installed NCTO president and CEO. "This industry has seen a great benefit from Auggie's work over the past 5 years. He's made a huge difference and is a giant in essence." Tributes and thank yous from the industry for Tantillo were plentiful (see below).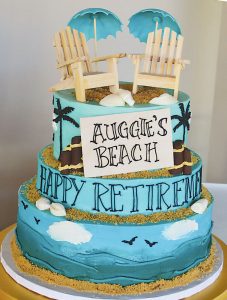 "The textile industry owes a tremendous debt of gratitude to Auggie," said C.G. "Leib" Oehmig IV, president and CEO, Glen Raven Inc. "Through his leadership, NCTO has become recognized as a thought leader in global trade and has earned a seat at the table on major policy issues. On a personal note, my friendship with Auggie is something that I will always treasure."
---
Tantillo Tributes
"Auggie Tantillo is the best association president I have ever had the pleasure to work with. His knowledge of the textile industry is unmatched. His institutional knowledge of previous trade agreements is amazing. NCTO has always out-punched its weight class and it is because of Auggie Tantillo."
— Anderson D. "Andy" Warlick, chairman and CEO, Parkdale
"Every job is a self-portrait of the person who did it. For Auggie Tantillo, that portrait was a masterpiece. Auggie's contributions to the textile industry are immense, and his experience in Washington uniquely positioned him to be one of our greatest advocates. Having Auggie at the helm of NCTO advanced our entire industry by leaps and bounds, and we wish him the very best as he moves on to his next great portrait."
— Jeff Price, president, Milliken Performance and Protective Textiles division
"Auggie has been outstanding as president/CEO of NCTO. He is a true Southern Gentlemen and commanded the respect and confidence of all he came into contact with on Capitol Hill and in other agencies of the government. He will be missed."
— Jim Chesnutt, chairman, National Spinning Co. Inc.
"Auggie has been a determined fighter for the interests of the textile industry and the many people who make a living directly and indirectly as a result of the jobs this industry creates.

I wish him well in his retirement and he will be missed as a friend to us all."
— Jay Self, president, Greenwood Mills Inc.
"Working for Auggie over the last six years has truly been my honor. He is held in the highest regard by friends and colleagues of the industry he has represented so well for many years, and those of us who have been privileged to work so closely with him have witnessed first-hand his incredible knowledge and discerning wisdom. He has qualities that are increasingly rare, and I am grateful to have worked with someone of such distinguished character and integrity."
— Robin Haynes, director of finance & administration, treasurer, NCTO
"Auggie Tantillo has made an invaluable contribution to the U.S. textile industry through his dedication and wisdom in championing for domestic textiles. His long-standing career, built by mutual respect and wisdom, has spanned many levels in Washington and throughout our industry. I wish Auggie the best in his retirement as he leaves a successful legacy!"
— Robin Perkins, CEO, Frontier Spinning
"Auggie has been a tremendous asset to the industry as 'the voice of the industry in Washington, DC.' Although the industry is relatively small in its lobbying effort, Auggie made sure that the administration understood and responded to our stance on issues. I was always impressed with how impactful he was considering that he was so calm and matter of fact in his presentation of issues. Personally, I appreciate Auggie's sense of humor and his humble leadership."
— Jim Booterbaugh, CEO, National Spinning Co. Inc.
"There is a popular term I now hear often at Auggie's beloved Clemson University — 'ALL IN.' Those words, 'ALL IN,' perfectly describe Auggie and his career. Since 1981, and whether in government service or government relations, Auggie has been ALL IN. He has given all of himself and has achieved immeasurable success for our industry.

Jan and I wish him the very best for his well-deserved retirement."
— Bill McCrary, chairman and CEO, William Barnet & Son LLC
"Auggie Tantillo has been a tremendous asset to the textile industry. His ability to understand the intricacies of Washington, D.C., coupled with his deep understanding of the diverse textile business made him the perfect advocate and defender of our interests. The bright future of American textile manufacturing is due in large part to his leadership."
— Marty Moran, CEO, Buhler Quality Yarns Corp.
---
July/August 2019