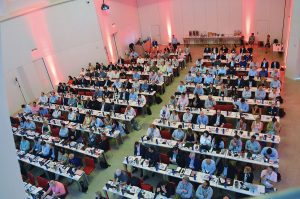 AAPN's annual meeting featured relevant speakers and discussions, and provided lots of opportunities for networking and developing business relationships in the apparel supply chain.
TW Special Report
The Americas Apparel Producers' Network's (AAPN's) 2019 pro:Americas Annual Conference was set against the backdrop of the beautiful Faena Forum and Faena Hotel in Miami Beach, Fla.
The two-day event was packed with meaningful presentations that resonated with the more than 200 attendees who came from every aspect of the supply chain. Always on message, AAPN Managing Director Mike Todaro opened the meeting with his take on where the organization stands and how the network remains focused on gathering the right people to develop Western Hemisphere business strategies.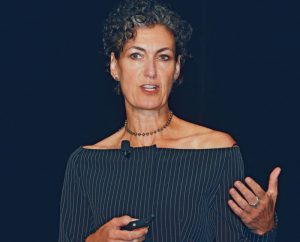 The keynote speaker, Strategic Futurist Nancy Giordano, is the CEO and founder of Play Big Inc., where she considers the emerging intersection of technology, business and society. She spoke about ways to deal with change and the speed of change happening with culture and technology. She offered six ways to "Play Big:" to wonder versus resist; navigate versus replicate; contribute versus extract; be connected versus alone; engage in leaderING versus leaderSHIP; and to be audacious versus incremental. There was emphasis on leadering as a way to play big and have an impact on the world in a more dynamic and more humanistic way.
Other speakers included Barbara Zeins, Gerson & Gerson; Kurt Cavano, retired/founder GT Nexus; Paula Rosenblum, managing partner, RSR Research; Veronia "Roni" Start, Fashion Institute of Design and Merchandising; Tony Anzovino, Haggar Clothing Co.; Suzy Ganz, Lion Brothers; and Matt Hornbuckle, Stantt Shirt.
In an AAPN first, day one featured an all-female panel discussion comprised of Lynsey Jones, Carter's; Jill Coleman, Alvanon; Pam Peale, DeSL; Maggie Martinez, Seaboard Marine; Linda Tiberi, Under Armour; and Rosenblum. Kim Macaulay, Kim Macaulay Associates Inc., moderated the panel who discussed the topic, "Is manufacturing coming home?"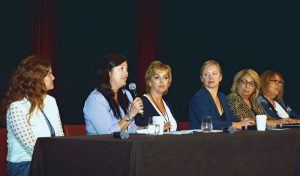 Day two also featured a panel discussion among "The Genius Panel" comprised of Keith Dartley, Swisstex Direct; Chase Johnson, Contempora Fabrics; and Jennifer Knight, American Woolen Company. The conversation was moderated by Bureau Veritas' Rick Horwitch.
AAPN Leadership Awards, Women's Initiative
During the meeting, Todaro conferred the AAPN Apparel Industry Leadership Award on six people. The recipients, honored for contributing exceptional leadership to the organization, were:
David Ha, TexOps;
William Yidi, Finotex;
Industry Veteran Jeannamarie Cox;
Sandy Brink, Advanced Manufacturing Group;
Tom Glaser, VF Supply Chain;
Devin Steele, eTextileCommunications; and
Suzy Ganz, Lion Brothers.
This year, AAPN also launched its AAPN Women initiative to promote women within the supply chain. The organization's website features AAPN (Women) Stories that puts the spotlight on female members of the organization and offers some insight into their careers paths and accomplishments.
As mentioned, the all female conference panel was a first for AAPN and grew out of the desire to promote women in the network. During the annual meeting, women also were invited to the "AAPN Women in Miami" cocktail reception held at the Art Deco-style Saxony Bar at the Faena hotel. The reception aimed to promote networking and foster a sense of camaraderie among the women in the organization.
"It's so nice to see more and more women attending our annual conference each year; in fact, they almost took over the entire agenda this year!" noted Sue Strickland, AAPN's executive director.
Observations From The Meeting
"This is my 25th year in the AAPN," Todaro said. "Every year, EVERY year, these conferences get bigger, better and more important. Meeting as a supply chain is unique. Meeting as the Americas is unique. Meeting with so many key industry leaders in unique. We're a one-of-a-kind network that learns from ourselves. We featured eight agenda events, six speakers and two panels — a total of 17 people, excluding me and our president Tony Anzovino — and only four of them were men! Lots of networking, lots of business transacted, lots of relationships formed, lots of trust. AAPN put the Americas on the map, and in May the Americas met at the AAPN."
Jim Briggs, national sales manager, Adele Knits, attended the event for the first time as a non-member. After the event, Adele joined AAPN. "The AAPN event in Miami was better than advertised," Briggs said. "This networking event connects manufacturers with apparel producers in a unique and meaningful way. It was inspiring to see so many companies with similar goals and objectives. We're glad we joined AAPN."
"The AAPN event in May was the first event for e.dye Ltd. as a member and it was a great chance for getting connected with the member companies," said Jim Chi, vice president, marketing and sales, e.dye Ltd. "More importantly, it was the people of AAPN that made the event memorable. I had the chance to connect with company founders and senior level leaders to gain insights from their experiences. Finding common ground on important topics like sustainability initiatives and innovation efforts made our conversations flow.
"The presentation by Suzy Ganz of Lion Brothers was fantastic," Chi offered. "Sharing the details of the difficulties and the risks that were taken to change HOW they operated really resonated with me. Same for Matt Hornbuckle of Stantt challenging everyone to think differently and DO differently.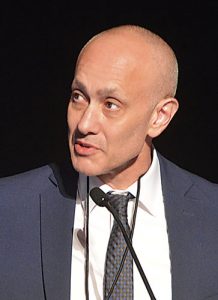 "I see being part of AAPN as a way to closely engage others in our industry and promote relationships that will evolve into the next generation of apparel/textile companies," Chi continued. "We have challenges with everything from sustainability, trade policies, transformative technologies, and a generational transfer in leadership. This is how I envision being part of that future and how e.dye will engage in supporting the member companies."
"With more than 210 attendees representing over 130 companies, this was clearly the most important networking event in the Western Hemisphere, and possibly globally," said AAPN president Anzovino. "Where else can you witness the talent and experience of the speakers and panels in a two-day session – and have the access to these individuals plus the executives and leaders that were in attendance? This continues to be the 'must attend' event of the year."
---
AAPN's Sue Strickland, Mike Todaro Honored During 2019 pro:Americas Annual Meeting With Lifetime Achievement Award
On the first day of the Americas Apparel Producers' Network (AAPN) annual pro:Americas conference, Sue Strickland, executive director, and Mike Todaro, managing director, were honored with lifetime achievement awards.
Tony Anzovino, AAPN president and chief sourcing and merchandising officer, Haggar Clothing Co., invited some of AAPN's directors and members of the executive committee to the stage as he presented Strickland and Todaro with the award. Carlos Arias, CEO, Winds Enterprises; Kurt Cavano, founder, Infor/GTNexus; Rick Horwitch, vice president, global retail & supply chain strategy, Bureau Veritas; Juan Zighelboim, president, TexOps; Joe Cuervo, senior strategic sourcing manager — materials, Kohls; and Ron Roach, president, Contempora Fabrics, thanked Strickland and Todaro for their dedication while sharing a few words.

Strickland has run the organization since 1991 when it was known as the American Apparel Contractors Association. Todaro joined her in 1995. Membership numbers dropped drastically following the passage of the North American Free Trade Agreement, but through hard work and a willingness to embrace change — opening membership to the Americas in 2001, later the world; changing the name first to the American Apparel Producers Network, then in 2013 to the Americas Apparel Producers' Network to reflect the changing nature of the organization; hosting conferences in Central and South America; adding regional conferences across the United States to allow less-senior personnel the opportunity to participate in the network; and establishing the Carolinas Mill tour to help educate brands and retailers on steps in the garment production chain with a focus on the supply chain available in the Carolinas — AAPN is thriving and growing today.
"It is truly a lifetime that they've worked hard at this, and it was time to honor that," said Anzovino. "After all these years, the fact that they are so open to change is amazing and is one of the reasons this network has grown so much in recent years and continues to grow. Certainly the highlight of our Annual meeting was honoring Sue and Mike for their dedication to the industry in the Western Hemisphere. Their passion for not only the apparel and textile sector, but for all of us individually is what continues to bring the network together. I have been honored they have allowed me to serve the past two years as president of the organization and watching them both continue to grow and learn has truly been an inspiration."
"I can think of no two people who have helped to elevate the supply chain in the Americas, and the world, more than the two of you," said Horwitch. "While doing so, you have helped to make the world, and millions of lives, better. You are educators and connectors. You innovators and disruptors. We are not only members of the AAPN, we are part of a global, interconnected, network."
"I have known Mike and Sue for more than a dozen years," said Cavano. "Through their leadership, the AAPN has brought together a unique cross section of the entire apparel supply chain. They built an organization that focused on the Americas when the rest of the industry was abandoning it. Fast forward to now and as the Americas have reemerged as a key component of almost every company's supply chain, AAPN leads the conversation and serves as the heartbeat of this renaissance."
"I know of no other organization in our industry, or any industry, that truly lives and breathes professional networks," said Walter Wilhelm, chairman, WWA Advisors. "Sue's and Mike's contributions to openness throughout our supply chain have been simply invaluable."
"When you think about dynamic duos, you think of Batman and Robin, Palmer and Nicklaus, Simon and Garfunkel, etc.," said Juan Zighelboim, president, El Salvador-based TexOps.
"But we are so blessed to have our own dynamic duo in Mike and Sue. You have made the world, and our world, a better place and we're so grateful to you."
As soon as AAPN's annual meeting was over, the "dynamic duo" was right back to work planning the organization's upcoming regional meetings in Portland, Dallas and Mexico City. Visit aapnetwork.net to learn more about those events.
---
July/August 2019