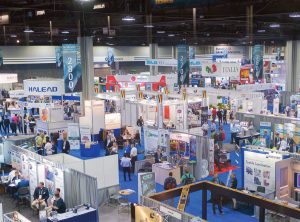 The 2019 edition of Techtextil North America heads to Raleigh, N.C., to locate near the heart of the North American textile industry.
TW Special Report
Things are going to look a little bit different at the upcoming Techtextil North America 2019 show, the 16th edition of the event to be held February 26-28, 2019. First, is the Raleigh Convention Center venue in Raleigh, N.C. Techtextil North America's "West coast" edition held in odd-numbered years, is held in different cities — most recently in Chicago, Houston and Anaheim — unlike the even-numbered year show, which is always held in Atlanta. According to organizer Atlanta-based Messe Frankfurt Inc.: "The relocation to Raleigh brings the show back to the heart of the North American Textile Industry, with drive-in access for many leading global companies and within minutes of one of the best airports in the U.S. — Raleigh-Durham International Airport." North Carolina is actively involved in the textile industry with more than 700 textile manufacturing locations and more than 42,000 industry workers, reports Messe Frankfurt.
Second, is Atlanta-based organizer Messe Frankfurt's partnership with North Carolina State University's (NC State's) Wilson College of Textiles for the event. Locating the show in Raleigh presented the opportunity to collaborate with the university — well known as a hub for textile research and development — and name the Wilson College of Textiles the first official academic partner of Techtextil North America. Messe Frankfurt hopes the partnership will offer multiple benefits:
Faculty and staff from the Wilson College of Textiles will be involved in educational opportunities at the show.
Participating companies will have access to the latest textile research occurring at NC State, and the college's undergraduate and graduate programs will gain exposure through special feature areas on the show floor.
A career fair, to be held February 28 at the Wilson College of Textiles, will help facilitate careers and partnerships between students and show attendees.
"The [Wilson] College of Textiles at NC State University is proud to be the first academic partner for Techtextil North America," said Dr. David Hinks, dean and Cone Mills Professor of Textile Chemistry, College of Textiles. "Our partnership with Techtextil North America is an ideal way to achieve our joint goal of advancing the textile industry."
As always, Techtextil North America will feature a high-quality symposium; Tech Talks on the show floor hosted by The Nonwovens Institute; and its annual Graduate Student Poster Program, which will also be open to undergraduate students for the first time. "The Lab" testing demonstration and learning area, is a new feature on the show floor that will highlight technology for textile testing and standards. In addition, on Wednesday, February 27, an after-hours networking reception will be hosted at NC State's Wilson College of Textiles during which tours of the college and NWI will be offered. Tickets for the event are limited and can be purchased during registration, or on site at an increased cost.
"We are thrilled about this new endeavor and our first ever official academic partnership with North Carolina State University's College of Textiles," said Kristy Meade, Show Director, Technical Shows: Textiles, Sewn Products, Equipment and Technology at Messe Frankfurt North America. "Through our collaboration, Techtextil North America 2019 will serve as a direct link between innovators of industry and the next generation of textile professionals, and we hope to create an engaging environment that sparks new ideas, partnerships, and industry growth."
---
For more information about Techtextil North America 2019, visit techtextilna.com.
---
November/December 2018