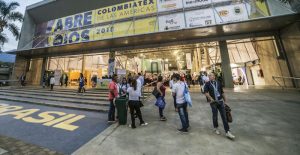 The most important Colombian textile fair reaffirmed its position as the business center of the textile industry.
By Dr. Virgilio L. González, Textiles Panamericanos Correspondent
Celebrating 30 years of uninterrupted editions, with around $356 million in business prospects, Colombiatex 2018 closed satisfactorily after its three day show held in Medellín. Organizer — the Institute for Export and Fashion (Inexmoda), Medellín, Colombia — reported some 22,653 visitors participated in the event, an increase of 3 percent over 2017 numbers.
The show attracted 579 exhibitors — 346 were Colombia-based companies mainly from Antioquia, Cundinamarca and the Cauca Valley provinces. The remaining 233 exhibitors were mainly from Brazil, India and Spain, their participation 21 percent, 19 percent and 10 percent respectively. Approximately 14,023 buyers from more than 60 countries were also at the show. Some 87 percent were Colombian and 13 percent from other countries. Of the international buyers, Ecuador, Mexico and the United States were of significance, with participation of 69 percent, 13 percent and 4 percent respectively.
The INVAMER Survey Co. indicated that businesses opportunities at Colombiatex 2018 were noted at 36 percent for textile projects, 28 percent for machinery, 19 percent for raw materials and 7 percent for other supplies.
The fair was opened by Daniel Arango, vice minister of Trade, Industry and Tourism of Colombia; Luis Pérez Gutiérrez, Governor of the Department of Antioquia; Federico Gutiérrez, mayor of Medellín; Felipe Jaramillo, president of ProColombia; Juliana Villegas Restrepo, vice president of Exports of Pro-Colombia; the ambassador of Brazil in Colombia Julio Glinternick Bitelli; the ambassadors of Italy and India in Colombia; and Carlos Eduardo Botero Hoyos, executive president of Inexmoda.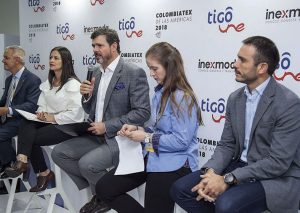 Colombian President Juan Manuel Santos sent a written message to attendants emphasizing the importance of the Colombian textile industry, recognizing the opportunity to find new business, and anticipating that the work between government and private industry will help grow this important industrial sector.
Some of the key points Santos mentioned were:
Continuing to fight against smuggling and unfair competition;
Helping the textile industry continue its progress, taking advantage of free trade treaties with other countries;
Transforming knowledge and technology by means of of machinery updates;
Bridging the gap between universities and companies;
Deleting tax barriers; and
Connecting well established companies with small and medium-sized companies to attract international partners.
Luis Pérez Gutiérrez also reported important progress in the construction of a highway from Medellín to the coast. With this improvement set for 2019, the port of Urabá in the Pacific Ocean will be ready to receive raw materials and export Colombian goods to different markets.
Inexmoda President Botero Hoyos indicated that the textile sector could tackle future challenges by:
Viewing uncertainty as an opportunity, and finding solutions where they are not expected.
Investing in knowledge, to become leaders. Through its different centers, Inexmoda helps companies to improve their individual strategies so they can update and renew to improve competitiveness.
Making technology the pillar of business. In this respect, the Intelligent Factory booth was present at Colombiatex, through the initiative of Inn Solution, showing modern machinery and technology for improved competitiveness.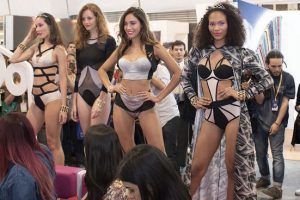 Another important launch at Colombiatex 2018, was the alliance between Inexmoda and New York City-based global trend forecasting agency Fashion Snoops. Three fashion trends were shown at Colombiatex in the Spring-Summer 2018 season, created by Fashion Snoops.
The Graphic Market also was important at Colombiatex, where 32 graphic artists exhibited their work. In this space, they showcased the latest trends in fonts, colors and textures.
Pro Colombia Helped 331 International Buyers Attend Colombiatex
Colombiatex 2018 was well supported. Brazil was an honored guest, and Pro Colombia — a government agency in charge of promoting exports, tourism and foreign investment — invited 331 buyers from 24 countries to the trade show.
According to a number of visitors, the fashion industry supply chain in Colombia offers high added value, high quality raw materials, quick turn capability, and is creative and innovative. No doubt, internationalization is a big opportunity for growth.
Exhibitors
At Colombiatex 2018, 579 companies showed their products. Most innovations related to sustainability and reduced water usage — including sublimation printing, and the use of lasers and other techniques making the use of chemicals largely reduced.
Other highlights included the production of technical and intelligent clothing.
Academic Program
The Pavilion of Knowledge hosted at Inexmoda by the University Pontificia Bolivariana (UPB), again was seen at Colombiatex 2018. This space confirmed the importance of generating places for learning. Some 7,750 visitors and 6,740 users via streaming participated in the interesting talks held in the Metropolitan Theatre of Medellín. Topics included business models, marketing, technology and sustainability — fundamental pillars to competition.
Luz Adriana Naranjo, transformation director, Inexmoda, said: "It is important that industry manufacturers keep up to date to satisfy the true needs of consumers, having a perspective that goes back to the companies and managers to be competitive for the future. To delegates that are in this academic space, created by the UPB, we should give some strategic basis in order to train leaders, students and employers."
Ramiro Arango, general manager of Didetexto, in his talk "Doing it in Colombia is worth it," indicated that to create profitable and productive businesses, and to generate value, it is necessary to find a way to differentiate and compete in the market. "Colombia has a lot of competitive advantages in design such as professional creative teams and knowledge of the product and the consumer, hence, it should have quick answers and flexible processes."
Ester Xicota, with his "Vision and strategies" presentation recognized sustainable innovation opportunities in the Colombian industry, offering his vision for defined strategies for action.
In its 30th year, Colombiatex fulfilled its aims, and provided a space for effective networking. All indications confirmed Colombiatex of the Américas continues to be a first class show.
---
ITA, ACIMIT At Colombiatex
In Colombia, through the Italian Trade Agency (ITA) it was possible to see the great interest of Italian suppliers wishing to expand their markets in Latin America.
The Italian Association of Textile Machinery Manufacturers (ACIMIT) also was present with a good number of stands at the 2018 edition of Colombiatex. Italy wishes to be one of the main suppliers of textile machinery in this area of the world.
ACIMIT is a private institution that brings together a vast majority of textile companies, and whose production represents 85 percent of the total production of Italian textile machinery, as well as some associated members such as consortiums, technical schools, technical publications and research centers.
Textile Machinery Promotion
The main purpose of ACIMIT is to promote the Italian textile machinery sector, and support its activity abroad through the latest and most advanced promotional media, continuously improving in its 70 years of existence.
Activities include organizing exhibitions, technical seminars, missions in Italy and abroad, most of them in collaboration with the Italian Trade Promotion Agency (ICE).
As is well known, Italy is a leading country in the production of textile machinery globally, and the level of its technology is considered one with the highest standards, even by its
competitors.
Italian textile machinery manufacturers cover the full spectrum of industrial needs such as spinning, weaving, knitting, finishing and industrial laundries. They not only cover the high and innovative technology in textile machinery, but also everything related to obtaining a better final product that goes to the market.
In this way, ACIMIT members claim to offer a maximization of their operational flexibility to respond to the needs of their customers with highly specialized products. Creativity, sustainability, efficiency and quality are the main characteristics sought by Italians who manufacture textile machinery.
Italian Exports
In 2016, Italian textile production reached 2.7 billion euros, of which 85 percent were exported to more than 130 countries. Asia with 47 percent was the main export area, followed by other European countries with 35 percent, Latin America with 7 percent, North America with 8 percent, and Africa with 3 percent.
During the celebration of Colombiatex de las Américas 2018, Textiles Panamericanos met with several members of ITA and ACIMIT. From these conversations, it became apparent Italian companies have a great interest in expanding the use of Italian machinery in Latin America; to be involved in technical and commercial agreements leading to favorable exchanges for both regions; and want to support initiatives for improved technology transfers to Colombia and the rest of the region.
The interviewees strongly agree that Colombiatex de las Américas is an excellent resource as a trade fair, and hope that its continuous achievements contribute to the growth and progress of the textile industry.
Characteristics
According to ITA, this event contributes to industry knowledge about the strengths and characteristics of Italian textile machinery, such as:
•    the high level of technology;
•    flexibility and operational versatility of its products;
•    excellent price/quality ratio;
•    highly reliability and problem-free operation; and
•    a close, continuous relationship with the textile and apparel industries.
In addition, safety and environmental investigations are constantly carried out to propose solutions, maintaining European and international standards at all times.
---
July/August 2018