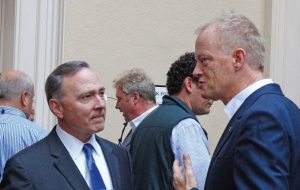 INDA's RISE® conference focuses on connecting emerging technologies with real-world applications.
TW Special Report
RISE® — The Research, Innovation & Science For Engineered Fabrics Conference, will be held September 11-13, 2018, at the Raleigh Marriott City Center hotel, Raleigh, N.C. The conference, now in its eighth year and organized by the Cary, N.C.-based Association of the Nonwoven Fabrics Industry (INDA), focuses on innovations in global plastics extrusion, multifunctional fabric technologies, innovative apparel manufacturing and disruptive engineered materials with the aim of connecting innovations with real-world applications.
INDA staff assembled the RISE Distinguished Advisory Committee — a group of experts from scientific and technical arenas — who combined their insights and knowledge of the industry to curate a conference schedule full of cutting edge and innovative developments in engineered fabrics, nonwovens and related applications. This year's advisory committee is comprised of some 12 industry experts and is chaired by Davis Lee, senior managing scientist, Exponent. Topics to be covered at the conference are broad and include biomimicry, e-standards and regulations, microfibers in the marine environment, reflecting fibers for nonwoven applications, and nanofibrillated cellulose for improved filter media, among other topics.
Speakers at this year's event include: Jeffrey Bates, University of Utah; John Bradshaw, Shaw Industries; Seth Casden, Hologenix LLC; Alasdair Carmichael, National Association for PET Container Resources; Katherine McDonnell, Gingko Bioworks Inc.; Molly Morse, Mango Materials; Gurminder Minhas, Performance BioFilaments Inc.; Jeff Dugan, Fiber Innovation Technology; Gisela Goldhalm, Lenzing AG; and INDA's own Director of Market Research and Statistics Brad Kalil, among many speakers.
The event's keynote speaker is Mark Vitner, managing director and senior economist, Wells Fargo. His "Market Dynamics, North American Economic Forecast," presentation will give attendees some insight into the current economic climate in the United States.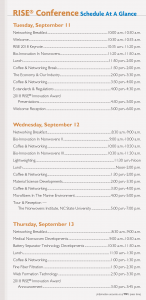 "The RISE conference offers a clear and unique view of opportunities for the engineered fabrics industry," said Dr. Jim Loftus, director of Education and Technical Affairs, INDA. "This event provides a predictive glimpse of the technology and areas where developers and researchers in our industry may not typically look. The simple goal is to present new ideas, experiences and concepts that attendees may never see elsewhere."
INDA also will announce the winner of the annual RISE Innovation Award, which recognizes "innovation in areas and on the periphery of the nonwovens industry which utilizes advanced science and engineering principles to develop unique or intricate solutions to advance the usage of nonwovens." Finalists — selected from disposable and durable product categories including raw material advances, advances in process or manufacturing technologies, new products, or application development — will present their technologies to attendees on the first day of the conference. Attendees will vote on a winner, which will be announced on Thursday afternoon.
"The RISE Conference embraces INDA's mission to stimulate and recognize innovation in engineered materials," said Dave Rousse, president, INDA. "We organize content for like-minded, forward-thinking technology professionals looking for a new approach to a material science challenge. This is THE conference for technology scouts and new product innovators looking to advance their material science toolkit, and is an event not to be missed."
---
For more information about RISE® — The Research, Innovation & Science For Engineered Fabrics Conference, please visit inda.org/events/rise18.
---
July/August 2018