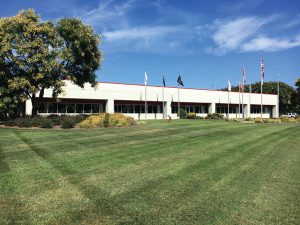 Firestone Fibers & Textiles is growing beyond its traditional tire and building textile products into highly-specialized industrial and composite fabrics for sale outside the company.
By Rachael S. Davis, Executive Editor
Firestone is a name and a brand synonymous with tires, various forms of racing and the Indianapolis 500® Mile Race. The company has a long history with that famous race, and since 2000, has been the sole tire supplier to the Verizon IndyCar® Series. However, Firestone also happens to incorporate a textile division dedicated to the development and production of textile products for a variety of end uses.
Firestone Tire & Rubber Co. was established at the turn of the 20th century by Harvey Samuel Firestone. Shortly after its inception, the company produced the first mass produced automotive tires. Then, in 1935, Firestone Fibers & Textiles Co. LLC (FSFT) was created to supply tire cord and related materials to the growing tire business. During World War II, FSFT produced items for the U.S. military including artillery shells and rubberized military products. In the more than 80 years since it was founded, the company has accumulated significant amounts of manufacturing experience making tire cord, as well as fabrics for tire linings and building products.
Flexible Composites
A typical passenger car tire is a flexible composite product made of numerous layers including a liner, body ply, side wall, beads, apex, belt package, tread and cushion gum. Other components can be incorporated depending on the tire's use, performance level and price point. Each component layer is built up on a drum form before it is cured using heat and pressure. Tire cord is incorporated in the body ply and bead, and textiles also are integrated into the lining.
Tire cord is a polyester- or nylon-based unidirectional fabric woven using just 1.3 picks per inch to hold the cords together for processing. Once woven, the cord is treated with a resorcinol/formaldehyde/latex (RFL) coating that allows the cords to bond to rubber as the tires are heated. RFL is a strong, heat resistant and highly flexible adhesive that is well suited to rubber-to-textile bonding. For years, tire cord has been one of FSFT's primary products.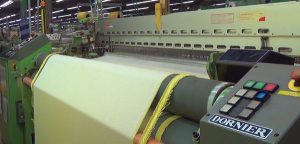 FSFT also has traditionally produced woven fabrics for mechanical rubber goods, industrial hoses as well as tires; and polypropylene multifilament/monofilament woven fabrics used as liner fabrics. The company also produces weft insertion fabrics primarily used in roofing products. Its TireTough™ fabrics are used in many applications including automotive belts, brake diaphragms, conveyor belts, roofing, coated fabrics, military/party tents, cargo/safety netting, pillow tanks, industrial hoses, air ducts, sign fabrics, tires, truck covers and inflatables. The fabrics are used primarily in-house by Bridgestone Americas Tire Operations, Firestone Building Products – Commercial Roofing Systems, and Firestone Industrial Products businesses.
The company processes some 90 million pounds of yarns each year and processes enough yarn each day to circle the earth 13 times. While all yarn is purchased from outside sources, FSFT has direct cable twisters and ring twisting equipment allowing it to ply anywhere from 2 to 12 ends of yarn. On the weaving side, the company has air-jet machines to weave the tire cord, weft-insertion capability, and rapier machines for industrial fabrics.
Reconfiguration
FSFT is headquartered in Nashville, Tenn., and has operations in Kings Mountain, N.C., and Gastonia, N.C., as well as Woodstock, Ontario. In October 2017, FSFT announced it will close its Woodstock plant following careful consideration and thorough assessment of its business model and the plant's fit within its production portfolio. Production began to ramp down at the end of 2017, and the plant will cease operations completely by the end of 2018. As part of an ongoing effort to optimize its portfolio, processes and culture, FSFT will increase the production and output of its Kings Mountain plant. Production will begin to ramp up at the end of 2018, and continue to increase through March 2019. To facilitate the increase in capacity, FSFT is adding a 100,000-square-foot structure that will house equipment that is being transferred from another operating location.
"We are in the process of ramping down our operations in Woodstock, but we are expanding here in Kings Mountain," said Marty Luebbers, product development manager, FSFT. "By the end of this year, we plan to be up and running in Kings Mountain with the volume of products Woodstock was running. Basically, from a tire cord standpoint, we've primarily been the polyester producer and Woodstock was the nylon producer. But moving forward, we'll be producing all the polyester and nylon tire cord products here in Kings Mountain."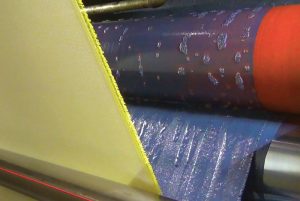 Quality, Environmental Emphasis
The company's Kings Mountain and Gastonia facilities are ISO 9002 certified and have been ISO 14001 certified since 1999. More recently, the company's ISO certificate was updated to include design and development in advance of ramping up its outside sales efforts.
FSFT maintains modern quality control laboratories to support company-wide quality initiatives, and recently received a Carolina Star for Safety through a program "designed to recognize employers and employees who have implemented effective safety and health management systems and maintain injury and illness rates that meet the criteria for participation."
On the environmental side, FSFT was recognized by the North Carolina Environmental Stewardship Initiative as a Steward, which is the highest level in the program. In 2013, Kings Mountain was awarded a Wildlife at Work Certification from the Wildlife Habitat Council; and in 2014, the company achieved zero waste to landfill status. In addition, the company currently uses a proprietary process to apply the RFL coating to the tire cord, but is working to develop a new process that removes formaldehyde from the equation.
Growing Beyond In-House Consumption
More recently, the company has been working to grow sales outside of Firestone, especially in technical fabrics. The focus now for FSFT is to transition beyond traditional mechanical/rubber goods into industrial and technical fabrics.
"We are innovating by combining non-traditional fibers and mixing fiber types," Luebbers said. "Nylon and polyester processing is the traditional business for us, but we're now getting into aramids, UHMWPE [ultra-high-molecular-weight polyethylene] and have the ability to process metal fibers. We're expanding into markets we didn't play in before, and going out to the marketplace to show our capabilities and the hybrid possibilities."
FSFT is experimenting with many different hybrid fabrics. "We define a hybrid product as one where dissimilar yarns are combined to give the final product properties that one stand-alone fiber cannot give," Luebbers said.
"Every fiber has a positive and a negative. Whether it is strength, stretch, cost or some other property. Creating a hybrid product requires the ability to take advantage of the positives of one fiber with the positives of a different fiber while offsetting the negatives of both fibers if they were standing alone.
"We can create hybrids in many various ways," Luebbers continued. "We can combine the fibers prior to weaving to produce a blended cord or yarn. Or, we can combine them during weaving. The process is really dependent on what the final properties are that we want to achieve."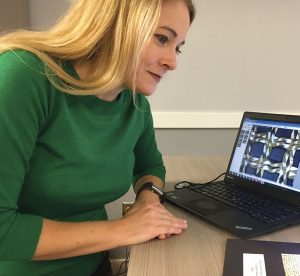 The company has extensive capabilities and has produced numerous hybrid products including polyester/carbon blends for antistatic applications, texturized carbon/nylon fabrics for absorption applications, RFL-treated nylon aramids blends, aramid/low melt polyester blends for resin-free bonding applications, and RFL-treated nylon/aramid hybrid fabrics used in European passenger train bellows. The list of possibilities is long and growing.
Innovative Solutions
Innovation and development at FSFT often starts with a request from Bridgestone's Americas Technical Center located in Akron, Ohio, or from customers who are looking for fabrics with specific properties. FSFT then drives the development forward as it looks for innovative solutions to fulfill the requests.
"Some of our projects begin with a request from Akron for a product that hits certain properties based on how they know they want the cord to function in a tire," Luebbers said. "They may need a certain strength per weight or specific weight or elongation. We can then take those same ideas and concepts and utilize them in non-tire projects for the open market.
"One example is a nylon and hybrid cord we worked on for tire applications that is now also used in a woven fabric that is RFL treated and used in an industrial application in Europe," he added.
FSFT also works with customers to develop innovative products that fulfill customers' requirements. "Most of the requests brought to us are for lighter, stronger and lower gauge products," reported Luebbers. "Then I get to design a fabric that meets their criteria. That's the fun part!"
The company continually updates machinery and adds new technologies to stay modern and at the forefront of technology. FSFT recently added new rapier looms for industrial weaving and plans to add more as volumes dictate. That investment allowed the company to develop and produce innovative hybrid products.
A significant investment also was recently made at the Gastonia facility to convert a warehouse into a space dedicated to carbon processing for composite products. At the moment, the facility features a pilot line and laboratory-scale equipment including specialized twisting machines, braiding machinery, cutting equipment and freezer space for storing prepreg materials. In addition to carbon weaving, FSFT also is experimenting with Vectran™ liquid crystal polymers and basalt materials. The company has the capability to quickly scale and ramp up production when the time is right.
"We attended CAMX in Orlando in 2017 and were excited about the amount of interest we had in the composite samples we were showing," Luebbers reported. "There was a lot of interest in some of the hybrid composite reinforcements we had on display, and we left the show with some great contacts and potential partnerships that we are working to develop."
Given the company's strong brand, a clear path forward and the resources to get there, FSFT certainly appears to be heading in the right direction.
March/April 2018