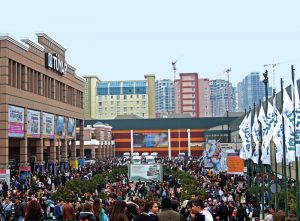 ITM 2018 returns to Istanbul along with the concurrent Hightex 2018, International Istanbul Yarn Fair and ETT 2018.
TW Special Report
ITM 2018 — the International Textile, Yarn, Knitting, Weaving, Dyeing, Printing, Finishing and Hosiery Machineries, Sub-Industries and Chemicals Exhibition — will be held April 14-17, 2018, at the TÜYAP Fair Convention and Congress Center in Istanbul, Turkey. The show is owned by Tüyap Fairs and Exhibitions Organization Inc. and Teknik Fairs Ltd., and is organized in cooperation with the Turkish Textile & Machinery Industrialists Association (TEMSAD).
Organizers expect records to be broken in terms of exhibitors and visitors. Demand to exhibit was high in advance of the show, and floor space is 100-percent sold out. In 2016, 1,200 exhibitors showed their technologies to 49,730 visitors who traveled from 77 countries. The event covered 120,000 square meters over 13 halls. ITM is the largest exhibition of its kind in Turkey and the Middle East.
"… ITM 2018 International Textile Machinery Exhibition has a leader position as it will bring the technology sectors of the world together in Turkey and it is a pioneer in promoting the Turkish machinery industry," said Ismail Gülle, chairman of the board, ITHIB, the Istanbul Textile and Raw Materials Exporters' Association. "I hope this important exhibition will be beneficial both for our sector and our country."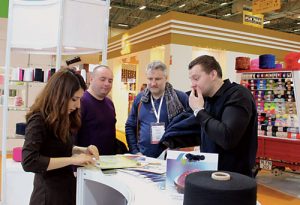 Concurrent Shows
ITM 2018 will be held concurrently with Hightex 2018, the Istanbul Yarn Fair, and the ETT 2018 Conference.
Hightex, the 7th International Technical Textiles & Nonwoven Trade Fair, is touted as the meeting point of the world's technical textiles and nonwoven sector in Instabul. The show will be held in Hall 9 of the TÜYAP Fair Convention and Congress Center. The 15th International Istanbul Yarn Fair will be held in Hall 11.
ETT 2018, the 8th International Istanbul Textile Conference on Evolution of Technical Textiles (ETT) also will take place at the TÜYAP Fair Convention and Congress Center under the theme, "Recent Advances in Innovation and Enterprise in Textiles and Clothing." Organizers hope the concurrent events in a shared location will create a synergy between events for exhibitors and visitors alike.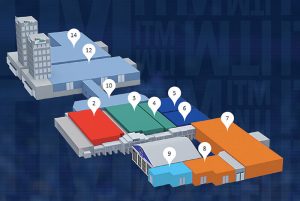 ITM Floor Plan
To help visitors identify the exhibits, which are divided into categories by sector, each hall will be color-coded with carpet as follows:
Hall 2 – Weaving – Red carpet: Weaving preparation machinery; weaving machinery; tufting and carpet weaving machinery; narrow weaving machinery; cordage and rope machineries (braiding machinery); and auxiliary machinery, spare parts and accessories.
Halls 3 & 4, Spinning – Green carpet: Cotton and fiber preparation machinery; spinning preparation machinery; winding, twisting and texturing machinery; nonwoven machinery and technologies; and auxiliary machinery, spare parts and accessories.
Halls 5 & 6, Printing & Digital Printing – Dark Blue carpet: Textile printing machinery; digital textile printing machinery; textile printing dyes and chemicals; and auxiliary machinery, spare parts and accessories.
Halls 7 & 8, Knitting – Orange carpet: Weft and warp knitting preparation machinery; flat and circular knitting machinery; hosiery machinery; embroidery machinery; quilting machinery; and auxiliary machinery, spare parts and accessories.
Halls 10, 12 & 14, Dyeing and Finishing – Light blue carpet: Spinning and fabric dyeing and finishing machinery; washing, bleaching and dyeing machinery; folding and rolling machinery; textile chemicals, laboratory equipment and quality control systems; CAD/CAM, CIM applications and automation systems; and auxiliary machinery, spare parts and accessories.
Hightex 2018 will occupy Hall 9 at the venue, and the International Istanbul Yarn Fair will be in Hall 11.
The show floor is open from 9:30 a.m. until 6 p.m. April 14, 15 and 16; and from 9:30 a.m. until 5 p.m. on April 17.
New App For Guests
ITM organizers recently announced a new mobile app for the show. The app, which may be downloaded in iOS or Android versions, will give visitors an easy way to navigate the show and stay up-to-date with the latest happenings at the event.
Key features of the multi-language app — Turkish, English, German, Italian and Chinese are supported — include news and updates, social media support, navigation, exhibition layout, and exhibitor lists.
Exhibitors were happy with the 2016 version of the show and look forward to participating again this year.
"Having an importance not only for Turkey, but also for the entire region, ITM 2016 [was] an unparalleled opportunity for us to meet our business partners," said Adele Genoni, vice president – general manager, EFI Reggiani, Italy.
"ITM is an indispensable exhibition for us," said Erwin Devloo, marketing communications manager, Belgium-based Picanol NV.
According to organizers, "the heart of the world textile industry will beat at ITM 2018 …." Join the exhibitors to see the latest textile machinery developments in Istanbul — positioned at the heart of Eurasia at the junction of Europe, Asia, North Africa and the Middle East. The city's strategic position along international transportation networks makes Istanbul an ideal location for a global trading platform.
---
For more information about ITM 2018 and to register, please visit itmexhibition.com/en2018/.
---
January/February 2018