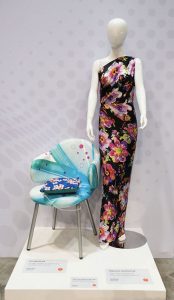 With the next edition of InPrint USA not scheduled to take place until 2019, organizers decided to launch a supporting conference to build on the momentum of the inaugural trade show.
TW Special Report
In 2017, the Mack Brooks Exhibition Group launched the InPrint USA trade show extending its brand into the United States to support the fast-growing world of industrial printing. The next edition of InPrint USA is scheduled for 2019, but the success of the 2017 event and the ensuing momentum led organizers to plan the first InPrint Industrial Inkjet Conference to be held May 1-2, 2018, at the Palmer House Hilton, Chicago.
"The show confirmed that there is a community of innovators looking for information on how to tap into new markets now open to them through digital inkjet technology," said Melissa Magestro, executive vice president, Mack Brooks Exhibitions Inc. "InPrint USA is the home for this community.
"With the rapid rate at which technologies, products, and services are evolving for the industrial print sector, we needed to give this audience the opportunity to connect and learn from one another before the next InPrint USA show in April 2019 in Louisville, Ky. We are confident that this educational and community building conference will meet the needs of those in the industry."
Mack Brooks is billing the InPrint Industrial Inkjet Conference as a premier networking and educational forum for the industrial print community that will offer insight in to the myriad of possibilities for industrial inkjet technology within the manufacturing sector. The conference is designed to complement the 2019 show by providing the chance to stay informed and current on the latest trends, network and connect, share knowledge, and foster new relationships.
Program
Organizers have put together a program that will highlight trends, market opportunities, case studies and the latest developments in industrial inkjet technology for functional, decorative and package printing applications. The content is divided into two tracks — one for technical and one for creative applications. The event also will feature interactive roundtable discussions as well as highlight case studies.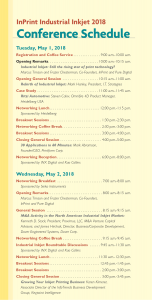 Digital printing in the textile industry is a fast-growing market and definitely a trending topic especially in the fashion and home decorating arenas. The InPrint conference will cover this market in greater detail within its creative applications track.
According to organizers, inkjet technology is disrupting virtually every manufacturing industry from flooring to fashion, automotive to electronics, sporting goods and packaging. Some 200 attendees are expected to attend the conference from a cross section of the manufacturing industry including manufacturing production professionals; industrial print production companies; OEMs, integrators, component manufacturers and developers; and traditional printing companies.
Registration for the event is now open, and organizers are offering an early-bird discount for attendees who register by March 30.
---
For more information about the InPrint Industrial Inkjet Conference 2018, please visit inprintshow.com/usa/conference.
---
January/February 2018