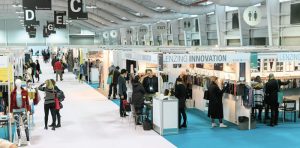 Winter 2018 editions of Texworld USA and Apparel Sourcing USA will feature on-trend fabrics, finished apparel sources.
TW Special Report
The biannual Texworld USA will assemble at the Javits Convention Center in New York City January 22-24, 2018, for three days of sourcing, seminars and networking alongside collocated show Apparel Sourcing USA.
Texworld USA — an apparel sourcing event for buyers, research and product development specialists, designers, merchandisers and overseas sourcing professionals — is organized by Atlanta-based Messe Frankfurt Inc. and offers attendees "the opportunity to meet directly with a wide range of manufacturers from Asia, the Middle East, North America and from many other regions from around the globe." The show is produced in partnership with Austria-based Lenzing, and builds on the success of Innovation Asia and a sister Texworld show held in Paris.
More than 240 exhibitors will showcase their latest fabrics at Texworld USA's winter edition. Items on display at the show are organized into more than 14 categories including cotton; denim; embroidery and lace; faux fur; findings and trims and accessories; functional fabrics; jacquard; knits; linen; prints; shirting; silk; wool; and yarns.
Apparel Sourcing USA — a long-term joint venture partnership between Messe Frankfurt and the China-based Sub-Council of Textile Industry, China Council for the Promotion of International Trade (CCPIT-TEX) — is designed to offer apparel brands, retailers, wholesalers and independent design firms a dedicated sourcing marketplace for finding the best domestic and international apparel manufacturers. According to Messe Frankfurt, Apparel Sourcing is the only event on the East Coast to focus on sourcing finished apparel, contract manufacturing and private label development. Product groups help visitors to find the fabrics they wish to source including: childrenswear; womenswear; menswear; activewear; knits; wovens; denim/jeans; collections; suiting; contemporary; intimates/lingerie; and loungewear/sleepwear.
Seminar Program, Event Highlights
As well as the show floor dedicated to exhibitors, a complimentary seminar program and trend forum are offered to attendees.
The full seminar series schedule was not available as of Textile World's press time, but some speaker highlights include:
Ben Mead, managing director for the Hohenstein Institute of America and Dr. Jan Beringer, head of research and development department of function and care, Hohenstein Institute, presenting on the topic of "Microplastics and Environment – Quantifying the Impact;" and
Anna Czerwinska, head of marketing and communication, International OEKO-TEX® Association who will give a presentation titled, "The Key to Confidence: Consumers and Textile Sustainability."
Texworld USA also will host a live, pre-event webinar on January 17 at 11 a.m. hosted by Laurie Pressman, vice president, Pantone Color Institute. The webinar will focus on Spring/Summer 2019-20 color trends.
In addition, Apparel Sourcing USA's Winter 2018 trend area will throw the spotlight on denim fabrics featuring manufacturers that specialize in denim production.
"We are always focused on bringing the best quality exhibitors to our attendees each season and making sure they have a platform for education, networking and conducting business," said Jennifer Bacon, show director. "Our ever-popular seminar sessions, organized by Lenzing Fibers, are focused on relevant topics in our ever-evolving industry. We are also incredibly excited to debut our third edition SPOTLIGHT: denim, and shed some light on the wide array of denim fabrics that our exhibitors have to offer."
Registration is complimentary for qualified trade industry professionals. Messe Frankfurt recommends that attendees preregister online, but it also is possible to register on-site using a business card and photo identification. The show is open January 22 and 23 from 10 a.m. to 6 p.m., and from 10 a.m. to 4 p.m. on January 24.
"We are continuing our efforts to make Texworld an industry event that can't be missed," Bacon said. "Texworld's winter edition truly serves the market as a "one stop shop."
---
For more information about Texworld USA and Apparel Sourcing USA, please visit texworldusa.com and apparel sourcingshow.com
---
November/December 2017