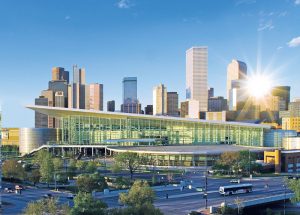 Outdoor Retailer's debut in Denver offers a revamped show format.
TW Special Report
Since 1996, the Salt Palace Convention Center in Salt Lake City had hosted the Outdoor Industry Association's (OIA's) Outdoor Retailer trade show produced by Emerald Expositions LLC. But under pressure from several high-profile outdoor company executives, organizers recently reevaluated the show's location and announced all shows, including the Summer and Winter markets, will move to Denver's Colorado Convention Center beginning with the January 2018 edition. The show is a business-to-business outdoor sports show that forms a gathering place for brands, retailers, suppliers and industry leaders; and features conferences, training sessions, leadership seminars and other educational opportunities. According to the organizers, the show is a place "to share ideas, explore best practices and unite as a powerful advocate for environmental issues and the protection of public lands …"
"Denver was selected not only because it met the logistical criteria to host a successful show (we expect to bring more than 85,000 attendees annually, across three shows), but also because the state of Colorado shares the industry's passion for outdoor recreation and preserving public lands," said Marisa Nicholson, Outdoor Retailer show director. "While we now turn to the future, I must say that the support of the Salt Lake community was essential in helping Outdoor Retailer grow and thrive over the past 22 years."
January Show Highlights
For the first time in almost 30 years, the outdoor and snow industries will be together as Outdoor Retailer collocates with Snow Show for its January 2018 edition, to be held January 25-28, 2018, with on-snow demonstrations January 29 and 30. The show is endorsed and sponsored by OIA and Snowsports Industries America.
The show focuses on innovative outdoor apparel, footwear, gear, hard goods and accessories, which are grouped into the following categories: Adventure Travel; Backpacking; Camping; Hiking; Climbing; Skiing; Snowboarding; Snowsports; Mountaineering; Mountain Biking; Fishing/Fly Fishing; Health and Fitness; Nutrition and Natural Products; Paddlesports/ Watersports/SUP; Pet Products; Running/Trail Running/Triathalon; Surf; Skate; Lifestyle; Multisport Endurance; and Yoga/Pilates.
To coincide with the move to the Colorado Convention Center the show format has been revamped. Exhibitors will occupy three floors, and four curated spaces — Venture Out, Luxe, Scandinavian Village and Rental World — will present trends, luxury products, Scandinavian brands and rental gear to visitors.
On January 26, the Red Rocks Amphitheatre will host a fashion show featuring DJ Matt Cassidy followed by JAUZ and Mac Miller. Presented in partnership with Icelantic's Winter on the Rocks, the fashion show and concert are open to the public as well as Outdoor Retailer attendees to extend the show's reach.
Outdoor Retailer also offers educational opportunities. The Camp, located on the show floor, will offer insight on a variety of topics including women in the outdoors, creative merchandising, Amazon and specialty retail, and the changing retail landscape. The Trend + Design Center features innovations in materials and manufacturing. In addition, organizers will present The Inspiration Awards to people "who inspire us to do more in the outdoors;" and the "Night of Stoke" will feature films and speakers who participate in the winter sports lifestyle.
"The positive response to the combined show has exceeded all expectations," said Nicholson. "We are going to be bursting at the seams with gear. The opportunities for product discovery and access to outdoor and snow brands will be unparalleled, as well as the other hallmarks of an Outdoor Retailer show — education, networking and events that allow us all to connect with the outdoor community."
Outdoor Retailer Summer Market will be held July 23-26, 2018, and Outdoor Retailer Winter Market will be held November 8-11, 2018.
---
For more information about Outdoor Retailer + Snow Show, please visit outdoorretailer.com.
---
November/December 2017