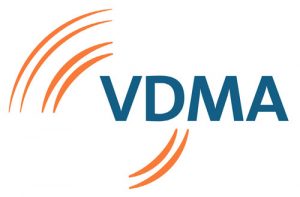 The VDMA Textile Machinery will hold two events — one in Charlotte and one in Mexico City — to showcase German technology to industry decision-makers.
TW Special Report
Interested in developing and manufacturing new products; or enhancing competitiveness by increasing efficiency and quality? The Germany-based Mechanical Engineering Industry Association's (VDMA's) Textile Machinery Association hopes to help textile manufacturers find answers to these questions, as well as tackle topics such as saving energy and material resources, digitization, and smart factories during two upcoming B2B Forum & Conference events this November.
The first event will be held in Charlotte at the Sheraton Charlotte Hotel November 6, 2017. The second conference will be held November 8-9, 2017, at the Hilton Mexico City Santa Fe in Mexico City. Each event will feature approximately 25 VDMA member companies that will present practice-oriented technology topics along the entire textile chain from spinning to finishing and dyeing, in addition to cross topics including energy and material efficiency, life cycle costs, and Industry 4.0. Conference presentations, some held in parallel, will be supplemented by B2B meetings and a table-top exhibition area.
The free event is targeted to decision-makers in the textile manufacturing industry. Interested parties can register at each event's website, as well as use tools on the site to schedule meetings with participating VDMA member companies, subsidiaries and agents.
Healthy Markets
According to the VDMA, traditionally the United States is one of the top five destinations for German textile machinery. Strong sectors in the United States include technical textiles and nonwovens, but also home textiles like carpets. In the first half of 2017, German exports of textile machinery and accessories to the United States reached more than $130 million. "So, for the whole year 2017, we can expect business on a quite good level with exports worth well above $200 million," said Thomas Waldmann, managing director, VDMA Textile Machinery.
The VDMA reports the market in Mexico was quiet for a couple of years, but picked up in 2015 and 2016. In the first six months of 2017, German deliveries of textile machinery to Mexico reached more than $20 million. "Continuing like this, the result for the whole year will be a good one," Waldmann said.
"We expect decision-makers of textile manufacturers from the United States and Mexico who are interested in developing and manufacturing new textile products to attend the event," Waldmann said. "For textile producers that wish to enhance competitiveness by increasing production efficiency and quality of their textile products, the VDMA events are a place to be. The practice-oriented technology topics will place high value on saving energy and material resources in the production process. Textile producers looking for content behind the sometimes loosely used buzzwords 'digitization' and 'smart factory' will benefit from attending the conferences in Charlotte and Mexico City."
Participants
VDMA companies taking part in the Charlotte event includes:
A. Monforts Textilmaschinen;
Andritz Küsters, a Division of Andritz Inc.;
Autefa Solutions Germany;
Brückner Textile Technologies;
DILO Systems;
Erhardt+Leimer;
Georg Sahm;
Groz-Beckert;
Interspare;
Karl Mayer Textilmaschinenfabrik;
Körting Hannover;
Lindauer Dornier;
Mahlo;
Neuenhauser Maschinenbau;
Oerlikon Textile;
PLEVA;
Reseda Binder;
Saurer Components;
Sedo Treepoint;
Temafa;
Textechno Herbert Stein;
Thies Corp.;
Trützschler; and
Welker Vakuum.
VDMA member companies participating in the Mexico City event includes:
A. Monforts Textilmaschinen;
Allma Volkmann Zweigniederlassung der Saurer Germany;
Andritz Asselin-Thibeau;
Autefa Solutions Germany;
Brückner Textile Technologies;
DILO Systems;
Erhardt+Leimer;
Georg Sahm;
Groz-Beckert de México;
Interspare;
Jakob Muller Trading de Mexico;
Karl Mayer Textilmaschinenfabrik;
Körting Hannover;
Mahlo;
Mayer & Cie;
Neuenhauser Maschinenbau;
Oerlikon Textile;
PLEVA;
Reseda Binder;
Saurer Components;
Schlafhorst Zweigniederlassung der Saurer Germany;
Sedo Treepoint;
SETEX Schermuly textile computer;
Temafa;
Textechno Herbert Stein;
Thies;
Trützschler;
Welker Vakuum; and
Xetma Vollenweider.
To Participate
First, attendees must register at the event website; then, individual business meetings with other participants may be requested. Once both parties confirm the request, the meeting will be scheduled. Prior to the event, each registrant will receive a personalized meeting schedule. The event website offers registered participants access to a calendar; a to do list; activities; and a summary of accepted, declined or pending meetings. The comprehensive website also offers a searchable catalog of profiles for each participating company.
Technology Highlights
Following is a brief preview of what to expect from just a small slice of the participating companies.
Andritz's "Innovative Needlepunch Solutions For The Automotive Industry" presentation will focus on its aXess and eXelle lines designed for market entry and medium capacities versus high capacities and premium products respectively. The company reports there is a focus on needlepunch technologies for automotive applications in the presentation, and it is ready to share its experience and knowledge in this growing application area.
Autefa Solutions considers the forums a great opportunity for easy networking and information exchange, and reports many of its new developments are driven by customer demands. According to Autefa, energy efficiency in addition to reliability and economy play a big part in its product portfolio. "The unique design of our Square Drum Dryer SQ-V combines the small footprint of a drum dryer with the better performance of a belt dryer," said Alexander Stampfer, regional sales director.
At the Charlotte conference, Brückner's presentation will provide a definition of the meaning of the Internet of Things and will identify the possibilities that digitalization can offer to end-users and suppliers, as well as explain how these possibilities can be used in a state of the art control system, how they affect machine operation and maintenance and how data collected will increase the production efficiency. In Mexico, Brückner will focus on an up-to-date machinery control system with Remote Maintenance Control and Styles Administration data base for a new system that allows the user to ecologically optimize the finishing processes under and reduce production costs.
DiloGroup will present information on its VectorQuadroCard from DiloSpinnbau, which combines different types of carding within one card using a simple and fast changeover of the intermediate section; the horizontal crosslayer DLSC 200 from DiloMachines, which features an electro-mechanical web infeed speed of 200 m/min depending on the fiber used; and the DILO HyperTex and Hyperpunch needlelooms, among other products.
For carding customers, Groz-Beckert offers a wide range of products available in a variety of options including micro-alloyed and high-end steel grades. The company continuously develops new technologies including the SiroLock® and EvoStep® wires for long staple spinning and nonwovens production. Groz-Beckert's strong technical support also helps companies address challenges in today's increasingly competitive environment.
Interspare, a producer of textile finishing systems, will highlight its horizontal chain for high-tension fabric transportation without using lubricants. The company reports the chain is usable in high impact and extreme cross tension situations, making it suitable for carpet and coating applications. Interspare also will share information on new innovations such as its patented Econ-Air guiding system.
Mahlo offers on-line measurement and quality control technologies. During the event, the company will highlight its systems for textiles, nonwovens, coating, converting, film and paper applications. The company develops customizable, modular technologies with the aim of improving quality, reducing manufacturing costs and optimizing processes.
High-tech coating solutions for advanced filtration materials and automotive textile applications will be the focus of A. Monforts Textilmaschinen. At the conference, Monforts will highlight its texCoat coating range, which incorporates a knife over roller/air system, magnetic roller system and printing head systems. "Our new texCoat coating system is the most versatile coating system on the market," said Jürgen Hanel. "With texCoat, it's simply a question of changing a position on the machine and we can move from coating to printing. In addition, we can either retrofit the system to an old machine, or add it to a new frame for a totally integrated solution."
Georg Sahm and American Starlinger-Sahm will introduce the new YarnStar3+ — coating, cooling, winding + automation — single-end extrusion coating line. The line allows polyester yarns to be coated with poly vinyl chloride at speeds of up to 1,500 meters per minute (m/min). The mono- and bicolored coated yarns are suitable for sunshades, home textiles, upholstery fabrics, and wall and floor coverings.
Saurer's divisions have implemented an E3 concept, which aims to optimize the company's spinning, winding and twisting systems in terms of energy, economics and ergonomics. The Volkmann twisting division has developed specific solutions to reach these goals including a range of efficient motors and bearings in conjunction with low friction drive systems and a wide range of spindle and rotor combinations to minimize the energy required to produce 1 kilogram of yarn. Its systems are modular and can be tailor-made to meet customer's requirements.
Sedo Treepoint reports the company has focused on a deeper integration of all systems in dyeing and finishing to offer higher productivity and machine efficiency; more sustainable production; and substantial water, chemical and energy savings. Presentations given at the two events will offer insight on connecting the shop floor with management decisions using a fully integrated system and dynamic production environment.
The Thies iMaster H2O short liquor fabric dyeing jet for cotton and cotton blends operates at liquor ratios as low as 1:3.5 and at 1:2.5 for polyester. Thies reports the machine is flexible and simple to operate with its new software. The company also offers a full line of dye and chemical dispensing equipment.
Trützschler will promote its Integrated Draw Frame (IDF) — a compact auto leveler draw box — during the event. The company reports it is possible to realize improved efficiencies and improve yarn quality when using IDF because the process substitutes one or two passes on the draw frame, thus reducing the number of cans, can transports, power consumption and building space. The improved yarn quality in turn results in fewer imperfections and yarn count variations for better appearance in knit and woven fabrics.
Programs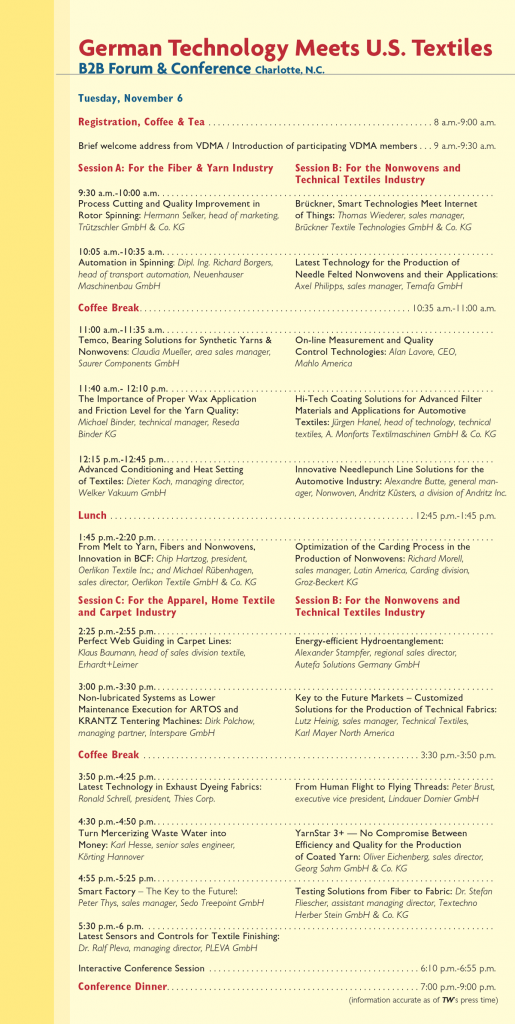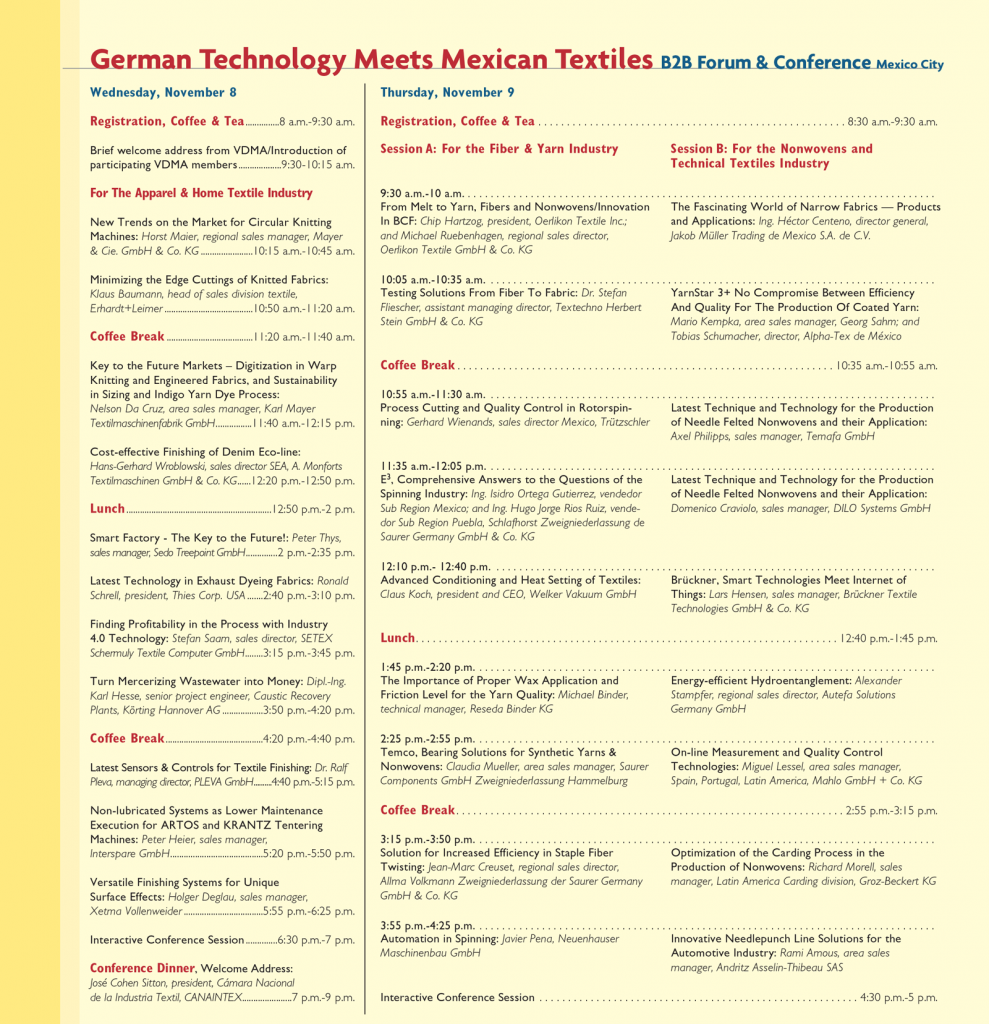 ---
For more information about the Charlotte event and to register, please visit germantech-ustextile.de. Details about the Mexico City event and the form to register can be found at germantech-mextextile.de.
---
September/October 2017