Attendance figures at recent IFAI Expo rivaled only by attendance at the 2012 Boston edition of the event.
By Rachael S. Davis, Managing Editor
IFAI Expo 2016 recently closed the doors on a successful edition held at the Charlotte Convention Center, Charlotte, N.C. According to show organizer, the Roseville, Minn.-based Industrial Fabrics Association International (IFAI), expo attendance of 5,023 visitors was a near-record for the event, surpassed only by attendance at the event held in Boston in 2012 when the association celebrated its 100th anniversary. Over four days, the event offered participants educational opportunities, product demonstrations, exhibits, certification options and networking moments all tailored to people working in the specialty fabrics, advanced textiles, and shade and weather industries. Keynote speeches were given by business ethics expert Chuck Gallagher, author and marketing executive Linda Kaplan Thaler, and former Walt Disney World customer service master Dennis Snow.
Awards And Recognitions
IFAI's retooled ShowStopper program highlighted new products of interest, while the International Achievement Awards (IAA) recognized design excellence and technical skill in specialty fabrics.
The 2016 ShowStoppers winners, chosen from 78 entries from 43 different companies, were:
Toronto-based Thomson Research Associates in the chemicals, coatings and compounds category for Ultra-Fresh DM-25;
Jacksonville, Fla.-based Fenetex® Retractable Screens in the end-product category for its Adjustable Tracks for Rectractable Vinyl Screen;
Grass Valley, Calif.-based Autometrix Inc. in the category of equipment and tools for its CadShot Mobile;
Hillside, N.J.-based Engineered Polymer Technologies (EPT) in the fabrics, fibers and films category for its ethylene interpolymer alloy/ketone ethylene ester (EIA/KEE) Geomembrane-Coated Fabric;
Marietta, Ga.-based YKK (U.S.A.) in hardware, findings and accessories for its Electromagnetic Shield Zipper; and
Ligonier, Ind.-based Hohenstein Institute of America in the category for services to manufacturers for its research, development, testing and certification services.
The IAA winners — judged on complexity, design, workmanship, uniqueness and function — were selected from a total of 296 entries from 10 countries in 42 categories. Recipients included:
Fabric Structures — Shanghai-based Shanghai Taiyo Kogyo Co. Ltd. for the Xiangtan BBG Shopping Mall ethylene tetrafluoroethylene (ETFE) Skylight;
Awnings and Canopies — Shanghai-based Covertex Membranes (Shanghai) Co. Ltd. for the Abdali Mall ETFE canopies;
Fabric Environments — Tukwila, Wash.-based Rainier Industries Ltd. for NHL hockey pucks;
Marine — Riviera Beach, Fla.-based Canvas Designers Inc. for the Caryali custom sofa;
Tents — Memphis, Tenn.-based Mahaffey Fabric Structures for Dining Under the Stars;
Geosynthetics — Pendergrass, Ga.-based TenCate Geosynthetics Americas for the erosion repair underneath the Gatun Locks of the Panama Canal;
Advanced Textiles — Pittsfield, N.H.-based Globe Mfg. Co. for the Globe ATHLETIX™ Turnout Gear.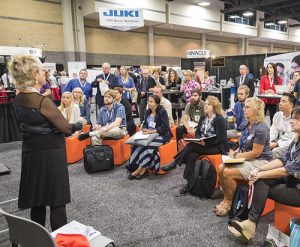 The Industrial Fabrics Foundation (IFF) announced South Africa-based Gelvenor Textile as the winner of the 2016 IFF Innovation Award for its VulAmanz Rural Water Filter. Gelvenor engineered a woven polyester microfiltration fabric that removes colloidal contaminants and dangerous bacteria from unsafe water. The fabric is suitable for both water purification and wastewater treatment applications. Used in a household water treatment unit, the filter will help provide clean drinking water without the use of chemical treatments to rural households that do not have electricity. Bloomfield Hills, Mich.-based The Crypton Companies received an honorable mention for its Crypton® Revl™ topcoat chemistry for polyvinyl chloride.
In addition, IFAI's Fabric Structures Association awarded the 2016 Fabric Structures Student Design Challenge first place award to Pedro Ortiz and Christian Scungio from Roger Williams University for their Top of the Canopy project. The second place winner was John Wightman from the University of Buffalo for his Aqua Shell project. Third place was awarded to Omar Fabrisio Avellaneda and Paula Martin Goni from the Universitat Politecnica De Catalunya Barcelona Tech for their Spider Circus project.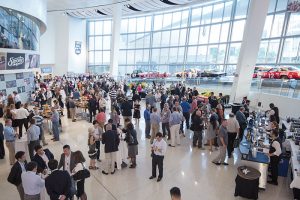 Exhibitor, Attendee Feedback Positive
Despite a glitch during registration on the opening day of the exhibit halls that delayed many attendees hitting the show floor, feedback from expo participants was good.
"There seemed to be more smaller to mid-sized companies with emerging technologies at IFAI Expo than in the past, so innovation in the industry seems to be moving along in a positive direction," said Ed Gregor, Edward C. Gregor & Associates LLC, Indian Land, S.C. "I saw many companies working in niche areas, which was very interesting. In addition, there certainly was greater participation from companies in the Advanced Textiles area. IFAI has obviously been working hard to create a more balanced Expo between the Advanced Textiles area and its historical focus on awnings and protective coated fabrics."
Monte Sharp, president, Grant's Pass, Ore.-based Sharp's Tarps, was at IFAI Expo for the 32nd consecutive edition. "It's a good opportunity to mix with our suppliers, a good time to rub shoulders with others in the industry," Sharp said. "Expo helps us to stay on top of technology … it was a very good show overall."
"The IFAI show provides APV an essential platform for expanding our VYNGUARD brand presence to a very targeted group, said Erin Brown-Neff, director of marketing and business development, APV Engineered Coatings, Akron, Ohio. "From a business development and client relations standpoint, this show was a successful strategic initiative for us."
"We found the IFAI exhibition to be an excellent forum to not only introduce our new SUR-fex® brand, but to also highlight our strong base competencies of producing, converting and lamination of a wide range of foam rubber materials," said Alan Fenno, market development manager, coatings, Rubberlite Inc., Huntington, W.Va. "A forum such as IFAI is viewed as an excellent resource to remain actively involved in the industry and we plan to continue to participate in future events."
"We couldn't be happier with this year's expo," said Mary Hennessy, president and CEO, IFAI. "Interest in the event has rarely been higher and that's proven by a record-setting number of exhibitors and huge interest in the event from the industry at large."
IFAI Expo 2017 is schedule to take place September 26-29,2017, in New Orleans.
Click here to view additional photographs from the event.
November/December 2016