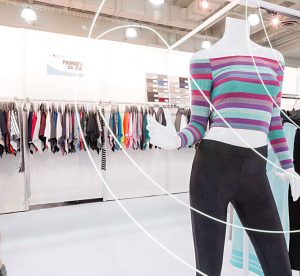 January editions of Texworld USA, Apparel Sourcing USA expand educational offerings, revamp trend forums.
TW Special Report
The biannual Texworld USA — an apparel sourcing event for buyers, research and product development specialists, designers, merchandisers and overseas sourcing professionals organized by Atlanta-based Messe Frankfurt Inc. — will convene at the Javits Convention Center in New York City January 23-25, 2017, for three days of sourcing, seminars and networking. According to show organizer, Texworld USA offers attendees "the opportunity to meet directly with a wide range of manufacturers from Asia, the Middle East, North America and from many other regions from around the globe." The show is produced in partnership with Austria-based Lenzing, and builds on the success of Innovation Asia and a sister Texworld show held in Paris.
The show is collocated with Apparel Sourcing USA, an event designed to offer apparel brands, retailers, wholesalers and independent design firms a dedicated sourcing marketplace for finding the best domestic and international apparel manufacturers. According to Messe Frankfurt, Apparel Sourcing is the only event on the East Coast to focus on sourcing finished apparel, contract manufacturing and private label development.
Educational Offerings, Featured Pavilions
In addition to the show floor dedicated to exhibitors, a complimentary seminar program and trend forum will again be available to attendees. According to Messe Frankfurt, the educational sessions are one of the biggest draws for attendees at Texworld USA and Apparel Sourcing USA, so the offerings will be expanded out to the show floor in January.
Intimate sessions will serve as more casual discussion opportunities between peers on a variety of topics important to the textile and apparel design industries. The new educational forum also will host "Performance Pitches" that give select exhibitors in the functional apparel and fabrics category the opportunity to pitch the capability of their mill and/or products.
"Along with our educational programs getting a face-lift, we are revamping the feel of our trend forums for both Texworld USA and Apparel Sourcing USA," said Jennifer Bacon, show director. "We will still have a general inspiration area featuring fabrics from our exhibitors, but in addition, Texworld's Art Directors, Gregory Lamaud and Louis Gerin, are working to design a new showcase combining both fabric and apparel around the theme of our winter edition: functional and performance fabrics."
Texworld USA will feature pavilions from Lenzing Innovation, as well as from Korea, Taiwan and Turkey. As in the past, Lenzing Innovation will host 17 exhibitors focused on incorporating sustainable fibers into a wide range of product categories.
Messe Frankfurt also announced that for the first time in the January edition's history, Apparel Sourcing USA will host a Mexican Pavilion featuring exhibitors from the state of Jalisco that specialize in a variety of cut-and-sew products.
There is no registration fee for qualified trade show visitors. Messe Frankfurt recommends that attendees preregister online, but it also is possible to register on-site using a business card and photo identification. The show is open January 23 and 24 from 10:00 a.m. until 6:00 p.m., and from 10:00 a.m. until 4:00 p.m. on January 25.
---
For more information about Texworld USA and Apparel Sourcing USA, please visit texworldusa.com and apparelsourcingshow.com
---
November/December 2016