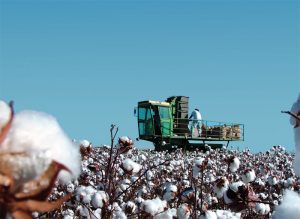 Cotton prices are on the rise, but no price spike is anticipated.
By Jon Devine
Cotton prices increased this summer and have been holding onto levels that are a little higher than they were a year ago. The recent rise may have some wondering if there might be a repeat of the historic price spike that occurred during the 2010-11 crop year when fiber prices climbed above $2.00 per pound. With global supply still near record levels, history is not likely to repeat itself any time soon. The recent bump in prices can be attributed to several factors including seasonality, a unique situation involving India and Pakistan, as well as certain aspects related to Chinese cotton policy.
Nearly 85 percent of the world's cotton is produced north of the equator. With every cotton farm or cotton-producing country getting only one harvest per year, there is seasonality in supply. For example, late in the fall and early in the winter, once cotton from northern hemisphere countries has been harvested, ginned, and prepared for shipments, there is a lot of cotton available. That availability can lead to downward pressure on prices this time of year. Conversely, just ahead of the northern hemisphere harvest, the market is dependent on warehoused supplies. For this reason, the market is susceptible to supply-related concerns in the summer and early fall. The price movement that occurred over the past several months can be seen as a response to tightness in warehoused supply in certain countries and accessibility issues in others.
Concerns regarding tightness in warehoused supply were most acutely felt on the Indian sub-continent. Last year, Pakistan suffered difficult growing season. A combination of pest infestations and disease pulled yields 30 percent lower. With less cotton available domestically, Pakistani mills had to import cotton and ended up importing the second-highest volume on record. Most of Pakistan's imports came from India, and the increase in import demand from Pakistan coincided with a year that India had less cotton to sell.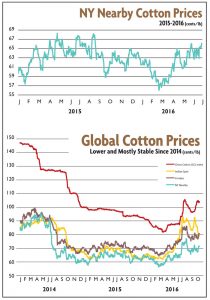 Because of a reduction in acreage and its own set of challenging growing conditions last year, India's surplus of production was comparatively small in 2015-16 — down 60 percent relative to the 2014-15 crop year. With cotton flowing across the border to Pakistan, India's exports rose 40 percent at the same time that there was less cotton available. Correspondingly, there was not a lot of warehoused supply in India this summer. This led to sharp increases in Indian prices, with values for domestically produced fiber rising 25 cents per pound, or 40 percent, between the spring and summer months. India, the world's second largest exporter, also had to look to the United States and West Africa for supply in recent months and there were even reports that India has had to re-import its own cotton back from Pakistan. Because of these trade relationships, there were some knock-on effects tying India's situation to prices in the rest of the world.
Both India and Pakistan are expected to enjoy better growing conditions this year, and the increase in production already has calmed supply-related fears in the region. In addition, most major exporters — including the United States, Australia, Brazil, and the cotton producers in West Africa — are expected not only to grow more cotton but also to finish 2016-17 with more fiber in storage than they began the crop year with. This increase in available supply suggests flat to lower prices outside China as the harvesting period progresses.
In China, the influence of the Chinese government makes the price situation in China somewhat cloudy. China is not expected to have a large crop this year. However, the Chinese government has indicated that another round of auction sales will begin in March and run through August. Coordination between reserve supply and harvested supply should shape price direction in China.
---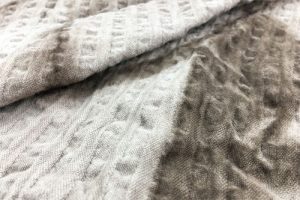 Redefining "100-Percent Cotton"
Cary, N.C.-based Cotton Incorporated recently partnered with Switzerland-based Archroma to develop a dye made from cotton-plant residues. When Cotton Incorporated heard about Archroma's EarthColors the company was intrigued by the idea that it might be possible to create and color a fabric using a single plant source.
Archroma makes use of agricultural waste products — including almond shells, saw palmetto, rosemary leaves, and other natural products — that otherwise would be sent to a landfill in a patent-pending process that transforms biomass from the waste to make EarthColors. The resulting patented biosynthetic sulfur dyes can be used with cellulosic fibers such as cotton.
"As soon as we heard about the EarthColors technology, we wanted to explore the possibilities of cotton as a natural dye source," said Mary Ankeny, senior director of Textile Chemistry Research at Cotton Incorporated, who led the project from the Cotton Incorporated side. "Byproducts of cotton harvesting and ginning have been utilized within the food and construction industries for decades, but we were intrigued by the idea of using cotton biomass to dye cotton fiber."
Cotton biomass is in plentiful supply. Globally, as much as three million tons of cotton harvesting and ginning byproducts — including burs, stems, immature bols, lint, sticks and leaves — are generated each year. Between 150 and 200 pounds of usable byproducts can be garnered from just one 480-pound bale of cotton.
The partnership between the two companies produced exactly what Cotton Incorporated was hoping for — EarthColors dye made using cotton byproducts. Application of the dyes — which produce a range of brown hues — marks the first time the cotton plant has been used to dye cotton fabrics for a truly 100-percent cotton.
"We are grateful to Cotton Incorporated to have brought us this challenge," said Nuria Estape, head of Textile Specialties, Global Marketing & Promotion, Archroma. "Archroma
strives to challenge the status quo, and our EarthColors technology demonstrates our dedication to support and inspire sustainable fashion with warm colors that can be traced from the field to the shop."
Environmentally-conscious brands find dyeing a natural fiber with natural ingredients appealing. Archroma extends the appeal of the product by offering traceability as well as sustainability. Each batch of EarthColors dye has a hangtag featuring a Near
Field Communication chip containing data that explains the manufacturing process of the dye and where the natural materials were sourced. In addition, each bale of cotton grown in the United States is assigned a bale identification tag containing data about the characteristics of the fiber. The chip also allows cotton businesses to trace the bale's trip all the way back to where it was ginned.
Building on the dye innovation, Cotton Incorporated partnered with Greensboro, N.C.-based Cone Denim LLC to develop denim fabrics featuring the Archroma cotton-derived dyes. Cone developed a concept collection at its White Oak plant that includes three base denim constructions — 3×1 twill, broken twill and basket weave. Each construction was developed in a range of washdowns, blue-colored fill and environmentally responsible finishing techniques including ozone and laser etching.
"Cone was the ideal partner for this project," said Teresa Zugay, account executive, Cotton Incorporated. "With more than 125 years of experience, they know how to stay true to denim's roots while meeting the market's desire for innovation. While still in concept stage, we look forward to continuing our partnership to bring this innovation to market."
"We were delighted to work with Cotton Incorporated on this unique project," said Allen Little, director, product development, Cone Denim. "We think these denim inspirations have the aesthetic range and environmental appeal that today's denim brands are looking for."
Cotton Incorporated debuted fabrics made using the EarthColors dyes at the recent Premiere Vision in Paris and Kingpins show in New York City.
---
Editor's Notes: Jon Devine is a senior economist with Cary, N.C.-based Cotton Incorporated.
The information contained herein is derived from public and private subscriber news sources believed to be reliable; however, Cotton Incorporated and the Cotton Board cannot guarantee its accuracy or completeness. No responsibility is assumed for the use of this information and no express or implied warranties or guarantees are made. The information contained herein should not be relied upon for the purpose of making investment decisions. This communication is not intended to forecast or predict future prices or events.
---
November/December 2016