A look inside The Quantum Group reveals a very different kind of textile company. 
By James M. Borneman, Editor In Chief
The Quantum Group and its five sister companies provide a full menu of textile solutions — end-to-end textile manufacturing from additive masterbatches, monofilament and multifilament yarn extrusion, texturing, twisting to knitting, weaving, machinery re-engineering and automation.
When asked about the creation of these individual companies rather than creating operating divisions of The Quantum Group, Company founder Jeff Bruner explained: "I own 100-percent of The Quantum Group. But these individual sister companies allow key employees and industry partners to participate with Quantum in ownership." This is a concept Bruner says provides motivation and opportunity for all parties involved.
Another difference is the lack of a sales force. With the exception of one fiber sales person, the companies rely on long-term relationships and word-of-mouth for new business. "People just come to us with their problems," Bruner explained. With no interest in competing on price or participating in price compression or product commoditization, the companies are focused on helping clients achieve market differentiation. Quantum often is requested to be the problem solver and improve or invent a solution. Also, when it creates a solution, because most of the processes require modified equipment, the company often becomes a contract manufacturer as well.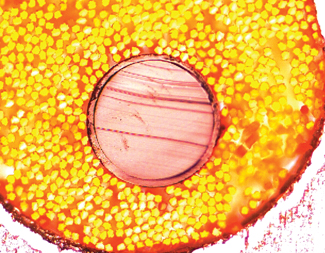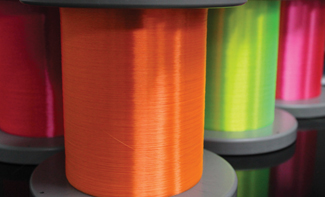 The Quantum Group and its sister companies offer a variety of textile solutions from additive masterbatches to monofilament and multifilament yarn extrusion, texturing, twisting, knitting, weaving, and machinery reengineering and automation.
Making R&D Successful
Most research and development (R&D) contracts begin with Quantum, or a sister company, requesting the client's wish list that will differentiate it from the competition. Then, the process of engineering a solution begins.
Rather than a typical textile operation that invests in a capability — like a weave room for example — and then develops products using that capability and takes them to market, Quantum operates in reverse order.
"Usually we a trying to provide a textile solution for a client," said Bruner. He gave an example of a  manufacturer who produces string trimmers and wants to improve the product. "So we asked the company what are the properties you are looking to improve?," Bruner said. "Then we start thinking and scratching our heads to see what can we do. The company's wish list included wants such as longer lasting, greater flexibility, lower heat generation as it whips around at high speed and to outperform the competition. We also had to figure out what the capability of their equipment is — as far as a masterbatch. Can they feed in 0.5 percent or 5 percent or 10 percent? Then we design an experiment to try different materials that will lower the coefficient of friction, have improved heat transfer. These might be the same materials used in footwear or in seating fabrics because there is a lot of crossover between what these additives do to meet certain requirements."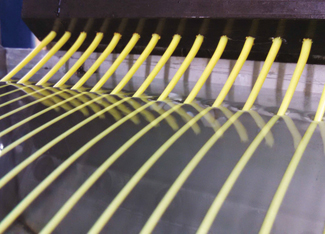 Innovation All Day Long
This type of R&D is at the core of Quantum and its sister companies.  It is typical for them to come up with a theory or a hypothesis, invest in the equipment or formulation necessary to make the product — hopefully the equipment is used — then modify it and install it. Equipment often is installed and dedicated to one customer as needed.
Quantum even has refurbished and modified shuttle looms because this technology allows them to exploit the unique characteristics of this old weaving process. The shuttle loom's woven selvage allows the company to weave tubular fabrics some of which are used as belts in various industries.
"We weave a tube to very precise dimensions, and our client makes it into a belt. The belts are used by the U.S. and Japanese postal services as the feed belt that feeds letters and parcels past the optical scanner that sorts by zip code," Bruner said.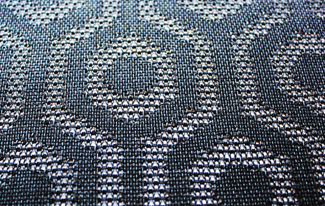 "We make various dimensions of tubes for a long-time customer that coats and slits the tubes into belts to supply a variety of end-uses including belts to drive the drum in copy machines, printers and even the beater brush on vacuum cleaners."
Auxetic Yarns
It seems that each of the companies has an innovation story worth exploring. Burner explained that even with a process like twisting, there is innovation to pursue. In one case Quantum creates an auxetic yarn, which is a high-strength yarn wrapped around an elastomeric core. The yarn is supplied to a weaver that produces fabrics used as blast-absorbing curtains. As a blast releases energy, the yarns elongate and absorb the energy, while the high-strength component of the yarn maintains the fabric's integrity.
In another instance, Quantum was approached by a medical company to perform some twisting with a very clean environment requirement. "So we bought a machine for them, and installed it in its own room with its own HVAC," Bruner said. "And we only run their product on it. If they pay for it, we'll run it as they need product whether it is 2 percent, 10 percent or 90 percent of the time. We have to give them what they want, when they want it."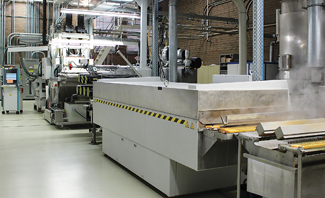 Uranium — Really?
Bruner recently completed an interesting project with Oak Ridge National Laboratory, Oak Ridge, Tenn.
"Oak Ridge was having some handwoven samples made at Philadelphia University and they needed to scale up and figure out if the fabric they developed could be successfully made on a machine, and it required a shuttle weaving machine," Bruner said. "So we set up a dedicated shuttle-weaving machine to weave these very special yarns — made using treated high-surface-area filaments — designed to absorb free uranium in the ocean. The fabric produced looks like sea kelp but it is woven on a Draper weaving machine."
The fabric is an olefin so it's lighter than water and floats. Bruner said there is approximately 3.3 parts per billion of free uranium distributed throughout the world's oceans, and most major countries are looking for ways to harvest that uranium.
"According to the Department of Energy, that uranium is enough to provide electrical power to every human for the next several hundred years," Bruner said.
After the fabric is exposed to the seawater, it is harvested and chemically processed to extract the uranium.
"You don't have to mine anything," Bruner said. "You float these fabrics made from a special polymer spun into a unique cross-section. Imagine the fabrics floating like a kelp bed," he added.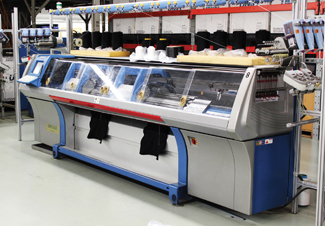 Modify And Automate
Quantum and its sister companies have extended their capabilities by adding in-house engineering for refurbishing, modifying and automating textile processes.
Bruner described one project where Quantum's in-house engineering transformed a complicated window screen manufacturing process. "We were weaving a specialized window screen for a company," Bruner said. "We then shipped the fabric to a company for a bonding treatment. From there it was shipped to another company to be heat set. Then, it was sent it to yet another company to be slit into the sizes needed for the windows.
"When the housing market slowed, the business just wasn't big enough for our customer anymore. So we thought about it, and now Quantum weaves, bonds, heat sets and slits — all in one operation. And we are now the supplier for a major window and door manufacturer," Bruner added.
The screen fabric also is very unique because it is made from fluoropolymer fibers. This fiber allows for greater light transmission and superior ultraviolet resistance compared to traditional screening, according to the company.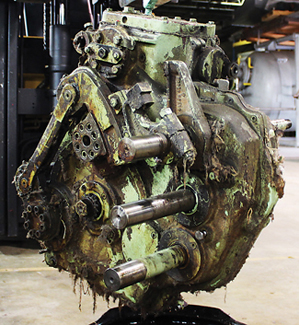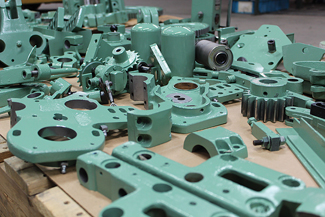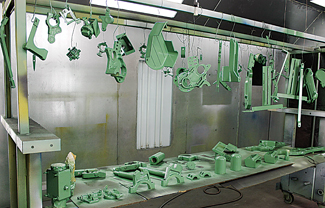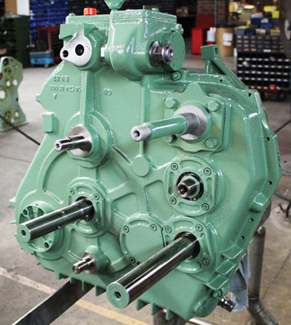 Quantum has strong engineering capabilities including refurbishing, modifying and automating textile machinery and processes including parts reconditioning as performed on this gear box shown before reconstruction and after.
It's About People
When asked about the key to Quantum's innovation and success, it was clear that curious and capable people are at the center of the operations. "I just want people to be happy with challenges — people who enjoy solving people's and companies' problems," Bruner said.
Review of Quantum's high points shows — whether partnering with GM, Herman Miller, Meadox Medical, and the list goes on — The Quantum Group and its sister companies have a bright future. According to Bruner: "As long as there are problems to solve, I'm confident Quantum can provide a solution."
---
The Quantum Group
Sister Companies
Protextiles specializes in weaving tubular textiles using refurbished and customized Draper and C&K looms. Largely serving the belting industry, Protextiles weaves a variety of man-made and natural fibers to achieve the client's specification. Protextiles also has twisting and warping capabilities, and weaves tire cord fabric.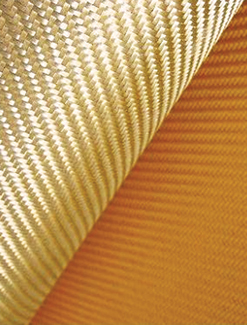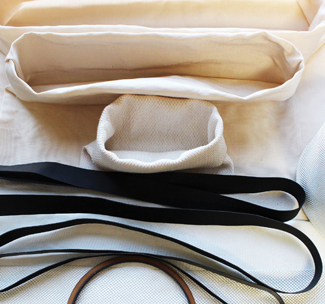 Knitmasters produces 2-D and 3-D knitted functional technical fabrics.
Utilizing state of the art computerized processes and design, Knitmasters offers a broad range of knitting capabilities and flexible processes including
circular- and flat-knitting equipment.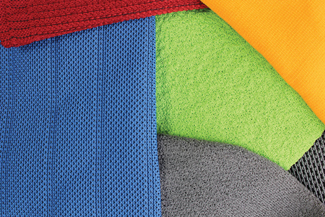 FibeX extrudes and texturizes man-made turf thatch yarns. It has the capability to process polypropylene, nylon 6, polyethylene and polyester, as well as other resins, extruding round, oval, S-shaped and C-shaped cross sections and engineering performance using a variety of additives including ultraviolet (UV) stabilizers, static reducers and flame retardants.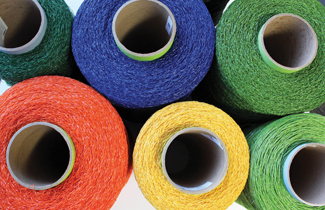 Triad Polymers specializes in compounding masterbatches for a broad number of products in the plastic and fiber businesses. A masterbatch is a concentrated formulation of colorants or functional additives. Such additives are engineered to affect the performance of the final product when added to the polymer prior to extrusion or injection molding. Triad can engineer any number of properties, from enhancing UV performance to adding antimicrobial properties and magnetic additives.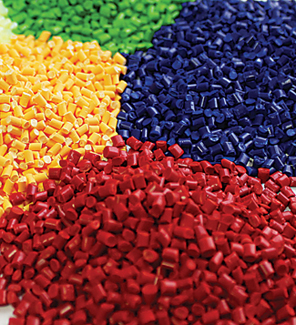 A recent start-up, Trident Fibers was established to manufacture polyester yarns specifically for the production of medical implants.
---
November/December 2015