Cotton commodity outlook examines cotton prices and innovations
TW Special Report
As is the case in all financial markets, cotton prices are in a continual state of evolution. In certain time periods, this evolution involves a shift from one price level to another. In other time periods, changes that emerged previously are substantiated or maintained.
Following the move to lower prices that began in the spring of 2014, cotton prices have likely entered into an era of continuation, when prices can be expected to remain low and relatively stable. There are other examples of multi-year periods with low and stable prices. In the mid-2000s, cotton prices traded within ranges of only a few cents per pound (cents/lb).
The early to mid-2000s were characterized by a series of record-setting volumes of stocks. The availability of cotton supply kept prices from moving much, with values for the A Index between 2004-05 and 2006-07 fluctuating generally between 50 and 60 cents/lb. The current market also is saturated with cotton, with global stocks at a level nearly twice the volume from the mid-2000s.
Nonetheless, prices remain slightly higher than they were a decade ago. With so much cotton globally, one of the reasons why lower prices have not been seen is because much of the world's supply remains in the hands of the Chinese government. The role of the Chinese reserve system was reversed by reforms announced in the spring of 2014. With these reforms, the reserve system no longer is a source of demand because it no longer makes any purchases. Instead, it has evolved into a source of supply, with intermittent sales. The increased availability of Chinese reserves has been one reason why prices declined over the past year and a half.
A connected reason for the weakness in prices has been Chinese reforms relative to import quotas. After acting as an open door during the period of reserve purchases between 2011-12 and 2013-14, the quota system is actively restricting shipments to China. Because of World Trade Organization (WTO) obligations, China is required to allow a minimum level of cotton into the country each year. Statements from Chinese officials indicate that only the WTO-related minimum would be allowed during the 2015 calendar year, leading forecasts for Chinese imports in 2015-16 to drop to levels that are less than one-third of the average between 2011-12 and 2013-14.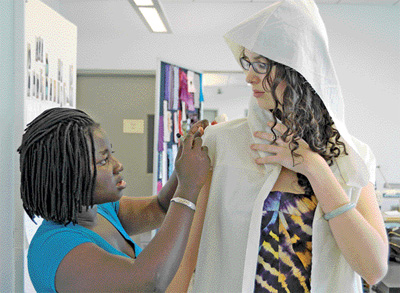 China represented more than 40 percent of global imports in recent years, so the pullback in Chinese import demand that began in 2014-15 had important implications for exporters. The increase in stocks in many exporting countries that accompanied the reduction in Chinese imports last crop year was a principal factor behind the decreases in the A Index.
Following the decrease in prices, there were decreases in acreage in several countries for the 2015-16 harvest. However, in aggregate, the collection of countries outside China continues to produce more cotton than it uses. That surplus is nearly equal to the volume of cotton that China is expected to import. This suggests available stocks outside of China should remain at comfortable levels and that prices should continue to be low and stable.
Ongoing Innovation
In his economic history, "Cotton: Empire of Gold," Harvard professor Sven Beckart refers to cotton as "one of mankind's greatest achievements." Beckart's accolade is an acknowledgement of cotton's role in shaping the global marketplace into what is known today, but his words easily could be applied to the ability of cotton to adapt and change. Whether to growing environments or market needs, cotton has a history of resilience and innovation.
As a plant, cotton is highly adaptable. Its innate drought- and heat-tolerance enable cotton to thrive in growing environments that might not support other crops. As such, cotton uses only 3-percent of the world's agricultural water, yet provides two-thirds of the world's textile fiber. And because cotton can be cultivated on every continent except Antarctica, each crop year can offer an abundance of the natural fiber for textiles.
Recent breakthroughs in the mapping of the cotton genome are poised to further enhance cotton's efficiency and desirable characteristics. Whether through conventional or biotech breeding, the genomic mapping of cotton will help speed to market cotton varieties that use natural resources and inputs more efficiently, produce higher yields or yield higher fiber quality. Such new cotton varieties, combined with precision agriculture techniques and modern farming practices — like conservation tillage — will further optimize cotton production for a resource-challenged planet.
As a textile fiber, cotton has a long history. This is due, in part, to its comfort, and partly due to innovation. Cotton is suitable for virtually every apparel type, from fine shirting to durable denim dungarees, and its range continues to expand. Time and again, the cotton industry has responded to consumer desires for cottony comfort combined with performance. For example, consumer interest in the no-iron benefits that were only offered by some man-made fibers decades ago, resulted in durable-press cotton textile solutions for apparel and home textiles.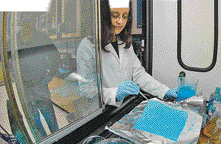 In recent years, cotton's market share has suffered as a result of the run up in cotton prices back in 2010, and because of an increasing number of competitive, and often cheaper, fiber options. But again, innovation is making gains for cotton. The athletic apparel category, for example, has been dominated by man-made fibers that offer moisture management. However, textile chemistries such as the TransDRY™ and WICKING WINDOWS™ technologies from Cary, N.C.-based Cotton Incorporated have merged moisture management with the breathability and comfort of cotton. In the past year, cotton's share for 100-percent cotton items in the men's athletic category has increased by five percentage points, to 19.4 percent, according to the Cotton Incorporated Retail Monitor Audit.
The Next Big, Small Thing
The next big thing for cotton may be something quite small — on the nanoscale, in fact. At the Textiles Nanotechnology Laboratory at Cornell University, Ithaca, N.Y., Professor Juan Hinestroza and his students are exploring fascinating new applications for cotton at the nano level. Their work may elevate cotton as a go-to fiber for the emerging category of wearable technology. Already, Hinestroza and his students have transformed cotton fibers into electronic components such as transistors and thermistors, essentially making the fiber of the garment an electrical component, rather than adding such a component into the fabric.
The Cornell team also is performing exciting work synthesizing nanoparticles and attaching them to the naturally irregular topography of cotton. Depending on the particles attached, garments can be created that offer protection against such things as cold- and flu-causing bacteria. The team also is doing intriguing work with metal organic framework molecules (MOFs). Two of Hinestroza's students have developed a hooded bodysuit that leverages MOFs to help ward off malarial mosquitoes — a threat that claims more than 600,000 lives in Africa each year. Other students have utilized MOFs to create a cotton mask and hood that can trap toxic gases, which will be of great use to first responders and industries where exposure to toxic gases might arise.
Beyond Textiles
Cotton is traditionally known as a textile fiber, an ingredient in apparel and home textiles, but there are non-textile uses for cotton fiber and cotton plant by-products. Some uses take advantage of cotton's hollow fiber structure and capacity to absorb. Over the past year, several well-known retail brands have introduced cotton fiber in nonwoven products such as disposable diapers, and adult incontinence and feminine hygiene products. Notable among the latter is the Lola brand of tampons, which is a subscription-based product provider.
Other uses of cotton byproducts may come as a surprise. Take Boulder, Colo.-based Zeal Optics, for instance. This company transforms cotton lint — the short, fuzz-like fibers attached to cottonseeds — into cellulose to produce its sunglass frames. Cotton is almost pure cellulose, which means it can be made into a moldable resin for a range of applications, such as sunglass frames and tool handles.
It is well-known that cottonseeds can be pressed for their oil. In fact, the high smoke point and neutral flavor of cottonseed oil add to its popularity in the commercial food industry. It is somewhat less well-known that cottonseed also is a popular cattle feed supplement. Dairy farmers in particular value cottonseed because it contributes to higher yields of richer milk. The latest application for cottonseed is as a substitute for the fish-based meals used in aquaculture. Farm-raised fisheries have depended on traditional fish meal for years, but now many are experimenting with cottonseed meal, which has a high protein content.
It is interesting to note that these diverse uses for cotton fiber and other parts of the cotton plant are not an either/or proposition. Every cotton harvest provides fiber for textile and nonwoven uses — cottonseed for oil or feed supplements, and linters for cellulose. The 6,000-year-history of cultivated cotton has seen its share of challenges, but these challenges have been met through perseverance and innovation. When examined in this way, the outlook for cotton is limited only by the imagination.
November/December 2015