Back for its second year, the Textile World Innovation Forum 2015 will be held December 1-3, 2015, at the Sheraton Charlotte Airport Hotel, Charlotte. The forum will begin at 11 a.m. on Tuesday, December 1 and ends at noon on December 3.
The idea behind the single-track, high-level event is to help industry professionals — management personnel in engineering, processing, plant operations, research and development, and quality control — who are short on time, get a high-value dose of the latest and greatest developments across the full textile spectrum — process technologies, trends and quick insights into hot topics in the textile industry.
Feedback from 2014 forum attendees played directly into the development of this year's program, as well as its relocation from Atlanta to Charlotte.
"Moving the event from Atlanta to Charlotte takes the event closer to the textile manufacturing community," said Jim Borneman, editor in chief, Textile World. "We hope this new venue will make it easier for textile executives to travel to the event to ensure a large, diverse group of attendees. Last year's participants were an interesting group of people curious about textiles, many of whom participate in product development for their various companies. The networking aspect of the event increases the value of the time invested."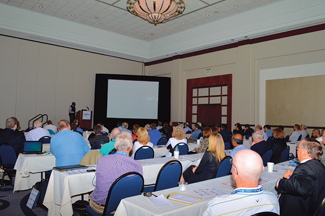 Atlanta hosted the inaugural Textile World Innovation Forum in 2014.
Conference Lineup
The staff of TW are working hard to line up speakers for the forum, and are well underway to assembling a high-quality, interesting group of presenters who will cover a broad range of issues related to innovation in the textile industry.
TW is happy to announce K.P. Reddy will kick off the conference on Tuesday. He has an interesting background in taking research, bringing it forward and commercializing advanced and cutting-edge technology.
As a general partner with CTW Venture Partners, Reddy invests in innovative start-ups; and as a managing advisor and founder with AMPIRIX — an analyst, research and consulting company — Reddy launches new products, directs innovative solutions and strategic acquisitions, and forges corporate relationships.
Reddy also is the CEO at Atlanta-based SoftWear Automation Inc., a company focused on bringing automation into the cut-and-sew world that has its origins with a Defense Advanced Research Projects Agency (DARPA)-funded research project at the Atlanta-based Georgia Institute of Technology. Since Reddy transitioned into his position as CEO, SoftWear Automation has secured an additional $3 million of funding and is poised to move into a bigger facility. The company expects to be the first supplier of fully automated production lines for robotic cutting and garment sewing, which is achieved through the use of patented intellectual property including sewing machine vision, robotics, and computing. According to the company, its technology could lead the conversion of a labor-intensive industry with annual imports of $100 billion to an industry that is capital-intensive and economical.
Other topics being considered for the forum include advanced weaving technologies, fiber innovations, composite developments, automotive textiles, advances in medical textile applications, smart textiles, and a presentation on "The State of the Technical Textiles Market in North America."
In addition, two of the forum presentations will focus on technology highlights from the upcoming ITMA 2015 show in Milan, Italy. For those unable to attend the event in Milan, but still curious about technology advances on display at ITMA, two professors from the Raleigh, N.C.-based North Carolina State University will provide a snapshot of the most interesting technology innovations seen on the show floor.
As more information about the speakers becomes available, it will be posted on the Innovation Forum website and highlighted in the weekly TW e-newsletters.
Innovation Award
On Wednesday night from 6-8 p.m., the Innovation Forum will host the 2015 Textile World Innovation Award dinner honoring one company for its outstanding efforts and accomplishments in product invention and innovation.
The Quantum Group, Colfax, N.C., is this year's recipient (see sidebar); and TW thanks the honored company in advance for providing the time, access and support necessary to tell the Quantum story.
TW hopes to see you in Charlotte at the 2015 Textile World Innovation Forum!
---
2015 Innovation Award Recipient: The Quantum Group
The Quan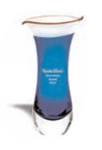 tum Group, Colfax, N.C., is the 2015 Textile World Innovation Award recipient.
The company was founded in 1985 as a supplier of unique monofilament and multifilament yarns, and high-performance woven and knitted fabrics.
The Quantum Group, along with its four sister companies, was selected to receive the award because of the company's commitment to innovation and incredible ability to solve client's challenges, according to James M. Borneman, publisher of Textile World.
"The Quantum Group was founded with innovation at its very core," said Borneman. "Quantum's equipment, often heavily modified, allows for creative processes as a fully integrated manufacturer."
Among many innovations, the company developed Pellicle® fabric for the Herman Miller Aeron chair, and provided the roof fabric for Wimbledon's Centre Court at the All England Lawn Tennis Club.
The November/December 2015 issue of TW will feature the full Quantum Group story.
---
For more information and to register for the Textile World Innovation Forum, visit textileworldinnovationforum.com.
September/October 2015