The Roseville, Minn.-based Industrial Fabrics Association International (IFAI) is returning to its roots to host IFAI Expo 2015 — featuring Specialty Fabrics, Advanced Textiles, and Shade and Weather Protection — which will be held October 7-9, 2015, in Anaheim, Calif. For the upcoming edition of the event, show organizers decided to move away from multiple Expo brand names and have returned to the industry-known IFAI Expo name. The expo continues to service all aspects of the industry, and features segments targeted to specific markets including:
Specialty fabrics — covering tents, awnings, fabric graphics and marine applications;
Advanced textiles — covering roll goods, nonwovens, fibers, nanotechnology, smart textiles and medical applications; and
Shade and weather protection (new in 2015) — covering end products such as retractable awning systems, shade structures, canopies and other weather solutions.
The expo features a show floor with an anticipated 400 exhibitors, equipment demonstrations, an Advanced Textiles Testing Booth, the IFAI Tech Stop, IFAI Membership Lounge, educational sessions, Fabric Sourcing Center, an updated ShowStoppers competition, new Disaster Relief and Preparedness displays, and the IFAI Awards and Keynote Presentation, among other activities.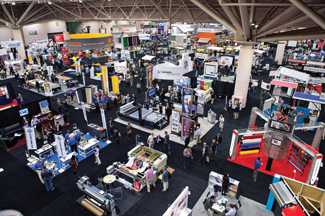 Schedule Changes, New Additions
The show floor will open later than past expo participants may be used to (see schedule) to free show hours from competition with classroom education sessions. "Our participants have indicated that they no longer want education and exhibit hall competing for their time, and in turn, want them in a cooperative fashion," said Jessica Miller, director of education and events. "Thus, this year, the show floor hours will be exclusive with various opportunities from quick, small discussions throughout the show floor. For example, the IFAI Expo 2015 will host Campfire Sessions each day of the show floor. The sessions run 30 minutes in length, and will be deep-dive on a variety of topics from general business management to division-specific education."
"In light of the success and positive feedback we received last year regarding the Equipment Workshops, this year we have refined the schedule, engaged more exhibitors to host workshops and are increasing the number of attendees per workshop session," said Miller. "Workshops will take place on the show floor Wednesday and Thursday mornings prior to exhibit hall opening, and attendees will have access to all workshops."
As in past years, IFAI Expo will showcase new and innovative ideas in the ShowStoppers 2015 area, which highlights the latest products in the following categories: Fabrics, fibers and films; Chemicals, coatings and compounds; Hardware, findings and accessories; Equipment and tools; Services to manufacturers; and End products. Winners will be announced during an awards ceremony the first evening of the show.
The Fabric Sourcing Center is a convenient hub for expo visitors to view and locate hundreds of exhibitor materials. Samples are organized into the following categories: outdoor fabrics; indoor performance fabrics; industrial; safety and protective; mil-spec; sport; and apparel.
This year, IFAI will introduce several new features to the show floor. The Advanced Textiles area will feature an Advanced Textiles Testing Booth. "The testing booth will introduce attendees to the key players in the testing arena, while also allowing participants to understand what test methods are appropriate for various materials and at which point of the production process necessary tests should take place," said Miller. "Education programming will support and prepare attendees for making the most of the testing booth onsite and working with testing laboratories through the production cycle."
In addition, a new Disaster Mitigation and Response Display will focus on exhibitor products that aid in disaster mitigation.
IFAI IAA And Keynote Presentation
On Thursday morning, IFAI hosts the IFAI International Achievement Awards (IAA) and keynote presentation. The IAA is an annual competition designed to "promote awareness of the specialty fabrics used in thousands of products and applications ranging in size and shape," according to IFAI. Winners — chosen by a group of industry experts, architects, design professionals and editors — are evaluated based on design, complexity, workmanship, uniqueness and function. The "Outstanding Achievement Award" and "Award of Excellence" winners will be showcased at IFAI Expo 2015.
The keynote speaker is Erik Weihenmayer, an athlete, adventurer, author and activist. "We are very excited about bringing Erik Weihenmayer, the only blind person to reach the summit of Mount Everest, as the keynote at IFAI Expo in Anaheim," said Mary Hennessy, president and CEO, IFAI. "Erik's message about overcoming adversity through teamwork is inspirational, and for the first time, the keynote address is open to all attendees, no exceptions."

---
For more information about IFAI Expo 2015, visit ifaiexpo2015.com
---
July/August 2015