Recently, Americas Apparel Producers' Network (AAPN) Managing Director Mike Todaro published a position statement delineating the basis for the resurgence of apparel sourcing in the United States and the Americas. With a membership that is dominated by companies operating in the U.S., Mexico, and Central and South America — Atlanta-based AAPN provides a window through which one can observe and understand the trends in sourcing in the Western Hemisphere.
When asked what is the key to the trend, Todaro said, "As I stated in the position paper, if you want to source huge quantities and you know what will sell way in advance — and you are not worried about flexibility, and you just want cheap — then, there are plenty of mega-factories in the world that will take your orders.
"On the other hand, if you are looking for a more flexible sourcing model, one that better aligns with today's fickle, hyper-connected, want-it-my-way consumer, then you need to look to the Americas. It boils down to four strengths — it is easier, faster, safer and just plain better doing business in the USA and the Americas."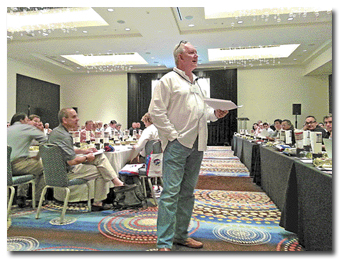 AAPN Managing Director Mike Todaro addresses attendees at the organization's 2013 annual meeting, held at the Eden Roc Renaissance Hotel in Miami.
Abundant Advantages
Sourcing from the Americas offers numerous advantages for brands and retailers looking to streamline their supply chains. "I was joking when I wrote that some people like 16-hour flights and late-night conference calls and that you'd have to give them up to work in the Americas," Todaro told Textile World. "But it is true that the Americas supply chain is tightly integrated; our time zones are easier to manage; American English is widely spoken; and face-to-face meetings are quick to arrange, fast to reach and simple to understand. I pointed out that we have one member with a denim mill, regional jeans factory and an office in LA's fashion jeans center. It really doesn't get any easier or more convenient than that," he added.
"It is faster because of proximity — but it is more than proximity. It is faster because it is easy to collaborate; and the better you collaborate, the faster you get. Also, the smaller factories in the Americas react quickly. Several of AAPN's members built an activewear supply chain city, producing yarn, fabric, factory and trim — all within minutes of one another, giving you access to some of the fastest market speeds possible.
Near-sourcing also addresses sustainability and compliance considerations. "As I stated in our position paper, when it comes to sustainability, worker safety, environmental stewardship, factory compliance and social responsibility, many AAPN members have a significant competitive advantage," Todaro said. "One factory's social programs cut turnover, training costs and absenteeism — meaning better skills, more flexibility, consistent quality and faster cycle times."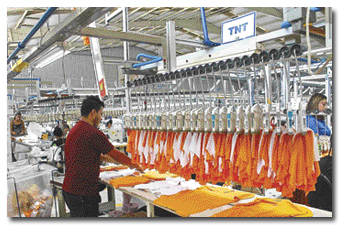 Activewear maker Textiles Opico S.A. de C.V. (TexOps), El Salvador, part of a supply chain that includes partners from very nearby to the United States, offers fast turnaround times.
Adding Up To Better
"You may think that to state it is better to source in the USA and the Americas shows a prejudiced attitude, but at AAPN, we believe that easier, faster and safer adds up to better," he continued. "Better because you can get more sell-through when you can order closer to the demand and do fewer blind buys. Better when you can get duty-free imports without risking your company's reputation in countries with poor compliance history. Better because you can spend less time on the plane and more time doing your job."
Todaro noted that his organization's membership spans the complete supply chain for most apparel needs. "It's fair to say — sure, you can't make everything you need in the Americas — but at AAPN, we can give you the names of great suppliers making tops/bottoms, knits/wovens, fashion/basics, yarns/fabrics, trims/services and everything in between. We want to help those decision-makers who are rethinking their sourcing models and reintroduce them to AAPN members that we know can get the job done easier, faster, safer and — yes — better."
AAPN Resources
When asked about AAPN resources, Todaro replied, "There are more than resources within AAPN. Our members are some of the most knowledgeable and experienced members of the textile supply chain. Getting to know them through our meetings and trips, and deploying the network to take on industry challenges — you'll see that these are generous executives who share their knowledge and have learned that collaboration is key."
May/June 2014