Recent issues of Textile World and postings on TextileWorld.com have reported a significant number of investments in the U.S. textile industry. A partial summary follows. Not all of the investments noted have dollar amounts or job creation numbers attached to them. For those companies that have provided numbers, the investments total more than $4 billion, and jobs to be created total more than 6,000.
Fiber Sector
Solution-dyed filament-based fiber producer Universal Fibers Inc., Bristol, Va., has acquired the continuous filament bicomponent production assets of Fiber Innovation Technology Inc. (FIT), Johnson City, Tenn. "The addition of bi-component fiber technology supports our mission as innovative problem solvers, and enables us to expand into new markets including performance apparel, interior furnishings, filtration, technical/industrial, geotextile, and medical," said Don Campbell, vice president, business and technical development, Universal Fiber Systems (UFS), parent company of Universal Fibers. Campbell noted synergies between the FIT assets and Universal Fibers' existing assets in Bristol. The technology also is expected to have application in traditional markets for existing customers of Universal Fibers and UFS's other business unit, Premiere Fibers Inc.
Specialty man-made staple fiber manufacturer Palmetto Synthetics LLC, Kingstree, S.C., is investing $1.1 million to add a second recycling line at its 250,000-square-foot (ft2) facility and build a 25,000-ft2 warehouse facility, and expects to add 20 employees. The company previously expanded its operations in 2008 and 2010.

Recycled polyester staple fiber products maker JN Fibers Inc., China, is investing $45 million to set up a facility in Richburg, S.C., to recycle used polyethylene terephthalate (PET) bottles into polyester staple fiber for use in automotive, furniture, home textiles and upholstery products. The project is expected to create 318 jobs. The company is upfitting and expanding an existing building, with startup expected in the third quarter of 2014. Its subsidiary Sun Fibers LLC will operate the facility and market the products manufactured there. Mark Bachner, senior vice president of operations, JN Fibers, noted that South Carolina offers an "excellent business environment and access to markets," as well as a well-qualified workforce.
Unifi Inc., Greensboro, N.C., has acquired the assets of Dillon Yarn Corp.'s American Drawtech division. Those assets, which comprise draw winding equipment, were relocated to Unifi's Yadkinville, N.C., manufacturing plant last year as part of a commissioning agreement between the two companies. Unifi plans to introduce its REPREVE® recycled-content polyester and nylon and other premier value-added products into mid-tenacity flat yarn markets. The American Drawtech assets increase Unifi's production capacity and enable it to expand its presence in certain industrial and thread markets.
Sappi Fine Paper North America, Boston, a subsidiary of wood pulp and paper producer Sappi Ltd., South Africa, has invested $170 million to convert its kraft pulp mill in Cloquet, Minn., to enable production of up to 330,000 metric tons annually of specialized cellulose for use in textile fibers as well as household, beauty and pharmaceutical products. Cloquet Mill produces pulp using batch cooking technology, which can be used for making both kraft pulp and specialized cellulose. "It is the newest pulp mill in America, close to its fiber basket and with a highly skilled and motivated workforce," said Ralph Boettger, CEO, Sappi Ltd.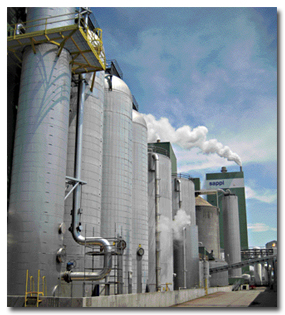 The tankfarm at Sappi's Cloquet Mill enables production of specialized cellulose using a viscose continuous batch cooking process patented by Austria-based Lenzing Technik GmbH, which assisted with the mill's conversion.Photograph © Lenzing Technik
Spinning
Gildan Activewear Inc., Montreal, plans to build two yarn-spinning plants in North Carolina — one in Salisbury and another in Mocksville, and expand and renovate its Clarkton, N.C., spinning plant. The $250 million-plus investment is expected to support projected sales growth and bolster the company's global low-cost manufacturer status.
Swift Spinning Inc., Columbus, Ga., has set up an employee stock ownership plan (ESOP), under which eligible employees will earn shares of the company's stock. Management, client services, operations and business strategy continue as before. The 108-year-old company spins cotton ring-spun yarns for the hosiery, niche/specialty weaving and knitted apparel markets, and employs some 300 workers.
Parkdale Mills Inc., Gastonia, N.C., is investing $85 million to expand its spinning facility in Rabun Gap, Ga., and add 210 jobs. The 750,000-ft2 facility houses two plants that spin cotton yarn used in T-shirts and high-end activewear. The company will convert production in one plant to polyester/cotton blended yarn for use in performancewear, and expects the expansion to be completed by the end of 2014. Parkdale operates 25 plants in the United States, Colombia and Mexico.
Gulf Coast Spinning Co. LLC (GCS), a new venture undertaken by the management group of Lacassine, La.-based Zagis USA LLC, is investing $130 million to build a cotton spinning facility in Bunkie, La., and expects to add some 290 jobs. The facility is the second of two that Zagis USA has planned to build in Louisiana, with the first having come on-line in Lacassine in late 2009. The two facilities represent a combined investment of some $150 million and together are expected to generate 386 direct and 1,040 indirect jobs. The 600,000-ft2 Bunkie facility will comprise two mills — a ring-spinning mill equipped with 43,200 Zinser spindles that will be able to spin 450,000 pounds per week of value-added premium cotton and cotton/synthetic carded and combed yarns for knitted and woven apparel, and specialty denim yarns; and an open-end mill equipped with 17,280 rotors supplied by five blending lines and 52 cards, with a weekly capacity of 2.5 million pounds of cotton/synthetic and synthetic yarns. The Bunkie facility will be four times larger than the Lacassine mill, which produces cotton open-end yarns. GCS plans to export most of its yarn. Once the Bunkie facility comes on-line, the two facilities together will consume some 15 to 20 percent of Louisiana's cotton crop.
Yarn spinner Keer Group, China, is investing $218 million to establish U.S. operations under the name Keer America Corp., in Indian Land, S.C. The company will build a 230,000-ft2 manufacturing facility and expects to create 501 jobs. Keer will produce industrial cotton yarn using cotton grown in the region, and will export the yarn to China via the Port of Charleston. Production is expected to begin in the first quarter of 2015. "We chose to locate our first U.S. facility in South Carolina for a number of reasons, which include the state's workforce, proximity to cotton producers and access to the port," said Zhu Shan Qing, chairman, Keer Group.
ShriVallabh Pittie Group, India, whose textile business, Platinum Textiles Ltd., produces cotton, polyester and blended yarn in India, is investing $70 million to build a yarn spinning plant near Sylvania, Ga., and hire 250 employees. The plant will manufacture carded cotton yarn and offer flexible production to meet market demand. "We believe there is a significant market opportunity for yarn manufacturing in Georgia due to a skilled local workforce, proximity to high-quality cotton fiber, the economical supply and reliability of power and world-class infrastructure to international markets," said Vinod Pittie, chairman, ShriVallabh Pittie.
Nonwovens
Nonwovens producer Polymer Group Inc. (PGI), Charlotte, has acquired Fiberweb Plc, London, and also has agreed to acquire a controlling interest in Brazil-based Companhia Providencia Industria e Comercio. Fiberweb's portfolio of nonwoven filtration, building and construction, agriculture, healthcare, technical fabrics, geosynthetics and hygiene products; and Providencia's portfolio of nonwoven hygiene, healthcare and industrial products complement PGI's portfolio of nonwovens for the hygiene, wipes, medical and industrial markets. The acquisition of Fiberweb makes PGI the largest nonwovens producer in the world, with operations in 13 countries across North America, South America, Europe and the Asia-Pacific region, and some 4,000 employees. With its controlling interest in Providencia, it will expand its reach in South America. PGI also is investing $8 million to expand its Waynesboro, Va., production plant, upgrading machinery and R&D capabilities there and adding 20 employees. That expansion, which will help PGI develop synthetic composites for enhanced mechanical filtration applications, is expected to be completed by July 2014.
Fitesa Simpsonville Inc., Simpsonville, S.C. — a manufacturer of nonwoven fabrics for hygiene, medical, and industrial specialty applications — is investing $50 million to improve the infrastructure of its 190,000-ft2 Simpsonville plant and add equipment to increase production capacity for its spunmelt nonwoven hygiene fabrics; and expects to create at least 32 jobs. Fitesa currently employs 100 people in Simpsonville and expects to complete the expansion by November 2014. The company also has plants in Washington and Wisconsin as well as in Mexico, Peru, Brazil, Sweden, Germany, Italy and China.
Filter media, battery separator materials and industrial nonwovens provider Hollingsworth & Vose Co. (H&V), East Walpole, Mass., is investing $6.1 million to expand capacity at its Floyd, Va., plant, and add 17 jobs. H&V will add production capability for Technostat® and Technostat Plus electrostatic air filter media, which it currently manufactures only in Europe. "This strategic expansion of our Floyd site will provide capacity to support the increasing demand in North America for high performance synthetic filter media," said Mike Clark, division president, High Efficiency and Specialty Filtration. The new production line is expected to start up by the fourth quarter of 2014. H&V has manufacturing sites and research centers in the United States, Mexico, Europe and Asia.
Custom Nonwoven Inc. — a producer of polyester nonwoven pads and rolls via a thermal bonding process, and a subsidiary of Korea-based polyester staple fiber producer Korea Synthetic Fiber — is investing more than $12.8 million to open a plant in Thomasville, N.C., and create 72 jobs. The facility will produce fire-retardant barrier and mattress pads for use in medical, military and institutional cushion seatings.
Glass fiber reinforcements and engineered materials producer Owens Corning, Toledo, Ohio, is investing $120 million to establish a manufacturing facility in Gastonia and create 110 jobs. The facility will include a state-of-the-art production line, coating capability and R&D resources; and is expected to be completed in 2015. The additional production will help the company expand its glass nonwovens business in North America. "Gastonia provides a great foundation for our new glass nonwoven facility with its location near the Charlotte and Research Triangle regions, where there are particular concentrations of skills needed for this business; its proximity to key customers; and its attractive business environment," said Arnaud Genis, group president of Owens Corning's Composite Solutions Business.
Spuntech Industries Inc. — the U.S. division of spunlaced fabrics manufacturer N.R. Spuntech Industries Ltd., Israel — is investing more than $35 million to expand its Roxboro, N.C., facility and add 60 jobs. The U.S. division manufactures viscose, polyester and polypropylene fabrics. Capacity at Roxboro totals some 12,000 to 14,000 tons annually.
Jacob Holm Industries (America) Inc., Candler, N.C. — a producer of spunlaced nonwovens for Western Hemisphere industrial, hygiene and wipes markets; and the U.S. subsidiary of Jacob Holm & Sons AG, Switzerland — is investing more than $49.5 million to add a production line and 66 jobs. The ultimate total investment could exceed $60 million once the expansion is completed. The facility currently employs 82 workers. The new line is expected to come on-line in early 2015.
Freudenberg Nonwovens, Germany, is upgrading one of three spunlaid production lines at its Durham, N.C., facility, adding advanced technology to produce filters, automotive carpeting and carpet tile backings featuring enhanced performance. "We are optimizing our manufacturing process and enhancing the performance of our production system with this investment," said Raoul Farer, technical director at the Durham facility. The upgrade, expected to be completed in the fourth quarter of this year, is also expected to improve Freudenberg's flexibility to supply global markets.
Composites
Toray Industries Inc., Tokyo, plans to acquire large-tow carbon fiber producer Zoltek Companies Inc., St. Louis, for some $584 million, and also plans to invest close to $1 billion over the next decade to set up a facility in Moore, S.C., to be the base of its U.S. advanced material business, including carbon fiber and prepreg production. Toray, a provider of regular-tow carbon fiber product for high-performance aerospace applications, foresees increasing demand for polyacrylonitrile-based carbon fibers and expanded applications for large-tow carbon fiber in commodity industrial areas including wind energy and automotive structural components. Zoltek's fiber is used in particular for wind-energy-related applications. In announcing the investment in the South Carolina site, which is expected to employ 500 people, Toray noted developments in the U.S. shale gas/oil industry and the manufacturing revival that has ensued as positive indications that the United States is regaining its industrial competitiveness — thereby making the U.S. the key market for the company's business expansion. The site will provide proximity not only to customers in South Carolina's growing aerospace industry but also to customers in Latin America, including Mexico and Brazil.
Chomarat North America, Anderson, S.C. — the regional division of textiles and composites manufacturer Chomarat Group, France — is building an additional 58,500-ft2 plant in South Carolina, with startup expected in mid-2014. The facility will feature a LIBA Max5 100-inch variable-width machine that will be used to produce the company's C-PLY™ spread-tow, unbalanced thin-ply biaxial carbon reinforcement non-crimp fabric made with unidirectional layers that are mechanically sewn together. Chomarat also is investing $10 million to expand manufacturing space and add equipment and 20 workers at its Anderson plant. The expansion is expected to enable the company to enter new industrial, automotive and aerospace markets, among other markets.
Advanced Composite Materials LLC (ACM), Greer, S.C., a producer of specialty silicon carbide products and composites containing silicon carbide, is investing $3 million to expand operations, and create six to 10 jobs. ACM established its headquarters, R&D lab, and manufacturing facility in 2007 to manufacture silicon carbide microfibers, also called whiskers, for industrial ceramic applications. With this expansion, ACM plans to introduce a new class of performance silicon carbide fibers branded SI-TUFF™, which are larger in size than the microfibers, and are targeted for ceramic matrix and metal matrix composites as well as high-performance polymer coatings to be used in energy sector, aerospace, and coated metals markets.
Materials Sciences Corp. (MSC), Horsham, Pa. — a producer of composite materials and structures for defense, commercial, energy and recreation applications — is investing $1 million to set up a 13,000-ft2 manufacturing operation in a former textile plant in Greenville and create 23 jobs. MSC provides research, design, analysis, testing and prototyping of composite materials, and it has developed specialty algorithms that simulate and predict composite performance. "Our mission is to continuously develop, test, improve and manufacture advanced materials that can be transferred into military and industrial applications of high value," said President and CEO Tom Cassin.
Technical Fabrics And More
Technical textiles manufacturer Highland Industries Inc., Kernersville, N.C., is investing $4.1 million to expand its Cheraw, S.C., facility and add 24 jobs. The company's technical fabrics are used in automotive parts, military tents and backpacks, rockets and roofing, among other products. The Cheraw plant includes fabric forming and aqueous coating capabilities and is equipped with state-of-the-art weaving and knitting machinery. "We have long been committed to South Carolina. Continued investment in our manufacturing capabilities and our people here is the key to our future success," said Scott Burkhart, director of manufacturing, Highland Industries. The company is owned by automotive safety systems manufacturer Takata Corp., Japan.
Martex Fiber Southern Corp., Spartanburg, has acquired the Charlotte-based Waste Services Division of Bollag International, a collector and marketer of textile wastes. The acquisition is part of a larger global expansion of JBM Fibers Inc. in Brownsville, Texas. "We have increased our global recycling capability to over 160 million pounds per year which provides a tremendous environmental benefit. This acquisition also ensures ongoing supply security for our 'Made in USA' fiber (shoddy) expansion, yarn production and global trading distribution," said Martex Fiber President and Cofounder Jimmy Jarrett. Bollag and Martex have collaborated in a Central America joint venture for the last four years.
Louis Hornick and Co. Inc., New York City, has invested $2.5 million to relocate its operations to Allendale, S.C., where it has renovated a former textile plant to house its manufacturing operations and created 125 local jobs. The company supplies fabrics to dotcom, institutional, hospitality and commercial markets. It also supplies its fabrics to Walmart, supporting that company's commitment to purchase $50 billion in U.S.-manufactured products over the next 10 years.
Sliver knitter Monterey Mills, Janesville, Wis., has acquired sliver knitter Glenoit Fabrics (TT) Corp. Inc., Tarboro, N.C., from its management group. Monterey plans to invest in Glenoit's infrastructure, add employees and expand market share in the sliver-knitting segment. Glenoit, which employed 1,100 workers in Tarboro as late as 1997, was acquired by Haixin Group Co. Ltd., China, in 2002. In late 2005, Tarboro Textiles LLC, formed by former Glenoit Fabrics Plant Manager Jerry Howard and his staff, took over production at the plant under contract to Glenoit; and in 2009, it acquired the business. Glenoit produces faux fur, fleece and a range of other pile fabrics. Plant equipment includes computerized jacquard knitting machines. Monterey Mills was acquired in 2005 by Roller Fabrics, which took the name as its own. Today, Monterey produces paint roller fabric and pile fabrics, and claims an estimated 60-percent share of the market it serves.
Auburn Manufacturing Inc. (AMI), Auburn, Maine, recently expanded its Kitty Hawk Industrial Park facility by 75 percent. "We can now better serve our current customers' needs with high-quality textiles delivered on time anywhere in the world," said AMI President and CEO Kathie Leonard. "Our plan is to grow AMI by 30 percent in the next three years." The company produces advanced textiles for extreme-temperature industrial/institutional applications. Future plans include a focus on innovation in the areas of blast protection, fire-retardant barriers for data centers, thermal breaks for equipment, and other emerging markets.
Trelleborg Coated Systems, Italy — a division of engineered polymer solutions provider Trelleborg AB, Sweden — is investing $10.6 million to expand the Rutherfordton, N.C., operations of Trelleborg Coated Systems US Inc., adding a production line and 76 jobs at that location. The company mainly supplies engineered fabrics for use in aircraft evacuation slides and life rafts. The U.S. subsidiary also has production plants and sales operations in Spartanburg and in Morristown, Tenn.
American Textile Co. (ATC), Duquesne, Pa., is adding more than 182,000 ft2 of space to its 218,000-ft2 manufacturing and distribution facility in Tifton, Ga., and expects to double its workforce there from 100 to 200. The facility, which produces and distributes millions of bed pillows annually, opened in 2011. ATC reports it has seen 15-percent annual growth in consumer demand for its specialty bedding products including AllerEase® allergen barrier and EvenTemp™ temperature regulation products. Noting the "positive business climate" in Tifton, ATC President and CEO Lance Ruttenberg added that "access to a skilled workforce and strong county support were key factors in choosing to expand here."
CT Nassau, Alamance, N.C., is investing more than $4 million to expand its Burlington, N.C., mattress ticking plant. The company will add 37,500 ft2 to the 41,500-ft2 plant. It already has added some machinery and 10 employees, and expects to add additional equipment this year. The company also operates a 75,000-ft2 mattress tape plant in Alamance and currently employs 110 people at the two plants.
Floorcovering
The impressive turnaround in the carpet and rug sector in 2013 was the subject of TW's floorcovering industry update that was published in its last issue (See "Carpet Recovery," TW, January/February 2014). Four companies in particular were highlighted including Engineered Floors LLC and Shaw Industries Inc., both based in Dalton, Ga.; Mohawk Industries Inc., Calhoun, Ga.; and Mattex, Dubai, which is building its U.S. headquarters in Eton, Ga. These companies together announced plant and equipment investments totaling $780 million and the generation of more than 3,200 new jobs in Georgia alone.
In addition, in South Carolina, Orian Rugs, Anderson, is investing $13 million to expand its 550,000-ft2 plant and add 125 employees to its current workforce of more than 500 people. The family-owned company, founded in 1979, produces machine-woven area rugs. It also owns a tufted carpet manufacturer in Belgium, and area rugs manufacturers in Belgium and Turkey.
Chemistry
Spin finish and specialty chemicals formulator and producer Goulston Technologies Inc., Monroe, N.C., a subsidiary of Takemoto Oil & Fat Co. Ltd., Japan, is expanding its 250,000-ft2 manufacturing and warehouse facility and installing additional highly automated processing equipment, and creating seven to 10 jobs. Goulston President and COO Fred Edwards reports the $8 million expansion represents the first significant investment the company has made at the Monroe site in more than 20 years. He noted parallels in the wider U.S. textile and textile-related industries, as companies invest in reshoring manufacturing, stating, "We're completely committed to manufacturing in the United States." Production in the expanded area is projected to begin by November 2014.
Crypton, Bloomfield Hills, Mich., has acquired textile technology provider Nano-Tex, Oakland, Calif., from a group of private equity and venture capital investors including New York City-based majority stakeholder WL Ross & Co. LLC and four other investment firms. Nano-Tex's nanotechnologies offer permanent stain and water repellency, moisture management, odor control, static elimination and wrinkle resistance. The company's treatments are used primarily on branded apparel and outdoor gear. Crypton has developed its own stain-and water-repellent technologies as well as moisture-barrier and antimicrobial technologies for its fabrics for contract and residential upholstery, mattresses, home fashion accessories, pet beds, children's furniture and car seats, as well as contract wall coverings and carpet.
Water-based inks producer Kiian Group, Italy, has opened a regional headquarters and production plant in Soddy Daisy, Tenn. Kiian USA will focus on expanding the company's digital business in North America and supporting growth in Central and South American markets. "The next phase of growth for Kiian is to develop our innovative ink business in the key global textile and signage markets," said Fabio Festorazzi, CEO, Kiian Group. "The establishment of a Kiian headquarters in Tennessee provides our business with a professional base in a strategically important market and one that will grow our business and improve the service that we provide to our customers."
March/April 2014