On June 13, 2013, Techtextil, the International Trade Fair for Technical Textiles and Nonwovens,
closed its doors in Frankfurt. Show organizer Messe Frankfurt reports a record 1,322 exhibitors
from 48 countries welcomed 27,500 visitors from 97 countries, compared with 1,199 exhibitors and
24,915 visitors in 2011. The parallel Texprocess International Trade Fair for Processing Textiles
and Flexible Materials had 326 exhibiting companies from 37 countries.
A further positive trend in 2013 was the increased internationality of exhibitors — 65
percent compared with 63 percent in 2011. The main exhibitor nations after Germany were Italy,
China, United States, Taiwan, Poland, Turkey, United Kingdom, South Korea and Switzerland. The
numbers are no surprise — it is common sense that technical textiles and nonwovens are gaining
importance throughout the global textile industry.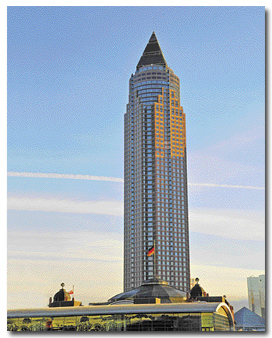 Frankfurt's Messeturm towers over the Messe Frankfurt fairgrounds, venue for
Techtextil
The main technical textiles/nonwovens markets differ from traditional markets, and a large
part of the manufactured products are made in Europe — mainly Germany and France as well as Eastern
Europe, and also in the U.S. In some, mostly Western, countries, technical fibers and fabrics are
the only growth drivers for the domestic textile industry. For years, this sector has reported
double-digit growth.
Those who have witnessed the rise of technical textiles and nonwovens in the last 10 years
know that Techtextil is a must for all interested parties in the sector. Now held in parallel with
Texprocess, the undisputed number-one event continues to gain importance.
In addition, Techtextil has experienced a dramatic and very positive development toward
becoming a complete trade fair — with virtually all machines, processes and peripheral equipment to
produce industrial yarns, fabrics, belts, tents, geotextiles and other products found under one
roof.

Highly Satisfied


How did exhibitors respond to Techtextil? Textile World wanted to know their feelings. All
respondents were very satisfied with the show's outcome as well as with the high visitor quality.
Expectations were met, and, in some cases, exceeded.
Jutta Stehr, marketing manager at Trützschler Nonwovens & Man-Made Fibers GmbH, Germany,
said: "We are amazed at the large number of Chinese who visited our booth."
Sabine Duttenhofer, head of corporate communications at Germany-based Freudenberg Nonwovens,
added: "Our company welcomed visitors from more than 15 nations."
Johann Philipp Dilo, CEO of DiloGroup, Germany, said: "Our expectations were more than
fulfilled. Next to a lot of Europeans, we welcomed visitors from India and Brazil." He also
mentioned visitors from Japan, and North and South America.

Market Situation


"We were truly surprised by the high number of very reputable visitors," Stehr said. "If one
thinks of the euro crisis and declining growth rates in the BRIC countries of Brazil, Russia, India
and China, it's amazing how high the global investment plans still are."
Florian Boch, head of marketing and communications, Lindauer Dornier GmbH, Germany, also
rated the current market situation as positive. "Technical textiles and nonwovens are clearly
growing markets," he said.
This assessment was confirmed by Edi Strebel, marketing manager of Jakob Müller AG,
Switzerland: "We see a growing market for new applications, mainly in Europe. This is to a large
extent provoked by the textile producers who want to compensate for the decline in traditional
products."
Similar explanations were given by Sibylle Hänni Hofmann, communications manager for
Switzerland-based Sanitized AG: "Sectors such as sunscreen, medicine, outdoor items and protective
textiles are showing large growth rates. Therefore, we notice a strong demand for innovative
products for antimicrobial protection of PVC [polyvinyl chloride] and heat resistance, as well as
weatherproof and UV [ultraviolet] stability."

New Products And Processes


Some companies introduced new products or processes at Techtextil. Strebel said: "We didn't
show a new machine, but a new application — monofilament tubular weaves for oil filters. And the
feedback for this product was rather good. The advantages are that with this technology, one can
weave or knit the product to its final shape, requiring minimal process steps after the weaving
process."
A particular novelty was presented by Dornier. "We presented our new multiaxial fabrics
applications," Boch said. "The weaver can produce a lot of new and innovative products."
Duttenhofer also mentioned something new: "Freudenberg is very much involved in the shoe
industry. We presented the new Airliner 2.0 Vildona insoles, and the feedback was just great. It
offers benefits like breathability and water resistance. Also in the focus of our customers is
Evolon® microfiber material in all its different appearances."
Trützschler was very much in the focus of attention. Stehr, supported by some technicians,
explained: "We presented our cooperation with Voith Paper to produce wet wipes on an integrated
wetlaid and spunlace line. We brought a sample roll, which attracted both producers of flushable
wet wipes and converters of nonwoven roll goods. Some of our customers and other interested parties
didn't know about this new development. Flushable wipes are a hot topic right now. Currently, we
are busy planning for follow-up visits.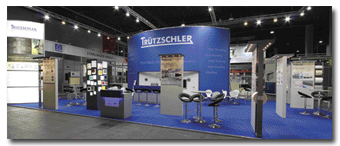 Trützschler Nonwovens & Man-Made Fibers GmbH presented its cooperation with Voith Paper
to produce flushable wet wipes on an integrated wetlaid and spunlace line.

Hofmann mentioned Sanitized® protection for soft PVC: "It is applicable for the antimicrobial
protection of soft PVC used in indoor and outdoor applications: Heat resistance during processing,
and excellent weather and UV stability are attractive features. Soft PVC coatings and foams are
frequently subject to microbial infestation and destruction. The breaks and cracks in the surface
and the discoloration of the material caused by this shorten the useful life of the product
considerably. We showed two new innovations to solve this problem."
DiloGroup, a provider of complete solutions, mostly informed about nonwoven staple fiber
lines for the production of fabric filters and geotextiles; but other nonwoven applications also
were discussed. "Filter fabrics reduce pollution, and geotextiles provide a better infrastructure,"
Dilo said. "Both products are in high demand at the moment." He expects annual growth of around 8
percent.

Changing Requirements


How have market requirements changed in the last decade? "Technical textiles markets will
grow and with them, the segment for nonwovens," Duttenhofer said. "Megatrends like traffic
gridlock, megacities, sustainability or work-life balance will increase global sales for technical
textiles; and it means also that we have to think about new production methods and solutions."
Strebel made clear that today, there are many new applications for technical textiles: "Many
customers are actively looking for new application areas. And customers are looking for machines
that are easier to use, meaning more processes are integrated in one machine."
Boch said that "previously, customers had a total solution in their mind and came to us to
talk about the production details. Today, they want from us the total solution."
Stehr added: "The world has changed a lot since the beginning of the new millennium. A major
factor was the rise of China as both a major consumer and a producer of fibers, nonwovens,
technical textiles and the respective machinery. Other trends inspiring the machinery sector are
demands for convenience products and sustainability."

More Floor Space Required


Many exhibitors want to enlarge their floor space considerably at Techtextil 2015. It may
well be inevitable for the organizers to open an additional hall. However, as Boch pointed out: "We
don't think there would be a lot more visitors. Nevertheless, we believe the flow of visitors would
be distributed more evenly, and we could take care of our visitors in a better way. Nevertheless,
Techtextil should remain as it is, and not mutate into a textile machinery show and compete with
ITMA."
July/August 2013