The Roseville, Minn.-based Industrial Fabrics Association International (IFAI) will mark its 100th
anniversary during IFAI Expo Americas 2012, which will be held Wednesday through Friday, November
7-9. This year, the expo, said to be the largest specialty fabrics show in the Americas, will
colocate with JEC Americas 2012 at the Boston Convention & Exhibition Center.
IFAI Expo Americas 2011, held in Baltimore, hosted 5,066 participants from 43 countries,
with 340 suppliers from 18 countries exhibiting their products and services to expo visitors. As of
Textile World'
s press time, IFAI had more than 400 exhibitors from 22 countries signed up for the 2012
edition, and projected 6,000 registered participants.
"This industry runs on innovation, enabling attendees to get a heads up on emerging markets
and products," said Todd Lindemann, vice president of conference management, IFAI. "The scope and
depth of the specialty fabric markets represented at IFAI Expo enables connections to be made
throughout the industry's value chain."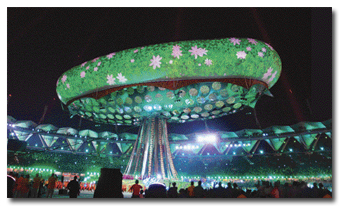 Lindstrand Technologies Ltd. won a 2011 IAA Award of Excellence for its work on the
22,000-cubic-meter Delhi Aerostat — deployed during the Opening and Closing Ceremonies of the 2010
Commonwealth Games in Delhi, India.

IFAI Expo Education


At this year's show, IFAI will debut Business Power Programs with industry-specific
roundtables. The programs will be held each morning and will present expert advice on improving
business practices, products and marketing.
Three continuing education programs will be offered free of charge to architects, landscape
architects and students in those fields: "Green Roofs for Designers"; "Fabric Structures"; and "
From Building to Body: Current Research into Interactive + Technical Textiles," presented by the
Massachusetts Institute of Technology.

On Thursday, November 8, two bonus sessions will be offered at no charge to full IFAI Expo
Americas 2012 registrants as well as to full Advanced Textiles & Safety Conference registrants:
"Understanding and Working with the Berry Amendment," organized by the U.S. Industrial Fabrics
Institute, Roseville; and "Performance Textiles: Technologies and Testing," organized by the
American Association of Textile Chemists and Colorists (AATCC), Research Triangle Park, N.C.

Advanced Textiles & Safety Conference


The 2012 Advanced Textiles & Safety Conference will be held Tuesday through Thursday,
November 6-8, in conjunction with IFAI Expo Americas 2012. The conference — supported by the Fiber
Society, Raleigh, N.C., Synthetic Yarn and Fiber Association, Clover, S.C., and AATCC — will
include technical presentations offering business insights into cutting-edge research and
developments and their application-based uses.
Technical sessions will cover topics including smart textiles; color-changing material;
silicon-based technologies; moisture management; decontamination wipes; wearable technologies;
DNA-based authentication of textiles; and a profile of an evolving business.
The conference also will include two keynote luncheons. On Tuesday, Eugene Wilusz, Ph.D.,
senior nuclear, biological, chemical scientist in the Warfighter Science, Technology, and Applied
Research Directorate at the U.S. Army Natick Soldier RD&E Center, will discuss "Perspectives in
Chemical Biological Protection." On Wednesday, Blanton Godfrey, Ph.D., dean of the North Carolina
State University College of Textiles, will present "Building the New World of Textiles, Fibers,
Fabrics and Products."

Expo Highlights


Special events and features to commemorate IFAI's 100th anniversary and industry
achievements will take place throughout the three-day expo.
Festivities and highlights will include the pre-show Industrial Fabrics Foundation Indy
Fundraising Event supporting scholarships and industry research; a welcome reception; a 100-year
anniversary party; the IFAI History Museum featuring archival materials and photographs; and IFAI's
annual meeting. The Fiber Society will hold its Fall Meeting and Technical Conference, themed "
Rediscovering Fibers in the 21st Century," November 7-9 in conjunction with IFAI's annual meeting.
This year, winners of the IFAI International Achievement Awards (IAA) competition will be
presented during a special event on the show floor. IFAI received 334 entries from 127 companies in
13 countries for the competition, which recognizes design excellence within the specialty fabrics
market.
IFAI also has launched the ShowStoppers awards competition, which is open to all expo
exhibitors and recognizes product innovation in six categories: fabrics, fibers and films;
chemicals, coatings and compounds; hardware, findings and accessories; equipment and tools;
services to manufacturers; and end products. Entries will be on view in a special ShowStoppers area
as well as on the show floor. Award winners will be selected by expo attendees.
Other show floor highlights include a fabric sourcing center offering samples of exhibitor
materials organized into application types; and the inaugural Advanced Textiles Pavilion featuring
exhibitors active in the global technical textiles market.
"2012 is the year not to be missed," Lindemann said. "The combination of lively social
events to connect with peers, increased focus on new advancements and record attendance combined
with IFAI's 100-year celebration will make this years' Expo a very memorable event!"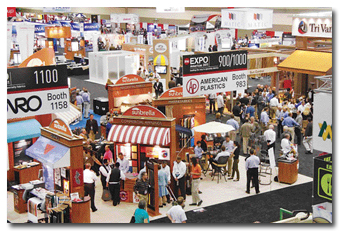 The show floor at IFAI Expo Americas 2011 featured 340 suppliers from 18 countries exhibiting
their products and services to more than 5,000 visitors from 43 countries.

Global Initiatives


The U.S. Department of Commerce has for the fifth time designated IFAI Expo Americas 2012 as
a participant in the International Buyer Program (IBP), which promotes U.S. exhibitions worldwide
via U.S. Commercial Service offices and diplomatic missions. IBP offers complimentary exhibitor
matchmaking services to connect exhibitors with international buyers; a show directory of U.S.
exporting exhibitors; and hands-on assistance for exhibitors.

JEC Americas 2012


JEC Americas 2012 — organized by France-based JEC Group, which provides networking and
information services for composite markets and is said to be the largest composites industry
organization worldwide — will make its American debut following shows in Europe and Asia earlier
this year.
JEC Group expects 300 exhibitors from the United States, Europe, the Middle East and Asia to
present their products and services. Composite sector fields include processing and technologies;
fibers and textiles; resins; fillers and additives; machines and equipment; software and services;
universities and research centers; and consulting firms. End-user markets include aeronautics,
automotive, wind energy, construction, marine, consumer goods, and medical, among other markets.
The show's program will include the Innovative Composites Summit Forums and Conferences, technical
sales presentations, and the JEC Innovation Awards.
"We are pleased about the alliance with IFAI," said Frédérique Mutel, president and CEO, JEC
Group. "Both organizations are trade organizations fully committed to their industries. Both are
experts of their sectors and produce high value information products. Together we will deliver a
strategic event and a unique platform combining composites and specialty fabrics."
For more information about IFAI Expo Americas 2012 and JEC Americas 2012, visit ifaiexpo.com;
jeccomposites.com/events/jec-americas-2012



September/October 2012