Knitting technology continues to expand the capabilities for conversion of fiber and yarns into
knitted products. This review of ITMA 2011 looks at major developments that knitting machinery
firms are planning to advance the state of the art. Obviously, there are developments that have
improved capabilities such as production speed and production efficiency, and

Textile World
will review several examples. Other developments continue to push the limits of technology
still further in the relentless pursuit of finer and finer fabrics, but these developments are
clearly focused on one firm —
Groz-Beckert KG. Then,

TW
got to see the knitting inventors that continue to integrate parts of the process that
heretofore have not been accomplished.

Gauge


The finer and finer gauge is being pursued by both the circular and warp knitting sectors.
Finer gauge means finer and more reliable knitting components — especially needle beds, cylinders
and needles. Last ITMA saw the introduction of a 60-gauge circular knitting machine, and this has
since found application in performance fabrics for activewear. This ITMA,
Santoni S.p.A., Italy, showed an 80-gauge machine. The Santoni Atlas was operating
at a 30-inch diameter and 80 needles per inch, with a total of 7,536 needles in the cylinder. At
these finer gauges, there is not space for the traditional sinker, so the sinker has been
eliminated and replaced by special holding-down jacks. This has the added advantage of avoiding the
creation of sinker lines, which can be a problem when knitting fine-gauge.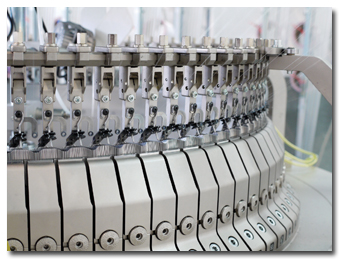 The Santoni Atlas 80-gauge circular knitting machine's patented system uses Groz-Beckert
technology and produces a tighter knit compared to traditional knits.
Germany-based Groz-Beckert showed another fine-gauge machine with 80 needles per inch. The
company has developed the ability to make needles that knit at normal knitting speeds and also has
the technology to make cylinders that can accommodate the finer-gauge needles. Groz-Beckert and
Santoni are working on a 90-gauge machine in 30-inch diameter that has 8,472 needles and 88 feeds.
Groz-Beckert had on display a 90-gauge cylinder for which the needle width is only 0.18
millimeters.
It may also be interesting to note that Groz-Beckert has developed a cylinder removal tool
called CylinderMaster, designed for machines with diameters larger than 26 inches. The main purpose
is to be able to remove cylinders easily as well as prevent handling damage, especially for the
finer-gauge cylinders.



Mayer & Cie. GmbH & Co. KG, Germany, showed the MJ3.2 E DNS 60-gauge
jacquard — claimed to be the first fine-gauge jacquard machine, according to company representative
Axel Brunner. The machine with 48 feeds and 30-inch diameter operates at 20 revolutions per minute
(rpm) and has the standard three-way knitting technique. It is equipped with the open-width fabric
system to avoid center creases on these fine-gauge fabrics. Mayer & Cie. also has introduced
temperature control for the knitting zone by using a water-temperature-controlled system to ensure
precise and reliable needle selection mechanisms.
Warp knitting machinery manufacturers also showed interest in developing finer-gauge
equipment.
Karl Mayer Textilmaschinenfabrik GmbH, Germany, exhibited a 50-gauge tricot
machine, HKS 2-3 E, operating at 3,200 rpm and producing elastomeric fabric using 20-decitex
spandex and targeted for the lingerie market. According to Tim Wollnik of Karl Mayer, this is the
first and finest-gauge tricot machine. He said this is the type of machine used by firms such as
Belgium-based NV Marcel Liebaert for its lingerie fabrics.
Of course, one should compare the production rates of weft and warp knitting, and one way is
to look at the number of knitted loops produced each minute. For the 90-gauge Santoni 30-inch
diameter operating at, say, 30 rpm and 88 feeds, the machine produces 22,366,080 loops per minute.
Karl Mayer's tricot with 130-inch width, 50 gauge and 3,200 rpm produces 20,800,000 loops per
minute, or slightly less than the number of loops per minute for the fine-gauge weft knitting
machines. Clearly, there are additional factors that dictate knitting system choice, but one can
expect the loop production rate to increase as finer gauges and higher speeds occur. However, for
fine-gauge knitting, warp and weft loop production rates converge.



Improved Production Rate And Efficiency

Improved production rate has come from higher speed almost across the board.
Vanguard Pai Lung LLC, Monroe, N.C., showed its SJ4A-DI3 Super Jumbo machine
operating at 1,750 speed factor, which is 58 rpm for a 30-inch-diameter machine. This speed factor
applies for machines in the 14- to 24-needles-per-inch range, and 1,500 speed factor for 28-cut
machines. The SJ4A-DI3 employs a closed-cam track system that ensures positive needle control and
provides consistent stitch definition. The jersey machine is equipped with angular sinker
technology to improve fabric quality and lower the defect rate, even at the highest speeds. The
Delta machine is equipped with a patented three-level sinker cam designed for high-speed knitting.
Vanguard has also increased the size of the fabric roll that can be produced to approximately 500
pounds. This size enables batch processing of the fabric with a single doff and without the need
for bolt-end seaming in finishing, according to Matthew Yates of Vanguard Pai Lung. Vanguard also
showed high-speed 4-inch-diameter rib and 5-inch-diameter jersey machines. These small-diameter
machines are made for production of fabrics used in the apparel, industrial, medical and packaging
industries, Yates said.
Mayer & Cie. has improved the Relanit 4.0 to achieve speeds of up to 70 rpm, according to
Brunner. Relanit 4.0, with four feeds per diametrical inch, is available in gauges from 18 to 28
and in diameters from 24 to 36 inches. A 15-inch-diameter machine is available on request. As a
component of improving productivity, the Relanit has been equipped with the Mayer Cleaning System,
which uses ambient air to provide a cam cleaning role as well as to keep lint and dirt from
entering the cam and needle area. Improvements have also been made to the positive feed system for
the knitting yarn. The fabric take-up system can accommodate a 230-kilogram roll, allowing a longer
knitting time between doffs.
Mayer & Cie. also showed a new striping machine that efficiently produces striped or
basic fabrics on the same machine. According to Brunner, the S4-3.2R produces striped fabrics in
four and six colors across 1.6 feeds per inch. As long as all feeds are striping, the machine uses
1.6 feeds per diametrical inch. However, if a part of the fabric is non-striped, those feeds can
knit with 3.2 feeds per inch; or when striped fabrics are not needed, the machine can produce basic
fabrics using the 3.2 feeds per diametrical inch. This approach provides an optimized solution for
increased production as well as a more flexibly configured knitting system. The S4-3.2R is
available in 24-, 30-, and 34-inch cylinders and from 18 to 36 gauge.



Mec-Mor, now included in the
Santoni Group, showed a circular machine in 14 gauge as part of its move to
sportswear, according to Patrick Silva Szatkowski, marketing manager for Santoni. This machine can
produce fabric for one polo shirt in 3.5 minutes, making it one of the most productive sportswear
fabric machines, he said.

Mattress Ticking Machines


The use of knit fabrics for mattress ticking continues to be an important market for knitting
machine builders. Mayer & Cie.'s OVJA 1.6 EM and 1.6 EE machine models have been configured in
larger cylinder diameters — including 38 and 42 inches for the OVJA 1.6 EM, and 48 inches for the
OVJA 1.6 EE — in gauges from 18 to 20 for the OVJA 1.6 EM and 18 to 28 for the OVJA 1.6 EE. While
both models are electronic, the OVJA 1.6 EE has full electronic control of both cylinder and dial
needles. The short changeover time offers the possibility for smaller batches, according to
Brunner, as well as the production of large batches when applicable.



Terrot GmbH, Germany, showed model UP592M, a 38-inch-diameter 20-gauge machine using
a mini-jacquard selection system on the cylinder, for knitting mattress ticking. This model
typically can produce 60.9 meters per hour of mattress ticking fabric weighing 282 grams per square
meter.
Knitting machines for mattress ticking are getting larger in diameter to satisfy the width
requirements for the larger-size mattresses.

Seamless Knitting


The Santoni Group has continued to advance knitting technology and offered many examples of
new ways to make seamless garments. Santoni model SM8-TR1 now offers transfer on a single-jersey
machine. Other knitting capabilities are available thanks to the eight feeds on the same course,
including knit-miss-tuck plus fishnet or anti-drop stitch structures or pattern with floated yarn.
The set-up can be two technical ways — such as knit and miss — plus fishnet or anti-drop structures
with the possibility of inlaid knit work on all feeds. The capability of the machine is limited
only by the imagination of those fortunate to work with one.
Of special interest in the small-diameter knitting sector was Italy-based
Sangiacomo's model HT2 for the production of true heel-and-toe socks. The HT2 is a
two-feed, 3.75-inch or 4.0-inch machine with eight striper units and eight electronic needle
selection stations so that the designer can have individual needle selection on any part of the
sock. The machine produces a sock every 2 minutes 15 seconds. The special development from
Sangiacomo is the onboard toe linking unit, according to company representative Sergio Zanoni. Once
the sock is knitted, it is turned and placed on the onboard linking unit, the toe is linked, and
the completed sock is ready. Although the toe-closing operation has been substantially automated,
it still involves operator loading and a separate batch process. This new development of onboard
linking offers an integrated approach and combines and automates several labor-intensive steps at
the knitting stage.
While warp knitting has had technology to produce garments for some years, there is evidence
that this approach is receiving new attention. Karl Mayer showed Model DJ 6/2 with six needle bars
in 44-inch width and 28 gauge for the production of jacquard seamless garments and shapewear by
selectively placing elastic in areas of the garment that require extra support. Santoni also showed
its warp-knit seamless machines including SWD 4/2J four- bar and SWD 6/2J six-bar 44-inch-wide
machines in 24 gauge. As noted earlier, there are productivity gains if a portion of the seamless
market can be converted to double-needle-bar warp knitting when the loop production rate is higher
for a warp-knitting approach than for a weft-knitting approach.

More Integration


In addition to the type of integration offered by Sangiacomo, other knitting machine
producers showed integration from a different perspective. Mayer & Cie. is developing a
machine, dubbed spinitsystems, that backward-integrates into the spinning process
(See "ITMA Technology: Staple Spinning,"). The circular single-jersey machine houses
roving bobbins in the place of yarn packages and spins the yarn on the knitting machine, Brunner
said. The spinning system is air-jet and can spin yarn from 40 to 70 Nm. As is well-known, yarn
delivery speeds from air-jet spinning systems can reach 450 meters per minute, which far exceeds
the rate of yarn demand by a knitting zone. The machine is equipped with sensors that detect when
the roving runs out, and it can electronically remove that feed from knitting until the new roving
is in place and producing yarn again. A yarn vacuum system prevents unused yarn from contaminating
the other knitting zones or the fabric. The concept has merit — especially the flexibility to
change yarn size both within the fabric and between fabric styles. Further, it offers the
capability to produce short runs with a designated yarn size or as a R&D tool for fabric
development. Equipment to produce or transport roving is needed to be able to load this type of
knitting machine, and a reliable supply of air is required to operate the spinning system.
Vanguard Pai Lung has also entered this area of integration and has built a machine that uses
sliver instead of roving. The machine was at ITMA, but behind closed doors.
Clearly, this type of integration heralds a new era for the entire textile complex,
especially the ability to spin on the knitting machine. This raises the question as to whether
spinners will become knitters or knitters will become spinners. Either way, it's time to build a
strategic model for knit fabric production as the industry goes forward.
---

More To Come


Advances from the knitting sector continue at an impressive rate. In addition to the
innovations highlighted in the circular and warp knitting sectors, there were many additional
developments at the exhibition, and those merit a separate discussion that will be included in a
future issue of

TW.
---
November/December 2011