Japan-based Shima Seiki Mfg. Ltd. has introduced Shima Design Solutions, a virtual design system
that consists of all the necessary hardware and software to cover the whole fashion design market,
and is built around the Shima Seiki SDS-One Apex3 workstation.
Color is one of the most important issues in fashion design, so special care was taken to
utilize a color management system. The system starts with a color-calibrated Adobe® RGB color gamut
monitor and ends with a color-calibrated printer output using an I1 photospectrophotometer included
for measuring exact colors. This setup ensures the highest possible color fidelity all the way from
monitor to printer, Shima Seiki reports.
The system is aimed at the fashion design market and includes software to develop designs
for flat bed knitwear, prints, circular knitwear and woven fabric.
The concept uses newly designed yarns, scanned yarns, or simulated twisted yarns to generate
virtually spun yarns that can be used in realistic loop simulation to create convincing fabric
textures. These creations can be used to generate a realistic-looking complete virtual garment or a
virtual sample. This capability is based on Shima Seiki's knowledge about how yarns move through a
knitting machine.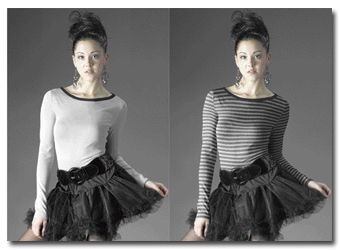 Using a mesh mapping technique, SDS-One Apex3 enables a virtual sample to be superimposed on
top of a photograph following the modulation of the light in the photograph.
Color variations can be created within the system using Pantone® color selection or color
variations that the system generates by picking up colors in an image. The colors selected in this
manner can be replaced automatically by the nearest Pantone color.
A library of more than 1,000 stitch patterns allows a designer to develop knitwear without
having to know how to create the actual machine program for the knitting machine. New patterns
easily can be created by combining and editing existing stitch data, according to Shima Seiki.

System Advantages


The system offers several advantages. The time to market for the fashion design is
drastically shortened because it takes less time to develop a virtual sample on the SDS-One Apex3
computer than it would take to make a real sample.
For example, the time needed to prepare the machinery to produce the sample and the shipping
time from factory to designer is eliminated. The designer can create a realistic virtual sample in
just a few hours instead of waiting weeks to receive the actual sample.
Also, large cost reductions can be realized because there is no need to order small
quantities of yarn, with the associated surcharges, to produce samples. Nor is it necessary to stop
expensive equipment in production to create the samples, not to mention saving the time required by
the technician to create the samples.
All that is required is less than 1 meter of the yarn that is going to be used for the
project and the SDS-One Apex3 workstation to make a complete virtual sample. And even the yarn is
not necessary because the system also can create yarns — including mélange yarns — that then may be
made into actual yarns in cooperation with a yarn spinner.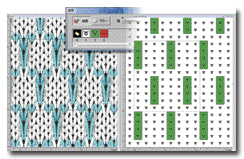 Jacquard patterns and basic structure patterns are stored in a database. For knitwear, a
generic machine code (right) is generated based on the virtual sample (left).
The SDS-One Apex3 also facilitates communication between the designer and the factory. For
circular or flat bed knitwear, a generic machine code is generated that can be used by the
technician in the factory to jumpstart the programming of the machinery. Shima Seiki notes that
every design aspect, whether it be a cable or a color accent, is guaranteed to be spot-on at the
right position on the garment as it was designed on the SDS-One Apex3.

For woven fabrics, the system outputs a complete layout of the yarns and colors to be used
to create the fabric.
With regards to print design, the system allows easy creation of a repeat image and shows
both normal and stepped repeats on screen, simulating a complete print design. Using specialized
tools like Pattern Pen, embroidery options, effects filters and source images, a designer has the
freedom to let his or her creativity blossom, Shima Seiki reports.
All of this design work can be turned into a product presentation using a technique called
mesh mapping. This function employs an existing photograph on which the virtual loop simulation
image is superimposed following the modulation of light on the photograph. Mapping produces a
realistic representation of how the final product will look and is useful for customer
presentations as well as visual merchandising.
The SDS-One Apex3 is supplied with a full-fledged Pattern, Grading and Marking system (PGM),
allowing designers first to develop a pattern and then to use Shima Seiki's newly developed 3D
fitting simulator to ensure correct fit. The system offers standard mannequins, or users may opt to
input their own mannequin information using an optional 3D scanner or by using readymade digital
mannequins.
September/October 2011