F

or thousands of years, rope-making has been of great importance for mankind.
Traditionally, ropes have been manufactured using braiding and twisting processes. There is now a
new rope-making technology available, and Switzerland-based rope maker Seilerei Herzog AG has
played a very important part in its development.
The family-owned enterprise was founded in 1950 by the grandfather of current managing
director Guido Herzog, who in 2010 succeeded his father, who had served as managing director from
1988 until 2010. The company is located in Willisau, near Lucerne, and has eight employees at two
manufacturing sites. Herzog places particular emphasis on training apprentices to become textile
technologists in the areas of rope and lifting technology.
Seilerei Herzog supplies the largest portion of its production to business customers, but it
also sells directly to end-consumers. Manufacturing includes, among other products: braided ropes
for firefighters; nets; climbing ropes and nets for playgrounds; cords and headstalls for animals;
and heavy ropes for industrial and construction applications.The company's exports, primarily to
Germany, represent somewhat above 5 percent of total sales. However, inquiries from other
neighboring countries are increasing.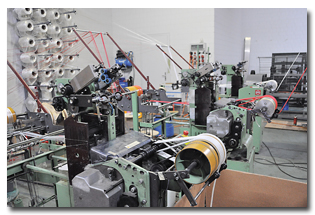 Jakob Müller's MultiSphere NG3M and NG2M weaving machines for woven ropes are offering
Seilerei Herzog new opportunites to remain competitive.



Production And Plant


Seilerei Herzog produces ropes with diameters from 1 to 30 millimeters (mm) on traditional
braiding machines, and woven ropes with diameters from 3 to 10 mm on three new MultiSphere NG2M and
NG3M weaving machines from Switzerland-based narrow loom manufacturer Jakob Müller AG. Textile
World recently visited Seilerei Herzog and spoke with Guido Herzog about his company's operations
and its use of the MultiSphere technology.

TW: The MultiSphere weaving machines are very particular products. What were the
reasons that your company bought three of these machines?
Herzog: During my textile engineering studies, I had to have an internship, which
I arranged at Jakob Müller. By the time I was writing my master's thesis, Jakob Müller developed
the first prototypes and the first products, and I thought they could offer something for our
company. My father and I tested the first ropes, and the decision was then certain: We wanted to
buy this machine because it offered great possibilities for us.

System Differences



TW: What are the most important features of the machine?
Herzog: Regarding machinery, there is the longer operating time without
interruptions to change bobbins, and less working staff is needed to run the machines. This leads
to lower labor costs. However, one must understand the weaving technology as such and also develop
the know-how for this machine. You have to know the MultiSphere technology very well to capitalize
on the great possibilities it offers.
Minimum quantities for braided and woven rope orders are quite different. For braided ropes,
a minimum of 500 to 1,000 meters (m) are needed to build a sensible production. For woven ropes, we
require 10,000 to 20,000 m, and sometimes, for complicated items, up to 40,000 m.



TW: Why is that so?
Herzog: Braiding is very easy to handle, but with woven ropes, the setup is much
more complicated and takes much more time. The output is mainly determined by the rope's diameter.

TW: What are the fundamental differences between the braiding and weaving
systems?
Herzog: Braiding is an old technology for producing ropes. Woven ropes are a
little stiff. Twisted ropes are rather flexible. The MultiSphere needs more setup time, but the
woven ropes are more economical to produce than are braided ropes for the same quantities.

TW: How long have you been running the MultiSphere machines?
Herzog: We got the first machine in 2007. The second followed by the end of 2008,
and the third in 2009. With this setup, we always have sufficient capacity when there is great
demand.

TW: Are you satisfied with the results?
Herzog: Very much so. The spare parts are a little more expensive than braiding
machine parts, but the running characteristics are very good. There are great possibilities to
intermingle the knowledge of braiding and weaving. However, the fiber and yarn know-how should not
be underestimated.

Large Product Range



TW: What are the most important market requirements for your products?
Herzog: These are mainly price and quality. However, quality comes first because
we are also producing for security applications.
TW: Do you develop special products for your customers?
Herzog: Yes, these are joint developments that also are funded by the customer. If
the trials lead to an order, these development costs are compensated, of course.

TW: Do you have a standard range from which the customer can choose?
Herzog: Of course. Standard items have short delivery times. In braiding, we
supply polyethylene terephthalate (PET) ropes in standard diameters from 2 to 16 mm. For woven
ropes, it is 3 to 8 mm. Fiber materials like PET, polypropylene, polyamide; but also Kevlar®, other
aramids and hemp are processed.

TW: How is it possible to protect products? This seems to be very important for a
small company.
Herzog: Yes, but patents do not pay off for small enterprises. One must always
simply be the first to bring new products on the market.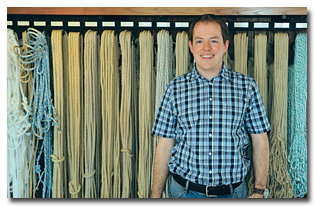 Guido Herzog has served as managing director of Seilerei Herzog AG since 2010.

Innovation First


Herzog was born in 1981. His hobbies are music, walking and skiing. And what is his personal
challenge?
Herzog: One must be innovative — in front with the proverbial one step ahead — and
open up niche markets and not produce exclusively mass products. And, according to our company
philosophy, we want to work with local staff who are trained very well and have a personal
relationship with their company. This is the only way to be successful, and that is our deep
conviction.

TW: How do you see the current market situation for your products?
Herzog: The year 2010 was a good year for us, and the expectations for 2011 are
even better.FutureHerzog said he would buy the MultiSphere machine again any time. Over the last
few years, the required rope quality has further increased. On the other hand, there are price
pressures. Still shorter delivery times are also demanded. One problem is the fact that today,
virtually none of his customers places larger orders. Everything must be produced immediately,
which complicates a regular scheduling of raw material.

TW: How do you see the future for your company?
Herzog: If our experience and the price/performance ratio are correct, we can keep
our production in Switzerland. If the product and the price are correct, it doesn't matter where
the machines are producing. Perfect service, listening to the customers' requests and fulfilling
their requirements are the most important prerequisites for success. We are prepared well for the
future with different product groups. MultiSphere technology offers us new possibilities to remain
at the top. We are a Swiss company, and we intend to remain here.
May/June 2011