P

roduced by Atlanta-based Messe Frankfurt Inc. — the U.S. subsidiary of international
exhibition organizer Messe Frankfurt GmbH — in partnership with cellulosic fiber manufacturer
Lenzing AG, Austria, Texworld USA integrates Lenzing's Innovation Asia, a fabrics trade fair
formerly held in parallel with the international fabric shows in New York City. Texworld USA
debuted in July 2006 in New York City, and since then, the show has been held biannually in January
and July. Its eleventh edition will take place July 19-21, 2011, at the Javits Center in New York
City.
Touted by Messe Frankfurt as the largest apparel fabrics show in North America, Texworld USA
presents an international business platform for apparel fabric buyers, R&D and product
development specialists, designers, manufacturers, retailers, wholesalers, merchandisers, trading
companies and sourcing professionals. Product groups to be presented include cotton, denim,
embroidery, fibers, functional fabrics, knits, lace, linen, prints, silk, silky aspects, wool and
findings/trims. End-use groups include activewear, childrens/infantwear, juniorwear, ladieswear,
bridal/ special occasion/cocktail, menswear, sportswear and swimwear/lingerie.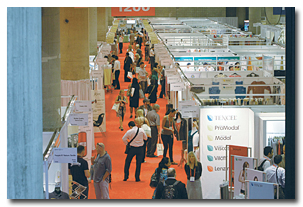 Messe Frankfurt is anticipating record attendance at the upcoming edition of Texworld
USA.

Colocated Shows


Messe Frankfurt has partnered with The Sub-Council of Textile Industry, China Council for
the Promotion of International Trade (CCPIT-TEX) to produce two additional shows that colocate
annually with the summer edition of Texworld USA: the International Apparel Sourcing Show (APP) and
the Home Textiles Sourcing Expo (HTSE). The shows debuted alongside Texworld USA in July 2010, and
altogether, the three shows drew 459 exhibitors and 5,013 visitors.
APP is focused on the production supply chain for contract manufacturing, private label and
original design manufacturing. Product groups include childrenswear, womenswear, menswear and
activewear; knits, wovens, denim/jeans, collections, suiting and contemporary; intimates/lingerie
and loungewear/sleepwear. The inaugural show hosted 108 exhibitors from eight countries, and more
than 1,000 attendees.

HTSE is the only U.S. event focused solely on the sourcing of fabrics and finished soft goods for
home applications, according to Messe Frankfurt. Product groups include finished fabrics/components
including cotton, dobby weaves, eco-friendly materials, fire-resistant materials, jacquard weaves,
knits, lace, leather, linen, outdoor fabrics, pile fabrics, polyester, prints/printers, silk, silk
look, synthetics, trims, vinyl, wool, and man-made cellulosics; and finished products including
bath, bedding, floor coverings, outdoor furnishings, tabletop, upholstery, wall coverings and
window coverings. The inaugural show hosted 66 exhibitors from 5 countries, and 623 attendees.

Expectations


As of

Textile World
's press time, Messe Frankfurt had confirmed 170 exhibitors for Texworld USA and more than 60
exhibitors for HTSE.
"The Messe Frankfurt New York textile events — Texworld USA, International Apparel Sourcing
Show and Home Textiles Sourcing Expo — are on track to exceed 600 total exhibitors in July 2011,"
said David Audrain, president and CEO, Messe Frankfurt North America. "This unique sourcing
destination for apparel fabrics, garment production, home textiles and soft goods was established
in an effort to deliver international and domestic resources to the North American marketplace in
one convenient location."
Both CCPIT-TEX and the Trade Development Authority of Pakistan (TDAP) have committed to
bringing exhibitor groups from their respective countries to all three shows. The Korean Textile
Trade Association has committed to bringing exhibitor groups from Korea to Texworld USA and HTSE.
Messe Frankfurt also expects councils and government agencies from Mexico and India to bring
exhibitor groups.

Partners


Phoenix-based Supima, the organization of growers of Supima® extra-long-staple cotton, grown
in California and the Southwestern United States, partnered with Messe Frankfurt to incorporate the
Supima Premium Fabric Show (PREFAB) into Texworld USA starting with the July 2010 edition. Each
Texworld USA show now has a designated section featuring Supima's licensees.
Stylesight — a New York City-based global provider of trend content, tools and technology
for the style industry — was named Texworld USA's official trend partner in 2010, and the companies
debuted their partnership at the January 2011 show.
"The January edition of Texworld USA was just the beginning of our innovative partnership.
[For the July show,] we'll be offering even more inspiring, cutting edge information and technology
for exhibitors and attendees," said Frank Bober, founder and CEO, Stylesight.
For the upcoming show, Stylesight is curating and helping to design trend areas/forums
categorized into three themes: apparel, sourcing and home/interiors. The company also will present
a series of eight seminars related to those themes, and its Fall/Winter 2012-13 Materials Forecast
comprising four trends it describes as follows:
Raw Energy: Taking inspiration from the body, materials play with the color red in
a myriad of shades with a tone-on-tone interplay of anatomically sticky coatings. Texture and
volume are inspired by corporeal roundness while energetic surfaces take cue from explosions, blood
vessels and fleshy explorations. Fabrics take on sculptural forms with an organic curve.
Sensing Matter: Sensual materials envelop the body with epidermal-like qualities.
Skin and earthy stonetones synthesize in materials that are soft and gentle, composed of modern
blends or supple leathers. Second-skin materials are gently pleated and delicately textured, while
voluminous shapes are softened when dressed in a second skin.
Wild Craft: Rooted in nature and the wilderness, natural forest foliage, autumnal
mélanges and tactile surface effects mimic nature's finest features and define this materials
direction. Natural and synthetic blend while surface textures are inspired by mold, fungi and clay.
Delicate growth and wild rustic textures inspire a primitive, back-to-basics story while lost and
found-again fibers abound.
Digital Dimension: Digitally created fabrics are both modern yet comfortable as
3-D rapid prototyping technologies inform a new material aesthetic. Synthetics and blends take on a
new beauty, developing a virtually inspired style. Digitally designed patterns are overtly
intricate, pushing the boundaries of material and form.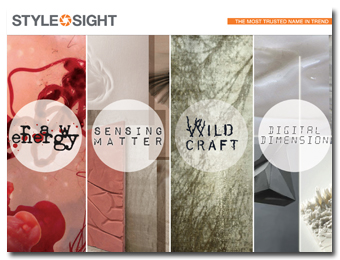 Texworld USA trend partner Stylesight's Fall/Winter 2012-13 Materials Forecast features
four trends: Raw Energy; Sensing Matter; Wild Craft; and Digital Dimension.
Texworld's July edition marks the beginning of Messe Frankfurt's collaboration with
Atlanta-based MFG.com, a global online marketplace for the sourcing of custom parts, standard
components, assemblies and textiles. With MFG.com as Messe Frankfurt's year-round online sourcing
partner, both buyers and suppliers will benefit from a unified offline and online sourcing
experience, Messe Frankfurt reports.
Since the inaugural Texworld USA, Lenzing Fibers has presented a Lenzing Innovation pavilion
spotlighting its customers. At the upcoming show, the company will feature two pavilions — one at
Texworld USA and one at HTSE. More than 30 apparel/fabric companies from countries and regions
including the United States, China, Hong Kong, India, Korea, Spain and Taiwan will exhibit at the
Texworld USA pavilion.
Lenzing also is organizing seminars and panel discussions at Texworld USA and HTSE that will
be open to attendees of all three shows. Texworld USA seminars include Fiber Innovations; The
Cellulosic Gap; Textile Sustainability: Impacts, Integrity & Innovations; and Designing for
Style and Impact. HTSE seminars include Retail Challenges for the Home Textile; and Sourcing Home
Textiles from Pakistan — Challenges and Opportunities; among others.
May/June 2011