I
NDEX 11 — the 10th edition of the triennial nonwovens exhibition sponsored by
Brussels-based EDANA, the International Association Serving the Nonwovens and Related Industries —
will return to the Geneva Palexpo Exhibition & Congress Centre in Geneva April 12-15, 2011.
Dubbed "The World's Leading Nonwovens Exhibition," the show encompasses all sectors of the
nonwovens industry.
This year, more than 500 exhibitors in 52,000 square meters of exhibition space are expected
to showcase the latest innovations in technological and product development, process enhancement
and applications.
INDEX 08 hosted a record 520 exhibitors from 36 countries and nearly 12,500 visitors from
more than 100 countries, of which more than half were first-time visitors. That show saw
significant increases in the number of exhibitors and visitors from the Middle and Far East,
Eastern Europe and South America. According to Palexpo S.A., event organizer, 80 nonwovens
developments were introduced at the show.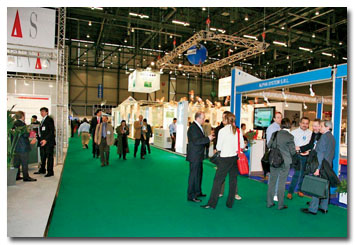 INDEX 08 saw record numbers of exhibitors and visitors at the Geneva Palexpo Exhibition
& Congress Centre.

A Myriad Of Sectors


Nonwovens sectors to be represented at INDEX 11 include:

nonwoven roll goods, including airlaid structures, drylaid, wetlaid, meltblown,
composites, fibrillated or perforated film, spunlaid, spunlace/hydroentangled, and other
structures;
nonwoven applications and materials for transport/vehicle construction, building,
wipes and cleaning, civil engineering/geotextiles, agriculture/horticulture, clothing/interlinings
and wadding materials, shoes/leather goods, food, packaging, electronics, home furnishings,
household, medical, hygiene/bodycare, safety technology, protective clothing, filtration,
substrates, and others;
raw materials for nonwovens and ancillaries, including adhesives and binders,
chemical, fibers and filaments, films/membranes, fluff pulp, scrims for reinforcement,
superabsorbents, surface treatments, tapes and mechanical fastenings, tissue and papers, and
others;
machinery for nonwovens, including nonwovens machinery, converting machinery,
auxiliary manufacturing equipment and waste-handling equipment; and
services, including publications, research institutes and laboratories, trade
associations, and others.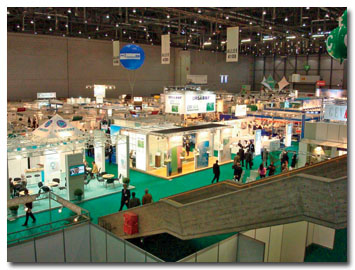 Special Events


Nonwovens are widely used in absorbent hygiene products, but their uses extend to a wide
range of other applications. At INDEX 11, three sectors in which nonwovens have an expanding role
will be highlighted.
Dr. George Kellie, Microflex Technologies LLC, Anaheim, Calif., will conduct a workshop on
the role of nonwovens in packaging.
"Whilst currently only accounting for about 2-3 percent of all the nonwovens produced in
Europe, packaging is certainly one of the fastest growing applications for their use," Kellie said.
"New solutions include the incorporation of active components into food packs, for example, which
can play a vital part in extending the shelf life of food without the use of additives. These
processes are also playing an important part in dealing with food waste." Kellie also will discuss
how durable, nonwoven shopping bags are replacing disposable plastic shopping bags.
Other areas of emphasis include automotive and filtration applications. According to EDANA,
the average vehicle contains approximately 40 different nonwoven products, offering benefits
including weight savings, insulation, filtration or added protection. Nonwovens are also used as
essential separators in batteries that power hybrid and electric vehicles. EDANA reports that China
is planning to produce 500,000 such vehicles this year.
Nonwoven filter media are used to improve indoor and outdoor air quality, remove viruses and
bacteria, and improve water quality, offering enhanced performance characteristics and cost savings
compared to filter media made of other materials.
"The challenge for producers of nonwovens in the filtration sector is to balance stricter
regulations, sustainability requirements and increasing costs, with improved performance and
longer-lasting products," said Pierre Wiertz, general manager, EDANA.
Innovation will be the focus of two events. At a special awards ceremony on Tuesday, April
12, EDANA will present the INDEX 11 Awards, which recognize innovation and sustainability in the
nonwovens and related industries. In addition to the five established awards categories focusing on
specific points along the nonwovens supply chain, there are two new categories recognizing the most
significant sustainable product and the best-developed sustainable process or management practice.
The Management Workshop on Innovation, to be held on Wednesday, April 13, will offer
practical techniques managers can use when overseeing innovation within their companies. Led by Dr.
Karl-Michael Schumann, a former research and development director at Procter & Gamble and
currently a future business development and innovation coach, the workshop is offered free of
charge to registered visitors and exhibitors, but is limited to three participants per company.
INDEX also will offer a series of nonwovens training courses organized by EDANA, as well as
product presentations by exhibitors.
---
For more information about INDEX 11, visit
www.index11.org.
---


March/April 2011