F

rom Tuesday, May 18, through Thursday, May 20, 2010, the East Coast edition of Techtextil
North America and its concurrent Symposium; the triennial SPESA Expo and its concurrent seminars;
and the quadrennial ATME-I
®
Megatex — American Textile Machinery Exhibition-International
®
— colocated in Atlanta at the Georgia World Congress Center (GWCC) for Textile and
Sewn Products Industry Week (TASPIW). The event — which brought together machinery and technology
suppliers for the technical textile and nonwovens as well as traditional textile sectors, in
addition to sewn products equipment and services suppliers — was a great success: Taking into
account crossover visitors from the three shows, total attendance reportedly exceeded 8,000.
Both exhibitors and attendees agreed the colocation of the shows made for a convenient,
cost-effective and productive event.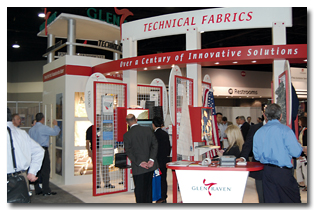 Glen Raven Inc. presented its range of technical fabrics at Techtextil North
America
"The colocation did exactly what we had hoped — it created a bigger and better event for
our attendees and exhibitors," said Stephanie Everett, group show director of textile shows, Messe
Frankfurt Inc., Atlanta — producer of Techtextil North America and the U.S. subsidiary of
Frankfurt-based trade show organizer Messe Frankfurt GmbH.
"The opportunity to bring the industry together under one roof – multiple events in one
location with a crossover of some audiences – provided value for both the exhibitor and the
attendee, almost one-stop shopping," said Clay Tyeryar, president, Falls Church, Va.-based American
Textile Machinery Association (ATMA
®), which co-organized ATME-I Megatex with United Kingdom-based Mack Brooks
Exhibitions.
"The changes we have witnessed in the global sewn products industry have convinced us more
than ever that all segments of the industry must work together to remain competitive," said Dave
Gardner, managing director of Raleigh, N.C.-based Sewn Products Equipment & Suppliers of the
Americas (SPESA), producer of SPESA Expo. "The colocation of SPESA Expo, Techtextil North America,
and ATME-I Megatex provided a unique opportunity for visitors to see leading exhibitors that supply
the full spectrum of their production needs. Visitors gained the 'under-one-roof' convenience to
see first-hand all the products and services they need to successfully operate in this changing
world."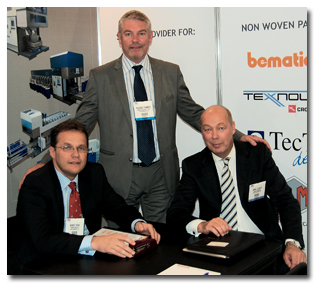 Left to right: Horst Ros, Roland Zimmer and Dirk Leiber of ATME-I Megatex exhibitor Zimmer
America Corp. take a break to pose for a picture.

Excellent Traffic


Everyone reported high traffic at TASPIW. "Traffic was very good — there was always a buzz
on the show floor," Everett said.
"Traffic has been much better here than it was four years ago," said Mark A. Reese,
president, Greenville-based Measured Solutions Inc., a Techtextil North America exhibitor. "The
format and layout are very good. We saw customers we expected and some we haven't seen in years
that showed up."
High-quality traffic at the show meant serious interest and exhibitors leaving with
potential leads. "Traffic was really good, and it wasn't just bodies milling about, it was
customers — current customers, prospects, our agents in South America — it was good-quality
traffic, with decision-makers, those seeking information," said Kim Hall, marketing manager,
fashion apparel, for Gastonia, N.C.-based RadiciSpandex Corp., an ATME-I Megatex exhibitor. "I was
quoting prices, which is incredible — it's usually not like that at a show, it's usually just
information-gathering. We were even able to make customer referrals. We received a lot of inquiries
— there were very targeted, specific questions about products, prices and deliveries, and I found
that very encouraging."
According to Hall, Spartanburg-based ITEMA America Inc., which shared a booth with
RadiciSpandex, saw a lot of its largest customers at the show.
"People were wanting to buy, rather than asking questions. A lot of decision-makers were in
the crowd," said Gerald Schwartz, president, Tucker, Ga.-based G.S.I., a SPESA Expo exhibitor. "We
found it valuable with respect to conversing with current contacts as well as exploring business
opportunities with new ones."
The colocation of the three shows also enabled a crossover of potential customers. "A lot of
the exhibiting companies are also customers of ours," SPESA's Gardner said. "There was a lot of
crossover of who's a customer and who's a supplier. An exhibitor in one booth was the customer of
the exhibitor in the next booth."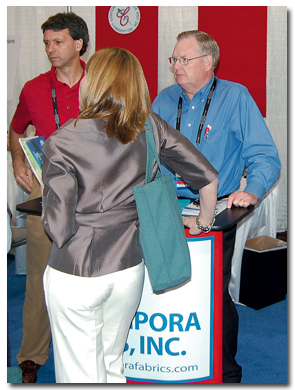 Gerald Cauthen, Contempora Fabrics Inc. (right), visits with attendees at SPESA Expo.


A Positive Vibe


A new excitement seemed to fill the air at the event. "There was a positive mood, exhibitors
were upbeat, they were pleased with the attendance and the strong traffic — the overall feeling of
the show was very optimistic," ATMA's Tyeryar said.
"People on all fronts in the industry seem to have a more positive outlook, especially in
regard to new products," said Rodney Gibson, executive vice president, operations, Enka, N.C.-based
Basofil Fibers LLC, a Techtextil North America exhibitor.
"There is an overall optimism here," said Ronen Hagin, CEO, Alpharetta, Ga.-based Datatex
TIS Inc., an ATME-I Megatex exhibitor. "We're still not getting quite the traffic we used to, but I
know it will come back." Hagin also mentioned the countries that seem to be doing the best are
Pakistan, Bangladesh, India, Indonesia and China.
"Everyone's been so down in the dumps for over a year now, and it was great to have that
positive energy — it wasn't from just one individual or a few companies, but truly was across the
board," RadiciSpandex's Hall said. "Even the most conservative individuals in our booth saw how
positive the show was and the traffic that came through the booth, and made comments that they
couldn't believe it; it's almost like people came to the show not expecting it to be great."

Expectations Exceeded


Though exhibitors were cautiously optimistic, many reported their expectations were
exceeded. "The show has been much better than we expected," said Tim Beach, knitting machine parts
sales representative, Charlotte-based Groz Beckert USA Inc., a Techtextil North America exhibitor.
"People are leaving the show with a much better feel for the market than they came with."
"The show was better than we expected – and I've been very happy with the blending of the
shows," said Joseph A. Okey Jr., president, Charlotte-based American Monforts LLC, an ATME-I
Megatex exhibitor.
"So many people went into the show with low or no expectations because they don't know
what's going to happen out there right now," Gardner said. "It was so much better than anybody
anticipated. That was the message across the board: People went in with low expectations, and we
beat them in almost every case."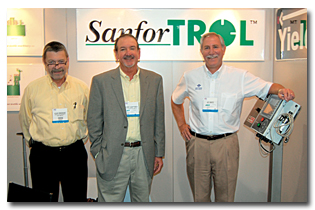 Left to right: Alan Robinson, Buddy Humphrey and Jay White, Morrison Textile Machinery Co.
exhibited at ATME-I Megatex.

An Improving Market


The market was evidently a topic of interest for all. "Everyone was very inquisitive
regarding the market going forward," said Scott Malcolm, president, ITEMA America. "Some of the
first questions out of people's mouths when they came up to us at the booth were 'How's business?'
and 'What do you see going forward?' Everyone's a little reluctant to get too excited about the
upswing."
"The textile industry in the United States was already extremely challenged before the
recession hit, so the last two years have seen our exhibitors and attendees struggling to survive
in the current climate," Messe Frankfurt's Everett said. "Our goal was to provide an event that
would help generate new business and create a spark again in the industry. And from the feedback we
have been receiving, that is exactly what we have accomplished."
"We are seeing an uptick in the apparel market, with activewear and ready-to-wear the two
strongest categories right now," Hall said. "And the nonwovens market is especially strong for us –
our spandex goes into incontinence pads, diapers, and more. RadiciSpandex made a decision four
years ago to focus on that market because it's more stable and doesn't have the ups and downs that
the apparel market does."
There was a greater-than-expected turnout of U.S.-based companies, indicating that domestic
manufacturers are back in business. "The market — and North American companies in particular —
seems to be slowly recovering from the still challenging economic situation," said Michael
Jaenecke, brand manager, Techtextil Worldwide.
Gardner said he sees business increasing in the United States, which is a very encouraging
sign. "Mel Berzack, a SPESA board member and president of Jefferson, Ga.-based Sewn Products
Equipment Co., reported that from the Miami show three years ago to the Atlanta show this year, it
went from 50-percent international/50-percent domestic to this year having over 70 percent of their
leads come from the United States," he said.
Gardner believes the increased number of U.S. decision-makers for equipment and technology
at the show was a result of three things: location, business improvement and the colocation of
shows. "When we were in Miami, we were considered to be a Central America/Latin America show —
which was true at one time — but we could not get anyone from the automotive, shoe industries, any
of these, to go to Miami; but they did come to Atlanta this year, which showed us the move was not
only good from the geographic perspective, it opened the show up to other sectors of the sewn
products and textile industry such as leather, footwear, luggage, home furnishings and automotive.
We even had a lot of aerospace companies there because they wanted to see cutting composites and
new composite technologies. We found that the colocation, especially with Techtextil, really
increased our show turnout, and with the right people. We even had people at the SEAMS booth say
this was the best show they'd been to in 25 years. These are people who are manufacturing in our
country, which shows us that business is coming back slowly but surely. We are seeing more and more
companies bringing some of their manufacturing back to this region, so we're very positive — more
so than we've been in years — about textile business coming back to the country."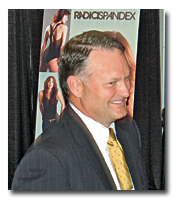 Scott Malcolm, ATME-I Megatex exhibitor ITEMA America Inc., said participants were very
inquisitive about the market going forward.

Techtextil North America


Messe Frankfurt reports the seventh edition of Techtextil North America hosted 233
exhibitors from 22 countries and featured international pavilions from Belgium/France, Canada,
China, Italy, Germany, Portugal and Taiwan.
"We are extremely pleased with the results of Techtextil North America this year, and
especially pleased with the success of the colocation," said David Audrain, president, Messe
Frankfurt Inc. "This has created a wonderful foundation for growth as we move forward with our
permanent colocation and partnership with SPESA," he added, referring to a recently announced
partnership between Messe Frankfurt and SPESA to launch Texprocess Americas in 2012.
"Techtextil North America 2010 turned out to be one of the best Techtextil shows we ever had
in the USA," Jaenecke said.
Attendees, likewise, expressed enthusiasm over the quality of this year's show.
"There was a good cross section of suppliers represented," said James Chesnutt, president,
National Spinning Co. Inc., Washington, N.C. "This is definitely the best show I've been to in
years. It was well organized and our company benefitted greatly."
"This expo was a great way to see innovative products and equipment from all around the
world under one roof," said Rick Ranhotra, process engineer, Atlanta-based Georgia Power Co. "As a
supplier to the industry, I found it helpful to gauge which other suppliers and countries were
committed to a presence in the technical textiles industry."
A highlight of Techtextil was the Technology Showcase 2010, which featured 13 exhibitors
that have completed their latest developments, innovations or products within the last four years.
Technology displayed included protective textiles with high-visibility, reflective,
flame-retardant, antimicrobial, waterproof, abrasion-resistant, and temperature-regulating
features, among other technologies.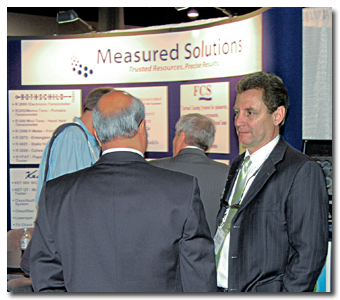 Mark Reese, Measured Solutions Inc. (right), speaks with a Techtextil North America
visitor

Techtextil North America Symposium


The concurrent Techtextil North America Symposium presented the latest developments in the
technical textiles/nonwovens sector in 13 sessions including 70 presentations by leading industry
experts. Attendees were free to move from session to session to hear what interested them.
"The symposium was the smoothest I've seen it," said William C. "Bill" Smith, symposium
director. "Overall, attendance was good; although registration numbers may have been a bit
down, it seemed to hold up very well in this recession year. Attendees were enthusiastic."
In his technical textiles State of the Industry speech in the opening session, Smith began
by stating that the industry has bottomed out but is on its way back up. He noted that although the
economy is improving, the consumer has a lack of confidence in it, which impacts the technical
textile industry both directly and indirectly. He emphasized that the future of technical textiles
lies in innovation.
"The secret to prospering in the industry is to find the areas of opportunity and potential,
up and down the chain — and outward — and line extension, and exploit them," Smith said. He also
pointed out that there are a lot of companies starting up in the United States.
According to Smith, the best-attended session was "Military – Developments to Impact the
Industry," with topics including doing business with the Department of Defense; fibrous armor
materials; nonwovens in military applications including uniforms; and nanotechnology for military
applications. The "Medical & Biotechnology" and "New Product Development" sessions drew large
audiences as well.
"We are coming out of a 'great recession' – it will be a long process in many areas, and
people know they must be prepared," Smith said. "Symposiums like ours provide a great learning
experience."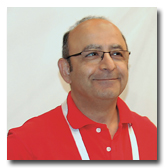 Dr. Behnam Pourdeyhimi of the Nonwovens Institute at North Carolina State University was
session chair of the Techtextil North America Symposium's "Filtration — Practical Opportunities in
Nonwovens" session.

SPESA Expo


SPESA reports that of the industry executives and professionals that attended SPESA Expo
2010, 85 percent were buying decision-makers or influencers, with more than 2,800 business owners,
presidents and top-level executives attending. The expo featured 224 exhibitors representing the
entire concept-to-delivery sewn products supply chain, including new exhibit categories such as
fabrics and trims, product development services, production and supply chain services, information
technology and software solutions. More than 80 percent of attendees were from North America-based
companies, many of which also have operations in Central America. Approximately 8 percent of
attendees came from South America and 6 percent from Asia. More than one-third were from apparel
companies. One thousand visitors participated in the 30 SPESA Expo Forum conference and seminar
events.
"We are pleased to see such an impressive industry response to our 2010 event," said Benton
Gardner, president, SPESA. "The signs of economic and industry recovery were evident with the
greater-than-expected turnout of U.S.-based companies and the increased levels of top
decision-makers in attendance. Virtually all of our exhibitors reported that the show met or
exceeded their expectations."
"The colocation approach to trade shows was a tremendous success," said Frank Henderson,
SPESA chairman and president of Henderson Sewing Machine Co. Inc., Andalusia, Ala. "What the SPESA
Board of Directors and leadership envisioned truly came to fruition in Atlanta. In the global
economy today, companies' ability to thrive will depend on their ability to cooperate and
collaborate."

SEAMS


Columbia, S.C.-based SEAMS, the National Association for the Sewn Products Industry, debuted
the "Made in USA Supply Chain" pavilion at SPESA Expo. The 2,000-square-foot pavilion featured
products made by SEAMS member companies, as well as individual exhibits by U.S.-based companies
that provide manufacturing and other services for the soft goods supply chain.
"Our pavilion was extremely busy," said SEAMS Director Sarah Friedman. "Many of our
exhibitors wrote orders at the show. We had major brand names and retailers come by to talk about
getting some of their products produced in the United States. Quite frankly, they were surprised to
find a complete USA supply chain available."
Supply Chain pavilion exhibitors reported heavy traffic, with some saying they were busier
at this show than they had been in some 20 to 25 years. "This was non-stop traffic, and I've never
been to a show like that," said DeeDee Harris, Tuscarora Yarns Inc., Mt. Pleasant, N.C. "Usually
there is a lot of downtime, and this time we had no downtime."
"Everyone agreed that we've never seen such consistent high-quality traffic at a trade
show," said Dr. Christine W. Cole, Clemson Apparel Research, Pendleton, S.C. "We're really
optimistic about 2010."
SEAMS exhibitors also seemed very happy with the cross traffic resulting from the shows'
colocation. "Many of the people that came to this show came to see the equipment at the other end
of the building," said Gerald Cauthen, Contempora Fabrics Inc., Lumberton, N.C. "Of course, if they
need something to sew on, they also need something to sew. As a fabric company, we thought SPESA
Expo was a very, very successful show. We were able to get face-to-face time in a good, active
atmosphere. … It was busy all three days. We made some great contacts and solidified some
situations."




Texprocess 2012


Messe Frankfurt and SPESA recently announced a partnership to co-operate, co-produce and
co-launch the new Texprocess Americas trade show, to debut April 24-26, 2012, in Atlanta at the
GWCC

(See "Messe Frankfurt, SPESA To Launch Texprocess Americas In 2012," www.
TextileWorld.com, April 27, 2010)
. SPESA no longer will produce SPESA Expo, but instead will support Texprocess Americas, the
first U.S. edition of Texprocess – which will debut in Frankfurt May 24-27, 2011, as a biennial
exhibition presenting machinery, processing technology, information technology and services for the
making-up of textiles and other flexible materials. Texprocess Americas will be held in
even-numbered years alongside Techtextil North America to present the largest technical textiles,
nonwovens and sewn products industry event yet.
Messe Frankfurt also is gearing up to produce the next West Coast edition of Techtextil
North America and its concurrent symposium, to be held March 15-17, 2011, at the Mandalay Bay
Convention Center in Las Vegas.

ATME-I Megatex


According to the show organizers, ATME-I Megatex drew more than 3,500 visitors from 38
countries, with approximately 9 percent of visitors coming from outside the United States. The show
featured 154 exhibitors, 70 of which were from abroad — with 19 exhibiting from Germany, 15 from
Italy and eight from Switzerland — among other foreign exhibitors.
"Exhibitors were pleased with the participation and are optimistic about the future – they
see a light at the end of the tunnel of a challenging economy," Tyeryar said. "The Western
Hemisphere still holds a lot of promise for the textile industry. We're focused on the business
that's here as well as what's happening in Asia and other parts of the world. We're very supportive
of our customer base here in the United States, so we were very pleased with the participation of
our U.S. partners."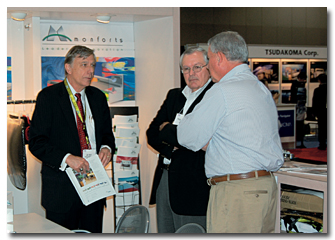 Joe Okey, American Monforts LLC (left), speaks with ATME-I Megatex attendees.

AATCC International Conference


The American Association of Textile Chemists and Colorists (AATCC) colocated its
International Conference with ATME-I Megatex. According to AATCC Executive Vice President John Y.
"Jack" Daniels, attendance was up over the prior year's conference in Myrtle Beach, S.C. Daniels
reported there was excellent traffic at the booth on the show floor, while the organization
conducted its three simultaneous educational tracks on another floor in the hall. He also said
AATCC gained many new individual and corporate members.

Future of ATME-I Megatex


ATMA officials have reported future ATME-I Megatex shows will be delivered on a cycle and in
locations consistent with industry wants and needs. "Ideally, the show will be repeated in two to
three years with approaches similar to this year and those of 2006, when the exhibition was
presented side-by-side with that of Industrial Fabrics Association International," said Will
Motchar, ATMA co-vice chairman, and president and CEO, Lexington, N.C.-based Navis Global. "ATMA
has been approached by a number of parties seeking to colocate with ATME-I Megatex, and it appears
that several strong options exist for the next event."
Atlanta and Charlotte are the primary potential venues, but other locations also are being
considered, according to ATMA officials. "We will continue to seek venues and alliances to match
the wants and needs of our members with their customers," said Udo Skarke, ATMA co-vice chairman,
and CEO of Duncan, S.C.-based Erhardt + Leimer Inc.
July/August 2010