T

extile industry leaders and government trade officials are honing a new set of tools to
deal with the declining textile industry, and taking actions they hope will lead to eventual
recovery and growth opportunities.
As some 100 industry and government officials met recently in Washington for the seventh
annual meeting of the National Council of Textile Organizations (NCTO), a subtitle for the
meeting's theme – "Knowledge, Innovation, Speed and Integrity: Leveraging the U.S. Advantage" –
might well have been "Thinking Outside the Box." Assistant U.S. Trade Representative for Textiles
Gail Strickler used that term in talking about government assistance for export financing. NCTO
President Cass Johnson did the same as he described NCTO's lobbying activities. And Janet Labuda of
U.S. Customs and Border Protection (CBP) seemed to be saying the same thing as she described a new
program to crack down on Chinese import fraud.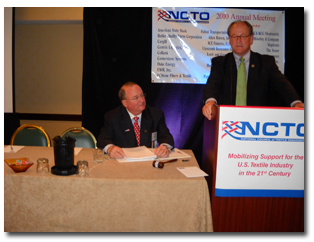 Rep. Bobby Bright, D-Ala. (right), emphasizes the need for job creation and calls for tax
incentives to encourage manufacturers to hire new workers, as outgoing NCTO chairman Wally
Darneille looks on.

In his state-of-the-association report, NCTO Chairman Wally Darneille said 2009 had been a
"tough year for textiles," pointing out that the nation faced the worst economic downturn since the
Great Depression. At the same time, Chinese imports surged after the removal of import safeguards;
subsidized imports from India, Pakistan, Bangladesh and Vietnam "gobbled up an even bigger share of
our market"; and textile exports to North America Free Trade Agreement (NAFTA) and Central
America-Dominican Republic Free Trade Agreement (CAFTA-DR) nations fell off by 20 percent.
"Hopefully, the worst is behind us," he said, noting that NCTO members are reporting increased
orders and prices are inching up a little, although input costs also are going up.
Darneille urged NCTO members to "focus daily on the competitive advantages we can create
within our supply chain," saying: "Our knowledge, innovation, speed and integrity give us a total
value proposition that is clearly superior. We know what our customers want better than suppliers
in other parts of the world. We constantly innovate our products and our processes and stay ahead
of the curve. We can react to changes more quickly, and shorter supply chains mean lower
inventories for our customers, and they know they can depend on our integrity to deliver them the
proper quality on a timely basis. Our challenge is getting our customers to quantify that."
In a report covering trade issues, Johnson cited as a major problem the steady decline in
trade with Western Hemisphere nations with which the United States has preferential trade
agreements that require use of U.S. and/or regional yarn and fabrics in duty-free apparel imports.
NCTO issued a report showing a drop in trade in a range of products including trousers, underwear,
T-shirts, socks, knit shirts and brassieres. The data show that qualifying regional apparel imports
between 2008 and 2009 were down 14 percent within the CAFTA-DR region, 16 percent within the NAFTA
region, 43 percent within the Andean region and 16 percent under the Caribbean Basin Initiative.
Johnson said China is the "major contributor to the decline."
He added that there is a dangerous trend line and "we are trying to prevent worse things
happening." He cited the need for meaningful actions against China and other nations that illegally
subsidize their exports. He also said NCTO is working with government agencies on innovative means
to obtain export financing. Another high-priority area is working with CBP and Congress to develop
better means to combat illegal imports.




Legislation


NCTO's staff outlined a number of legislative issues and placed considerable emphasis on the
need for immediate passage of the duty suspension bill, which grants duty-free treatment to imports
that do not compete with U.S.-made products. There are a number of textiles on the list of duty
exemptions that expired at the end of last year, and some products have been added. Johnson
said failure to act on the bill "is coming at the worst possible time." NCTO supports legislation
calling for tougher Customs enforcement, measures in the House and Senate that would make it easier
to take anti-dumping and countervailing duties against countries that manipulate their currencies,
extension and expansion of the Buy America requirements for government procurement, and extension
of the Andean Free Trade Agreement.
Listed as threats are bills under consideration that would grant assistance to Haiti;
preference reform legislation that would grant duty preferences to Cambodia and Bangladesh; and the
cap-and-trade environmental control legislation. With respect to Haiti, NCTO says it has taken a
leadership role in supporting measures the would help bolster the Haitian apparel industry, but it
feels some measures under consideration by Congress would permit inputs from Asian nations that
would result in U.S. textile job losses. NCTO is opposed to granting new trade preferences to
Cambodia and Bangladesh, as they already are major suppliers to the U.S. market without special
treatment.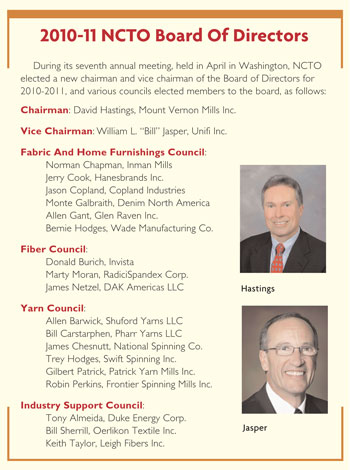 Thinking Outside The Box


A number of speakers at the meeting discussed new and innovative approaches to addressing
problems. Labuda described a new Customs program designed to crack down on Chinese import fraud
stemming from undervaluing exports. She said her agency has uncovered countless cases of imports
entering the United States at declared values that are only a fraction of their actual value. She
said her agency is investigating how the declaration system is being abused, and that, where
possible, it will levy fines and exclude entry of offending products. Johnson said Labuda has
"discovered a large hole in the system [and she is] pressing the government to fill it." Labuda
also said her agency is monitoring the performance of trade preference programs to ensure that they
are being properly enforced, and the agency is stepping up its training of textile and apparel
specialists.
Strickler discussed new inter-agency efforts to help facilitate exports of textiles and
apparel. She noted export financing is a major problem, as many of the countries that present
market opportunities do not have the resources and effective systems to come up with the credit
needed to finance trade. She said the office is working with the Export-Import Bank, the Commerce
Department and other agencies, and that it is in contact with factors and others in the industry
who can contribute to developing new ways to address export financing.
NCTO reported on the creation of TexNet, a new grassroots network that draws on the
resources of outside organizations that have similar interests in the area of international trade.
This effectively doubles the number of employees involved in issues on the textile industry agenda.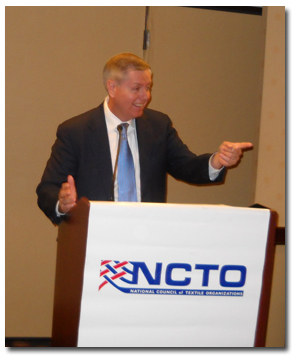 Sen. Lindsey Graham, R-S.C., addresses problems with Chinese trade and says his
anti-currency manipulation bill would pass the Senate by a wide margin.

Congress And Textiles


Members of Congress speaking at the meeting emphasized the importance of trade to the U.S.
economy but said it must be not just free trade, but also fair trade. Sen. Lindsey Graham, R.-S.C.,
addressed problems with China trade and said, "We must bring balance to an imbalanced system." One
way to do that would be to enact his bill, which for the first time would permit anti-dumping cases
to be brought based on currency manipulation. In view of widespread concern about China trade, he
believes his bill would pass the Senate by 75 to 80 votes. Rep. Bobby Bright, D-Ala., a member of
the Blue Dog Coalition of conservative Democrats, called for bipartisan legislation to bring down
the record level of unemployment, and said one step would be to improve credit access for small and
medium-size manufacturers to help them export. He also supports tax breaks for companies hiring new
employees. Saying there are many ways to promote fair trade, Rep. Linda Sanchez, D-Calif., called
for renewed efforts to open export markets but at the same time attack illegal subsidies of imports
and require fair labor standards in exporting countries. "We want to promote trade, and if we do it
right, we can boost our economy," she said.
May/June 2010