T

he 14th International Exhibition on Textile Industry (ShanghaiTex 2009) was held June
12-15, filling 100,000 square meters of exhibit space at the Shanghai New International Expo Center
(SNIEC) in Shanghai's Pudong district. Show organizers report more than 1,000 exhibitors from 22
countries and regions showed their products, technologies and services to 49,348 visitors from 40
countries and regions.
Reflecting the difficulties caused by the current global economic downturn, ShanghaiTex 2009
attracted considerably fewer exhibitors and visitors than the 2007 edition of the show, which drew
more than 1,400 exhibitors and some 108,000 visitors. However, exhibitors at the 2009 event
reported increased on-the-spot reserved sales, totaling 100 million renminbi, during the first two
days of the show. Sales of printing and knitting machinery in particular were reported to be more
active, with some exhibitors taking more orders than they had anticipated.
Exhibitors reportedly were pleased with the quality and professionalism of ShanghaiTex
visitors, who likewise complimented the exhibitors. More than 90 percent of overseas buyers
expressed satisfaction with the show.
"I am glad to see that the exhibition has been held continuously with quality of exhibitors
becoming better and better, the products displayed are the latest ones, and exhibition service has
been improving too," said Sam C.S. Hwa, president of Taiwan-based textile machinery spare parts
supplier En-Hwa Industrial Co. Ltd. Hwa has attended every ShanghaiTex since its inception. "I
always regard ShanghaiTex as one of the important events to visit and plan the visit one year ahead
of the show!"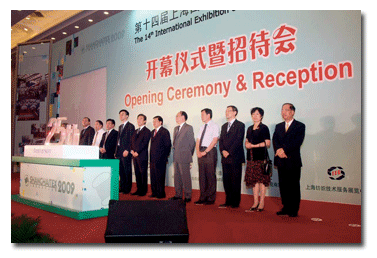 ShanghaiTex 2009 officials welcome exhibitors and attendees to the exhibition.



Concurrent Events

The China Textile Summit 2009, "Crisis & Opportunities," preceded ShanghaiTex on June
11. Long Yongtu, secretary general of the Boao Forum for Asia, discussed the economic situation in
China and worldwide, and encouraged the textile industry to seize opportunities to transform itself
and upgrade operations. Gao Yong, vice president of China Textile Industry Association and
president of China Textile Machinery Association, analyzed current initiatives that can provide
direction to the Chinese textile industry. The forum attracted nearly 700 attendees from 500
companies.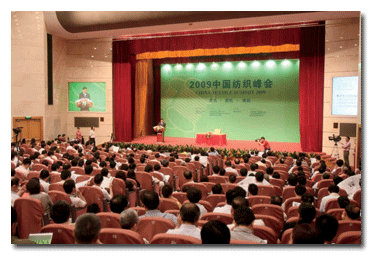 The China Textile Summit attracted nearly 700 attendees from 500 companies.


That evening, ShanghaiTex's 25th anniversary was celebrated during a dinner event attended
by more than 1,000 industry representatives.
Fashion parades staged during ShanghaiTex presented new technologies from leading knitting
machinery exhibitors. More than 20 technical seminars covered new textile technology developments.
ShanghaiTex 2009 sponsors include Shanghai Textile Holding (Group) Corporation, China
Council for the Promotion of International Trade Shanghai Sub-council and China Chamber of
International Commerce Shanghai Chamber of Commerce. Show organizers include Shanghai International
Exhibition Co. Ltd., Shanghai Textile Technology Service & Exhibition Center and Adsale
Exhibition Services Ltd. Additional support came from 16 Chinese provinces, and nearly 20 Chinese
and overseas textile associations that organized buyers' delegations to attend the event.
September/October 2009