L

eaders of the National Council of Textile Organizations (NCTO), at its annual meeting
held recently in Washington, took a look at the state of the industry and where it is likely to be
headed in the near future. Despite some positive developments, there also are difficult times
ahead. On the plus side are signs Congress and the Obama administration seem more inclined than
Congresses and administrations in recent years to address some industry issues, particularly in the
area of international trade. But on the other hand, the worldwide recession, a chronic trade
deficit and a global oversupply of production present daunting challenges.
In an overview of industry conditions, NCTO Chairman Anderson Warlick, Parkdale Mills Inc.,
cited significant accomplishments during the past year, but he warned the industry must step up its
efforts to have a greater impact on issues being addressed in Washington. Warlick said that while
the industry faces a variety of issues, "the greatest threat is apathy," and he challenged every
CEO in the industry to become more involved in Washington-related issues and make it a part of
their daily jobs. He cited increased funding for the NCTO political action committee, "Hill to
Mill" visits by members of Congress to manufacturing facilities and contacts executives made with
their representatives in Washington as key elements in some of the successes the industry enjoyed
in the past year.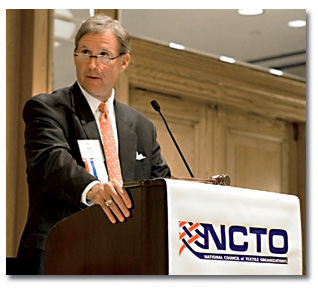 NCTO outgoing Chairman Anderson Warlick said

the textile industry must broaden its political reach

if it hopes to influence government decisions

impacting the industry. He called on

industry CEOs to join with NCTO in an

effort to become more politically active.

Major Accomplishments Seen


NCTO cited a number of successful efforts during the past year, including a reinvestment
program for cotton textile products that could provide US textile mills with as much as $75 million
annually for capital investments. Under the program, mills may receive 4 cents per pound of
eligible cotton used and must use the funds to invest in updating plants and equipment. The program
is seen as a key element in making the industry more competitive.
Another major accomplishment was getting a letter from President Barack Obama saying he is
"especially aware of the trade challenges faced by those working in our textile industries." Obama
gave his support for a textile import monitoring program to pin down problem areas and said he
would use the monitoring system to ensure that imports from China do not violate applicable laws
and treaties. He endorsed the idea of Buy American requirements for textile purchases by the
Department of Defense (DoD) and other agencies, and he also supported a yarn-forward provision in
free trade agreements to ensure that those special trade agreements do not become conduits for yarn
and fabric sources outside of the participating countries.

Also in the past year, and continuing into this year, NCTO developed a strategy to deal with
problems arising from the elimination of Chinese safeguard import quotas including a statistical
monitoring program and consideration of trade remedy actions under US anti-dumping and
countervailing duty laws. It also is looking for violations of World Trade Organization (WTO)
rules. The industry succeeded in getting Congress to extend for two years a trade agreement with
Colombia, Peru and Ecuador that grants duty-free access to the US market for apparel made from US
yarn and fabrics. In order to combat illegal textile and apparel imports, Congress funded $9
million specifically for textile customs enforcement. And after years of failed efforts, the
industry and its supporters in Congress got the DoD Buy American textile and apparel procurement
requirement expanded to include agencies of the Department of Homeland Security.
Despite these and other accomplishments, NCTO sees some major problems on the horizon.

Global Trade Outlook


At the meeting's opening session, Robert Antoshak, president of FCStone Fibers and Textiles,
a global consulting firm that keeps a close watch on textile trade developments, outlined a number
of major challenges the US textile industry faces in today's global economy. He predicted major
changes in textile trade as nations cope with the combination of the global recession and
overcapacity not only in manufacturing, but also with retailers. He warned that prices are being
squeezed downward and there is little room to pass on rising costs. The key to success, and even
survival, Antoshak believes, lies in a textile company's ability to make high-value products and
manage the risks in today's changing business climate. That, he says, will require four basic
elements: doing a better job of managing costs; placing more emphasis on technology; developing new
products; and using better marketing techniques. He predicted the next year and beyond will see
more volatility in textile trade, with many risks, but he believes those companies that attempt to
understand those risks and have plans to address them will survive.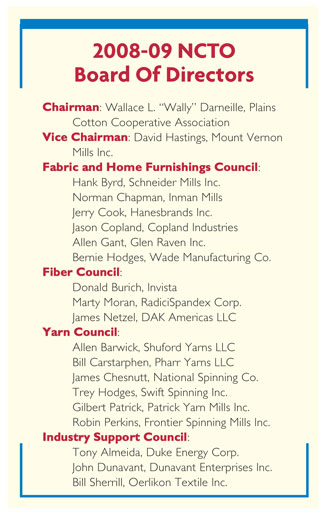 Ambitious Trade Agenda


Looking ahead, NCTO leaders have an ambitious trade agenda as they seek ways to cope with a
persistent trade deficit, continuing job losses and what they believe are unfair trade practices
running rampant throughout the world, particularly in China. They see a need to find ways to combat
unfair trade practices and open more overseas markets to US goods through bilateral and regional
trade agreements, and they will be making efforts to remove barriers that make it difficult if not
impossible for US exports to enter a number of markets. High on the agenda is an effort to do
something about Chinese currency manipulation, which they believe is an illegal subsidy that gives
China an unfair advantage in international trade. NCTO has joined with other affected industries
and labor unions in a broadly-based Fair Currency Coalition that has launched a renewed effort to
support legislation pending in Congress that would declare currency manipulation an unfair trade
practice and provide for greater use of US anti-dumping and countervailing duty laws to offset that
trade advantage. Although similar anti-currency-manipulation legislation died in the last Congress,
it appears to be gaining more bipartisan support in the current Congress. NCTO also strongly
supports textile import monitoring programs conducted by two government agencies and designed to
pinpoint problems with import surges and illegally subsidized imports. These efforts could result
in impositions of tariffs and/or quotas.
In addition to addressing the currency issue, NCTO will launch major efforts under three new
initiatives during the coming year. It has joined with other import-impacted industries to support
legislation that would address a long-standing problem with value-added tax programs used by many
US trading partners. It also supports legislation that would permit duty-free treatment for
finished apparel imports that use US-made yarn and fabric, and it is considering filing cases with
the US International Trade Commission seeking relief from import surges from China in a number of
product categories in which safeguard quotas were removed at the beginning of this year.
NCTO also is keeping a wary eye on efforts to restart the WTO's deadlocked Doha Round of
trade liberalization talks, as textile manufacturers have problems with some proposals currently on
the negotiating table.
July/August 2009