I

n view of the ongoing success of the nonwovens and technical textiles sectors and the
feedback from the first report, Textile World is publishing another country report with the support
of the national machinery association about suppliers of machinery for nonwovens and technical
textiles. France is the focus of this report. Though a traditional manufacturer of textile
machinery, France also plays an important role as a supplier of special machinery and equipment for
the promising nonwovens and technical textiles sectors, and ranks among the top five supplier
countries.
This report has been compiled with the kind help of the French Textile Machinery Association
(UCMTF). TW prepared a questionnaire for UCMTF member companies, 14 of which responded. A link to a
summary of those participating companies is found at the end of this story.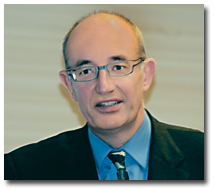 UCMTF President Bruno Ameline

The Interview


Bruno Ameline, president, and Evelyne Cholet, secretary general, UCMTF, presented their
association to TW and analyzed the current economic crisis. Ameline's answers to some questions
from TW are presented below:

TW
: What is the UCMTF?

Ameline: We are grouping, in France, 35 textile machinery manufacturers. The total
turnover of our members is slightly over 1 billion euros [$1.3 billion], most of it being exported
all over the world.

TW
: What are the main goals?

Ameline: Our main goals are to help our members promote their expertise; organize
French pavilions at the major machinery shows and technical seminars in the countries we select;
represent our industry with the national, European and international authorities; and, more
generally, provide to our members the services they may expect from a trade organization. As a
member of CEMATEX [the European Committee of Textile Machinery Manufacturers], the European
organization which owns the major international brand ITMA, we are part of the decision-making
process on these shows.

TW
: How active are your members in technical textiles and nonwovens?

Ameline: Very active. Our members are specialized manufacturers, often world
leaders in their specialties. Their strategy is to offer tailor-made solutions to solve customers'
needs and be their long-term partners. This strategy is particularly fitted to the nonwovens and
technical textiles sectors in which the machinery manufacturers are really integrated. This is how
new markets for technical textiles can be opened. At the recent Techtextil, one could see again
that the machinery manufacturers are considered as part of the technical textiles industry, not as
off-the-shelf machinery vendors. Many of our members were present, close to their customers, to
understand their needs, listen to them, and better evaluate how they can create value for them.

Current Market Situation



TW
: How do you see the current market situation?

Ameline: Right now, it is very difficult to really grasp the market environment.
Every day we receive contradictory information. The financial crisis which originated in the United
States has developed worldwide and spread into the real economy. The textile industry in general
and the technical textile sectors in particular — except for those selling to such devastated
industries as automotive — are not immune, but certainly less hurt than many sectors.
In fact, the most important impact of the crisis on the textile industry is probably the
collapse of the credit system, which is essential to organize, secure and finance international
trade. Banks are highly risk-averse, and credit insurance companies are more and more conservative.
Therefore, international contracts are difficult to finalize, and delays may occur.
The global technical textiles consumption does not seem to decline. For our business, in
periods when the markets for end-products such as apparel, home textiles, and technical textiles
grow only slightly above their long-term rates, investments in machinery are very active. This is
what happened during the last few years.
On the contrary, small contractions on the final markets have a significant negative effect
on the investments. We, as machinery manufacturers, have known for many years this essential
characteristic of our industry, and we have adapted our structures — we have struggled to become
more flexible and to lower our break-even points. The total turnover of our members was flat in
2008, the first part of the year being good and all advances we had secured being lost in the last
months.
We started 2009 with very low order backlogs and experience chaotic order intakes, with low
visibility but sometimes unexpected customers' projects. It seems that governmental economic
recovery packages are starting to bring positive effects. This is the case in China for civil
engineering investments, for example. But, as I said, we are much better prepared than before to
adapt to such an unpredictable situation. Even if the recovery road is rocky, the crisis we face
will come to an end, and then our customers who have taken the good investment decisions will
emerge even stronger.

Targets For 2009



TW
: What are the UCMTF's main tasks for 2009?

Ameline: In 2009, our task is to convince our members to continue to work for the
future, to bolster R&D [research and development], to work with their clients as partners. As
an association, we will continue our worldwide promotion efforts including toward the trade press
and prepare the next important trade shows. The UCMTF has a clear strategy. We think it fits the
markets and will work very well once the crisis is over. Let me summarize it again:
• to be a specialized manufacturer, often world leaders in niche markets,
with tailor-made solutions to address our customers' needs; and

• to help our customers analyze the market trends [and] choose their
strategies and implement them; [and] be their long-term technology partners.
Thanks to this strategy, France is the fifth[-ranking] machinery exporter. We are
particularly strong in weaving preparation, nonwovens, spinning, and finishing machinery.
We are proud to promote the latest technology and improvements in production for tomorrow. We
think that only the companies increasing their efforts on R&D and market presence will survive.
We want to be part of these. We and customers must always remember that, particularly in times of
an insecure economic environment, the choice is between "do" or "die."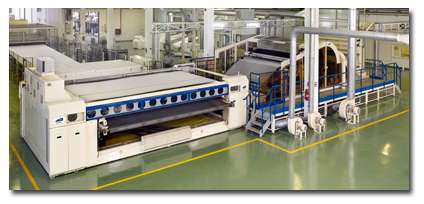 NSC Nonwoven line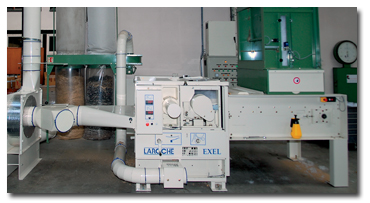 Laroche Exel horizontal fine opener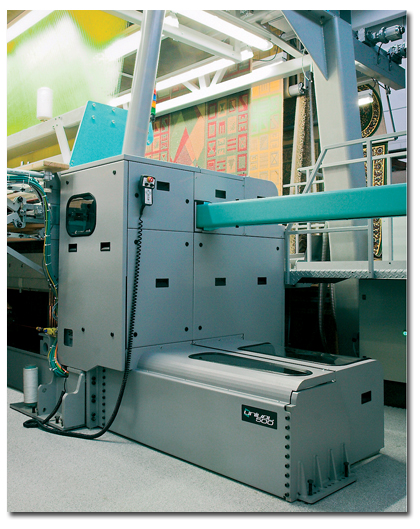 Stäubli Unival 500 electronic shedding mechanism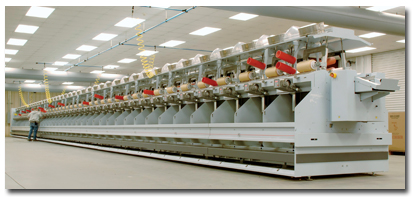 RITM glass yarn installation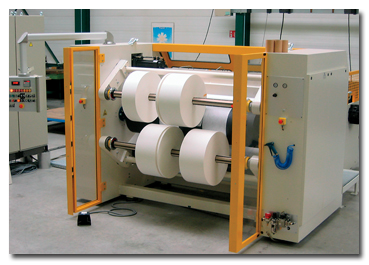 Calemard slitter-rewinder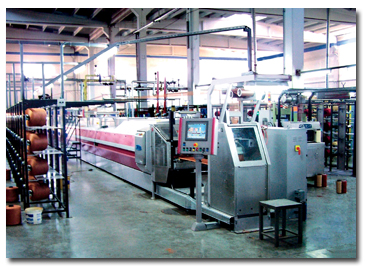 Superba TV3P-K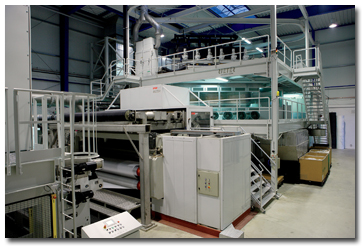 Rieter Perfojet Spunjet system

July/August 2009