A

vailability, performance consistency and productivity of capital equipment are pivotal
factors for the success of most manufacturing enterprises. It certainly holds true for the textile
industry, particularly for spinning mills. Hence, competitive productivity and after-sales service
are one package; they are a direct function of each other.
Rieter spinning machines figure in countless value-added production chains around the globe.
Opening and carding machines, draw frames, combers, rotor- and ring-spinning machines from the
oldest to the latest manufacturing operations produce high-quality yarns that are used in a number
of applications, such as apparel, fashion, carpets, home textiles, furnishings and a myriad of
others.

Textile World
contacted Spartanburg-based Rieter Corp. to learn more of the ins and outs of providing
after-sales service. The company is proud of its reputation for being one of the best after-sales
service providers in the industry. André Fréderic, head of spare parts sales and logistics for
Rieter Spartanburg, shared with

TW
the challenges Rieter faces as an original equipment manufacturer (OEM), as well as the
company's commitment to satisfy its customers. Rieter still occupies a substantial position in the
US textile machinery marketplace. Many of its machines have been in operation for a quarter century
or more, and some with the latest manufacturing operations. The company believes it is crucial to
provide a flawless parts supply to the customers to ensure their machines remain in tip-top shape
so they will continue to perform up to expectations year after year.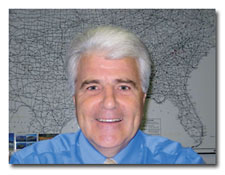 André Fréderic is Rieter Corp'shead of parts sales & logistics, USA

TW
: With regard to spare parts, what is your commitment to customers?

Fréderic: We believe the phrase "excellent service" is more than just words; it
means actions. Our commitment to fulfill our actions means a smartly stocked and well-maintained
inventory, and a 24/7 answering and logistics system, in addition to well-trained associates who
are technically savvy and speak the language of the region. Another advantage we offer is that our
employees live in the same or bordering time zone as our customers do. We serve the entire
NAFTA/CAFTA-DR region; all relevant languages are spoken in our Spartanburg facility. As part of
our all-encompassing commitment, we emphasize good communication skills. To word it differently: We
demonstrate our commitment with an inventory worth millions of dollars, a near-perfect logistics
arrangement, as well as technical and communication training for our employees. It goes without
saying that all this comes along with an IT system that provides all necessary information at the
user's fingertips.

TW:
What is your take on companies that offer aftermarket parts? Don't they offer the same
quality, but for substantially less?

Fréderic: Machine investments are the crucial tools for our customers to make a
living, to succeed, to excel. When buying production machines, customers buy not only the machines
but also the company that stands behind it. Besides other things, the quality of spare parts is
crucial to maintain the original and intended performance of the investment. Quality is always a
matter of attention to the details – details that depend on the exact knowledge of the
functionality of a part and the environment it has to fit. Our experience has shown that
aftermarket parts initially work to some degree, but they may cause a performance deterioration of
the machine down the road. And sometimes, aftermarket parts do not even work initially. As a matter
of fact, we have seen aftermarket parts that became a serious safety hazard because of inferior
materials or deficient details. Remember, the customer made an investment, often putting his
livelihood on the line. The vast majority of our customers recognize the risk and the agony that
comes with time due to inferior spare parts.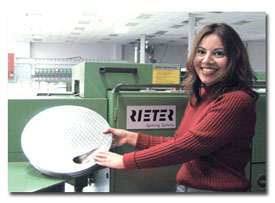 Mirna Lopez, Rieter Corp. customer service representative, shows Rieter's CLEANCoil coiler
plate.
To answer your question more directly: Aftermarket parts may cost less, but using them may
result in deterioration of the initial investment. Additionally, aftermarket parts may break
prematurely or have an adverse impact on yarn quality. Ultimately, in the long term, the least
expensive spare parts are the parts from the OEM, in our case, from Rieter. This should not come as
a surprise – after all, the OEM designed the parts and understands why a part is designed a certain
way, how the part has to interface with its environment and what the exact function of such a part
is. Exact material specifications, consistent and defined finishing processes, and many other
design and manufacturing factors are decisive. As said: Quality involves attention to details; to
all details that is. Rieter, as the OEM, can guarantee this, whereas aftermarket parts are often
based on guesswork.

TW:
In the final analysis, are you saying that it is less expensive to buy original parts?

Fréderic: Yes, I am convinced that this is very true in many ways. Just keep
in mind that companies offering aftermarket spare parts have a pick-and-choose concept. They make
some parts but may not have the capability or knowledge to duplicate many other parts. In contrast,
Rieter, with Rieter Spartanburg serving the NAFTA/CAFTA-DR region, is a one-stop shop for our
customers. What a time and, therefore, cost savings for our customers!
In this context, we are proud that we always send the right part the first time.
Furthermore, the part will fit and will do its job. There is no guessing, no trial and error.
Imagine what this means in terms of money saved for the customer when a machine is down.
November/December 2008