W

hen life sciences company Entegrion was asked by the Office of Naval Research (ONR),
Arlington, Va., to develop an affordable bandage that would quickly stop bleeding in
combat-inflicted wounds, the Research Triangle Park, N.C.-based start-up turned to local textile
manufacturers to help it devise a solution. The combination of the expertise and creative,
out-of-the-box thinking of Entegrion's chief science officer, Dr. Thomas H. Fischer, with the
knowledge and can-do, willing-to-take-a-risk attitude of the textile makers resulted in the
development of Stasilon™|FR, the first in what is poised to become a line of hemostatic bandages
with applications ranging from surface cuts and wounds to nosebleeds to surgical uses.
Entegrion was formed in 2002 to commercialize technologies being developed in the blood
research area at the University of North Carolina at Chapel Hill (UNC-Chapel Hill), where Fischer,
a company co-founder and vice president, is scientific director of the Francis Owen Blood Research
Laboratory. According to E.S. "Stan" Eskridge Jr., CEO, president and also a company co-founder,
Entegrion does a lot of work with the US military and has received military funding to help it
develop its products.


As a practical solution to satisfy the ONR's requirements, Fischer sought to develop a
bandage that is as close to gauze as possible, Eskridge said, "so we got him together with some
guys from the textile industry, who supplied him with different fibers to test." After testing
numerous fibers, Fischer settled on a combination of medical-grade continuous glass filaments and
bamboo.
"Glass initiates the coagulation of the blood, but it needs to be combined with something
that will help wick blood to the glass and make the bandage feel like cloth," Eskridge explained. "
Bamboo is almost as hemostatic as glass, yet it has great wicking properties, and the combination
of the two works very well."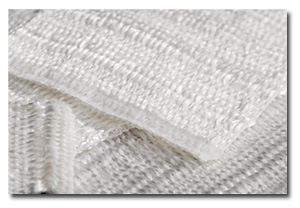 The fabric used in Entegrion's Stasilon™ products is woven by Carolina Narrow Fabrics Co.
using bamboo yarn spun by National Spinning Co. and glass filament. The patent-pending weave
structure maximizes the effectiveness of the glass surface and the bamboo woven through
it.

Yarn Development

Originally, Entegrion worked with Cheraw Yarn Mills, Cheraw, S.C., to convert fiber into
yarn, and Cheraw was actively involved in evaluating the different fibers and developing Entegrion's
patented technology, Eskridge said. However, after Cheraw merged with Sanford, N.C.-based Frontier
Spinning Mills Inc. in 2006, it restructured its yarn programs, and the yarn conversion for
Stasilon now is handled at National Spinning Co. Inc.'s Alamance Spinning Plant in Glen Raven,
N.C., about 35 miles down Interstate 40 from Entegrion.
According to Jim Booterbaugh, vice president of operations at National Spinning, Entegrion's
project presented a bit of a challenge, but one that could create some excitement and opportunity.
Founded in the 1920s, first as a wool spinner and later adding acrylics and polyesters, National
Spinning, with headquarters in New York City, today is adding out-of-the-box, value-added niche
products to help it compete in the global trade environment.
"When Stan Eskridge came to us with the concept of making a bamboo yarn for a high-tech
bandage, at first we thought that might be way out of our box," Booterbaugh said. "And then we
thought, well, maybe not, and as we looked into it more, we recognized it's not too far from other
specialty products we're doing with higher-tech fibers. Plus, it's an exciting end-use. So we said,
'Well, it's not huge at the start, but it will get us used to making bamboo yarns, and as other
opportunities come up for bamboo, we'll be able to do it.'"
Booterbaugh said it was necessary for National Spinning to fine-tune its spinning processes a
bit to accommodate the bamboo fiber, "but it ended up needing surprisingly little. Rather than
reinventing the process, we just needed to modify the way we did things a bit," he said.
The project with Entegrion has led National Spinning to look into other market opportunities,
Booterbaugh said. "Since we've started running this product, we've looked at other opportunities to
spin finer-count bamboo for apparel and other applications. We've seen interest for end products
that are already in the market, and we're confident we can participate in those areas now.
"This particular program is not for a high-volume product, but it has value," he added. "A
year from now, I may say it was the best thing we ever did because we could leverage this program
into three or four other programs. It offers a lot of potential."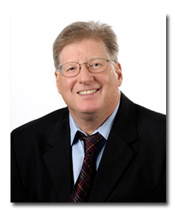 Dr. Thomas H. Fischer, Entegrion's chief science officer, tested a number of textile fibers
before settling on a combination of glass filaments and bamboo to make a hemostatic bandage that is
as close to gauze as possible.
National Spinning does not incorporate the glass into the yarn it spins for the Stasilon
bandage. That filament is added at the weaving stage by Carolina Narrow Fabric Co. (CNF), a
specialty narrow fabrics weaver located about 35 miles further down I-40 in Winston-Salem, N.C. As
Entegrion's Fischer began to work with CNF, he found that yarn properties are but one contributor
to the bandage's function, Eskridge said. "We discovered after we had the yarn converted that the
way yarns are woven together also makes a difference," he explained.
Entegrion's requirements also presented a challenge to CNF. The family-owned company, which
also has been in business since the 1920s, manufactures a range of narrow fabrics for medical and
various other industrial applications, and uses fiberglass in composites and other fabrics; but the
fiberglass/bamboo combination was a totally new concept to Jeffrey Freeman, CNF's vice president of
operations, who represents the third generation of the company's present owners.
"We'd never heard of this," Freeman said. "We've woven gauze for the medical industry for
years, and we've always had to separate anything that had fiberglass from the gauze." But the
company set to work weaving fabric samples for Fischer to take back to the lab and test. Within a
couple of months, CNF and Fischer arrived at a structure that, with some final tweaking, now is the
Stasilon bandage.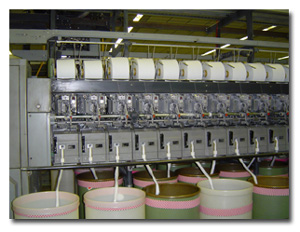 The bamboo yarn going into Stasilon products is spun on one side of a Savio open-end
spinning machine at National Spinning's Alamance Spinning Plant.

A Bandage That

Doesn't Look Like A Bandage

The final product does not look like a typical bandage. As Booterbaugh put it, "This is not
the Band-Aid you would have in your medicine cabinet." Rather, he said, it is heavy compared to
conventional gauze bandages.
Freeman said the surface area of the fabric is primarily glass fiber, which does not absorb
the blood but does help it to clot, and the bamboo weft yarn wicks the blood to the glass surface.
He also pointed out bamboo's antimicrobial properties as being important, but not as important as
the clotting factor provided by the glass fiber.
"The weave structure is not an industry-standard," Freeman said. "It's kind of like a twill,
but we had to change harnesses to get the surface area correct. The bandage doesn't look like a
gauze bandage — it looks like something we would sell to a gasket company or for heating systems or
ovens." He added that CNF and Entegrion have applied for a patent for the fabric construction.
Freeman also commented on the need to keep the manufacturing environment free of lint,
infectious materials and other dirt; and talked about the finishing process, saying: "During the
weaving process, you don't want any type of bioburden on it. After weaving, we do a wash treatment
in our dye facility and package the fabric and send it to Entegrion." He noted that CNF has been a
Food and Drug Administration (FDA)-approved facility for 30 to 40 years and is well-acquainted with
the regulatory standards for medical textiles.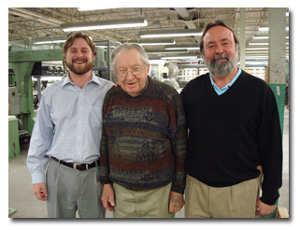 Left to right: Jeffrey Freeman, vice president of operations; Horace Freeman, CEO; and
Horace "Buster" Freeman Jr., president, represent three generations of the family that has owned
Carolina Narrow Fabric Co. since 1979.

Working With What Nature Already Does

According to Eskridge, the bandage stops the bleeding within minutes and is more than twice
as effective in reducing blood loss as a traditional gauze bandage.



"A shaving knick will be cleaned up very quickly and will leave no scab. Nosebleed stops
within two to three minutes," he explained. "For a severe injury, you would push it into the wound
and hold with pressure for three to five minutes and check to see if bleeding has stopped, which it
often has. It's really remarkable."
In heavy bleeding, he said, using the bandage will delay the onset of hemorrhagic shock,
which will extend the possibility of saving lives.
"As opposed to cotton gauze, where blood flows into the gauze structure and a scab forms,
this product causes clotting in the ruptured blood vessels themselves and not on the bandage," he
explained. "It causes the blood vessels to constrict to shut off the blood flow. Tom [Fischer] is
so good at not overpowering nature but working with what nature already does, so he engineered this
to trigger that vasoconstrictive effect, giving us a product that can be removed without causing
rebleeds."
Although it was developed originally for the military, Stasilon|FR is currently being offered
for use in emergency, first-responder situations for surface wounds. It is the first product in the
line to be approved by the FDA, and that approval includes both prescription and over-the-counter
uses. Eskridge said Entegrion also expects to receive FDA approval in the next few weeks for
Stasilon|OR hemostatic surgical pads and Stasilon|OTC consumer products for the control of problem
bleeding.
Over the next year, the company plans to release four to five other versions based on
the same core technology, including Stasilon|ENT for nosebleeds and hemostatic pads for delivery by
surgical instruments to control internal bleeding.



"A lot of people are very, very interested in the product because there just isn't anything
in the market that's comparable to it," Eskridge said. "And, it's patent-protected, and that will
inhibit knock-offs."
Evaluations of the Stasilon technology by military, emergency room and emergency medical
service operations around the Southeast are now underway. Entegrion expects to launch FR, OR and
OTC products in the marketplace this spring.

Looking Toward

The Next Product Generation

Entegrion recently brought in Dr. Marian McCord, a textile engineering specialist currently
on sabbatical from North Carolina State University (NCSU), Raleigh, N.C., to work with Fischer and
help the company develop the next generation of its textile wound care products. McCord is an
associate professor in the Joint Department of Biomedical Engineering with UNC-Chapel Hill and
NCSU; and also is director of the Tissue Engineering Laboratory, co-director of the Atmospheric
Plasma Laboratory and associate professor in the textile engineering department at NCSU's College
of Textiles.
"Marian will work with us to take the hematological properties of these fibers and see if we
can convey those into synthetic fibers that would be more controllable and cheaper to produce,"
Eskridge said.
These next-generation fibers would replace the current bamboo/glass combination, he added,
noting that bamboo fiber, though it may be spun into yarn in the United States, is produced
offshore. "This would bring production totally into the United States."
Eskridge expressed great appreciation for the contributions of Entegrion's textile partners
to the development of Stasilon.
"Tom Fischer is one of the most creative, innovative and experienced hematologists around,
but without the expertise from Cheraw, National Spinning and CNF, we never would have come up with
this product," he declared. "It was textile knowledge in combination with hematology expertise that
made the thing work. The willingness on the part of the textile industry in this area to be
innovative, and take risks to be innovative, is what's going to turn this industry around.
"It's been a great learning experience to work with these people," Eskridge added.
March/April 2008