A

s the textile industry continues to evolve, so also do the textile fairs that serve the
industry. Global exhibitions such as the American Textile Machinery Exhibition-International®
(ATME-I®), the Osaka Textile Machinery Show (OTEMAS), China International Textile Machinery
Exhibition (CITME) and International Exhibition of Textile Machinery (ITMA) Asia — to mention a few
of the most prominent shows held over the years — have been focal points of many a textile
executive's calendar. These shows have promised displays of the latest textile innovations, and
presented opportunities for global sales to customers new and old. But, as the textile industry has
changed, so have textile fairs. Some have closed. Some have consolidated.
Only the European edition of ITMA — held every four years since 1951, and in recent years
typically attracting well over 100,000 visitors and more than 1,300 exhibitors at each show —
remains steadfast and unchanged in its quest to provide a comprehensive overview of the
international textile industry. ITMA 2007 will be held September 13-20 at the New Munich Trade Fair
Centre in Munich, Germany.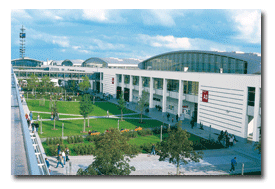 The New Munich Trade Fair Centre features 17 halls

covering 180,000 square meters of exhibition space.


ITMA Innovations


The European Committee of Textile Machinery Manufacturers (CEMATEX), which owns the show;
organizer Messe München GmbH; and the German Engineering Federation (VDMA) Textile Machinery
Association see ITMA 2007 as "The Place for Innovation" and have made several changes to the show's
format to keep up-to-date with industry demand and technological trends.
ITMA 2007 will feature an enlarged index of products that will comprise a wider variety of
machinery and accessories in all sectors. The show's offerings include machinery, equipment, and
auxiliary machinery and accessories for the following sectors: spinning preparation, man-made fiber
production and spinning; winding, texturing and twisting; nonwoven and felting web formation,
bonding and finishing; weaving preparation, weaving and tufting; knitting and hosiery; braiding and
embroidery; washing, bleaching, dyeing, printing, drying, finishing, cutting, rolling and folding;
making-up; laboratory testing and measuring; transport, handling, storing and packing; and
recycling, waste reduction and pollution prevention. Offerings also include design,
data-monitoring, processing and integrated production software; and associated textile and
making-up equipment and services.
Optimized integration of nonwovens technology between the spinning preparation and finishing
halls will enable visitors to see this technology at its most relevant. The nonwovens area will
occupy two halls and will be 50-percent larger than at ITMA 2003 — when it debuted and occupied
just one hall — and will include new machine categories such as aerodynamic web formation and other
special warp knitting and weaving machines for the production of technical textiles.
The accessories and spare parts sector has been restructured so that all measuring and
testing systems are listed separately for each sector.
Textile machinery that used to be listed under "Other" is now listed separately in all
sectors.
Radio frequency identification systems have been integrated into the product index for the
first time, as have transportation and storage technology, management software systems, and safety
engineering products and equipment — which include protective clothing and hearing equipment and
safety-related machine components.
Organizers also have color-coded the different halls according to specific sector, making it
easier for visitors to quickly find their areas of interest.

Registration Reflects State Of Industry


Companies from Asia — in particular, those from Japan, India and China — have already
registered for more exhibition space than they used at ITMA 2003 — a statistic that reflects that
region's booming industry growth. Japanese companies will occupy an area 200-percent larger than
they occupied at ITMA 2003. The number of Chinese exhibitors has doubled since the last show;
Indian companies will also have a greater presence in terms of both numbers and floor space
occupied.
Turkish exhibitors have registered for 10-percent more space than they occupied at the show
in 2003, and comprise one of the largest contingents of exhibitors outside Western Europe — a fact
that strongly reflects the unprecedented growth in that nation's apparel and textile industries
during the last decade.

Research And Education Area Premieres


ITMA 2007 will feature the premiere of the Research and Education Area, 600 square meters of
centrally located exhibition and lounge space devoted to presentations from research institutes for
textiles and apparel, and educational organizations and institutions. Organizations from Germany,
Belgium, Switzerland, Italy and India have already registered. The area will serve as a more
intimate venue for displaying research results, services, and process and product advancements, as
well as educational and continued training offers. A Speakers Corner will enable industry experts
from the area to present current projects for textiles and apparel.

Visitor Services


ITMA organizers will offer a range of services during the exhibition to make it as pleasant
an experience as possible. A Visitor Information System consisting of 72 touch-screen information
terminals will be available on the trade fair grounds, and will provide exhibitor information
including hall and booth numbers and full company profile.
An audio guide will be available to rent for a fee of 10 euros (US$13.78) at the West, East
and North entrances to the show. The guide will provide information about innovations and
developments from an array of exhibitors. An accompanying leaflet will give a description of
participating businesses including code numbers and booth locations.
The exhibition site also offers a moving transport system to help visitors efficiently cover
the 180,000 square meters of exhibition space, restaurants, snack bars, cafes, bakeries and prayer
rooms for all denominations. Event organizers have made a special effort to accommodate Muslim
visitors during Ramadan. Jewish visitors will be provided opportunities to celebrate Rosh Hashana,
the Jewish New Year.
Those with ITMA visitor badges may use all public transport operated by the Munich Transport
and Tariff Association or Münchner Verkehrsverbund (MVV) — including underground, local railway,
tram, bus and airport shuttle — free of charge during the fair.

ITMA.com


ITMA organizers have created comprehensive websites that cover every aspect of the show. The
main website, www.itma.com, provides visitors and exhibitors links to basic information about the
show including online registration and an updated exhibitors database; resources for getting to and
staying in Munich, as well as sightseeing opportunities; archived press releases; newsletter
registration; an ITMA history section; and contact information for show organizers and supporting
associations. The site is available in English, German, French, Spanish, Russian, Italian, Czech,
Arabic, Turkish, Japanese, Farsi, Korean and Chinese.
A free service located via the www.my.itma.com link on the ITMA homepage, enables visitors to
organize their visit to ITMA. The service provides an exhibitor database from which users may
select and note companies as contacts, and then save them under a user profile for later access.
Users may also send out a variety of messages, including e-mails to contacts, meeting
requests and Web page recommendations.
The service also offers a Calendar function and a Favourites category for further organizing
contacts.
---

The Wies'n And Other Munich Attractions


Located in the foothills of the Alps, Munich, or the Monk Settlement, as it was first
known, offers a range of sightseeing opportunities. Munich is home to Oktoberfest, arguably its
most popular event, which originated in 1810, when city citizens were invited to attend
festivities, including horse races, following the wedding of Bavarian Crown Prince Ludwig and
Princess Therese von Sachsen-Hildburghausen. Subsequent annual horse races, held in fields dubbed
Theresienwiese, or Theresa's Fields, have given rise to today's festival featuring a variety of
food and drink, plus music, dancing and fair rides held at the same locale — now referred to by
locals as the Wies'n.
The festival traditionally attracts nearly 6 million visitors during its two-week run, making
it the largest festival in the world. Oktoberfest 2007 will kick off Saturday, September 22, when
the lord mayor of Munich will tap the first keg of specially brewed Oktoberfest beer, and will run
through Sunday, October 7.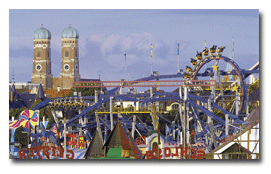 Oktoberfest attracts nearly 6 million

visitors to Munich each year.

Munich also offers museums, churches, palaces and other cultural attractions. The Alte
Pinakothek is an Italianate art palace containing European masterworks from the 14th through 18th
centuries, including a vast collection of Peter Paul Rubens' works. The Bavarian National Museum is
devoted to the art, culture and history of southern Germany. The Deutsches Museum is one of the
world's largest science and technology museums, spread over 8 miles of exhibit space on eight
floors. Munich's oldest museum, the Glyptothek, houses Greek and Roman works of art collected by
King Ludwig I during a trip to Italy.
The BMW Museum, scheduled in October to move from its temporary housing to more luxurious
accommodations at the company's headquarters in Munich, is currently located near the Olympic
tower. The museum offers highlights of the company's car and motorbike collections.
The Asamkirche, also known as the St. Johann Nepomuk Church, offers eye-catching architecture
and art, while the Marienplatz offers good strolling opportunities through the center of the
Altstadt, or Old City. Here visitors will find their choice of churches, cafes and beer gardens,
including the popular Hofbräuhaus. The Glockenspiel carillon, at the center of the Neues Rathaus,
or New Town Hall, features figures that come to life four times a day.
The Schloss Nymphenburg features exhibits of palace life, as well as gardens and museum
exhibits. The Residenzmuseum highlights the lifestyles of the Wittelsbachs family, who ruled the
city from the mid-13th until the 20th century, and offers portrait and porcelain galleries, an
Asian collection, and theater.
---
For more information about ITMA 2007, contact 49 89 9 49 1 14 28; fax 49 89 9 49 1 14 29;
visitor@itma.com; www.itma.com.
---

July/August 2007