W
hile international trade and politics as usual dominated the agenda for the National
Council of Textile Organizations (NCTOs) annual meeting in Washington, there were, for a change,
some silver linings on the clouds that have been hanging over the industry for years. Even though
sales and employment are down, imports continue to grow and the industry experienced a record trade
deficit in 2006, some textile industry executives believe the government is responding to their
needs, and companies are adjusting to the changing international trade climate. There even is an
indication that the rapid growth of Chinese apparel exports to the United States might have a
bright side.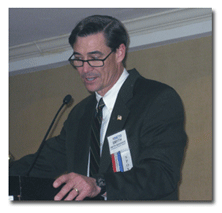 Smyth McKissick, NCTO chairman, speaks at the organization's annual meeting.
Presenting a status report on NCTO and its international trade issues, NCTO Chairman Smyth
McKissick of Alice Manufacturing Co. said there is a "whole new landscape," and textile companies
are playing an increasingly effective role in shaping public policies that have an impact on every
individual textile company. For a number of reasons, he said, the trade picture "is changing in our
favor." He cited recent government actions that stem from the industry's growing political
influence.

One of the most important developments is the governments commitment to monitor textile and
apparel trade with Vietnam and take effective action if problems develop. "A year ago at this time,
we were deeply concerned about what Vietnams entry into the World Trade Organization was going to
mean to us, but we no longer are without a defense against illegal imports," McKissick said. As a
non-market economy with major textile and apparel industries, Vietnam was poised to make a major
assault on the US market. The Bush administrations commitment to monitor Vietnam imports and
self-initiate dumping cases if it is determined that Vietnam imports are entering the United States
at unfair prices is viewed by NCTO as a prime example of the industrys effectiveness with
Congress.
When Congress was considering legislation granting permanent normal trade relations status to
Vietnam, Sens. Elizabeth Dole, R-N.C., and Lindsey Graham, R-S.C., blocked the legislation until
the administration could come up with a plan to protect US textile interests. The answer was the
monitoring program, which the industry sees, in addition to dealing with Vietnam, as a potential
replacement for the China safeguards program that expires Jan. 1, 2009. Although the Department of
Commerces (DOCs) data collection is just getting underway, the Washington-based National Retail
Federation says it already is having a chilling effect on Vietnamese trade.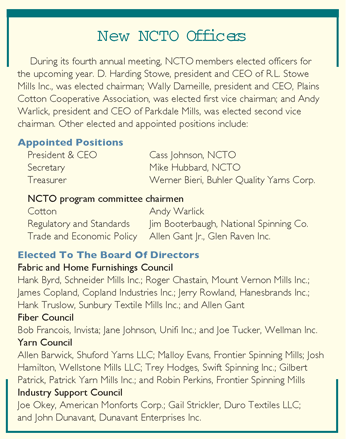 Free Trade Agreements


Although the Bush administration has negotiated more than two dozen free trade
agreements (FTAs), the textile industry was not happy with some of them because they have
provisions that extend benefits of the agreements to non-participating countries and likely will
encourage illegal transshipments. McKissick said three of the most recently negotiated trade
agreements with Peru, Colombia and Panama are "the best we have ever had." They include a
yarn-forward rule of origin, no tariff preference levels (TPLs) that allow a given amount of inputs
from non-participating countries, and strong Customs enforcement. An agreement with South Korea has
a yarn-forward rule of origin, no TPLs and solid Customs enforcement; and it includes a safeguard
mechanism to prevent disruption of the US market.

China


NCTO members are pleased with the US governments recent actions designed to
attack the trade deficit with China. On March 30, the DOC announced an historic reversal of policy
and said for the first time it is going to use the countervailing duty (CVD) law against imports
from a non-market economy. The first case involves coated paper imports from China, but David
Spooner, assistant secretary of commerce for import administration, has said the law could be
applied to other illegally subsidized imports. NCTO officials believe the door has been opened for
cases involving textile and apparel imports, which they contend are heavily subsidized by China. In
addition, this tool could be used to address problems resulting from the 2009 removal of import
quotas.
More than a dozen bills regarding China trade are before Congress, and a number of
hearings already have been held. McKissick said NCTO is strongly supporting the Fair Currency Act
sponsored by Reps. Duncan Hunter, R-Calif., and Tim Ryan, D-Ohio, in the House; and Sens. Jim
Bunning, R-Ky., and Debbie Stabenow, D-Mich., in the Senate. It would declare currency manipulation
an illegal trade practice subject to the anti-subsidy CVD law.
The industrys continuing concern over Chinese imports is underscored by a NCTO
report that says China currently has 30 percent of the US apparel market even with quotas remaining
on a number of major, sensitive apparel product categories. The report states that when quotas are
removed, that figure could rapidly increase.
A presentation at the NCTO meeting by George Stalk Jr. of the Boston Consulting
Group shed an interesting light on the surge in Chinese trade. An analysis by that group shows the
infrastructure supporting ocean freight is struggling, and "there is a looming shortage, even a
crisis, in the infrastructure to move goods from Asia to the United States." This, he said, is
creating serious delivery problems for importers. Stalk said necessary new capacity is not being
built at major ports and that "every aspect of the supply chain is stretched to the point it is
becoming overwhelmed." He said the problem is not confined to ports, but also involves railroads
and highways. The result is disruption and delays of deliveries, and some importers may seek
sources closer to home. After hearing Stalks report, McKissick remarked, "That is the best bad news
I have heard in a long time."

Congress


McKissick sees "a whole new landscape in Congress" as a result of last Novembers
election. He noted that 36 "free traders" were replaced by "fair traders," and this could result in
changes in policy that will be more beneficial to domestic manufacturers. He believes the Vietnam
monitoring program, the more favorable FTAs and the administrations concern over China are
indications the industrys voice is being heard on Capitol Hill and throughout the administration.
He credits some of this to NCTOs "Hill to the Mill program" launched last year, which brought
elected officials into the mills to see firsthand a "world-class industry" making every effort to
compete in the global economy. As the meeting adjourned, NCTO members fanned out across the Capitol
to shore up their relations with members of Congress, who in the next few months will be dealing
with a number of issues of vital importance to textile manufacturers.
---

May/June 2007