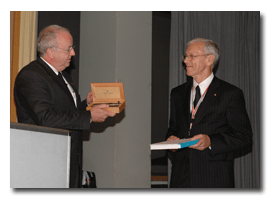 Erich Essig (right) presents his new book, "Mubook Vol.2," to Christian Kuoni, CEO, Jakob
Muller.



J
akob Müller AG recently held its annual Narrow Fabric Days 2006 at its headquarters in
Frick, Switzerland. The event included a presentation of Müller's manufacturing site, the grand
opening of the Jakob Müller Museum, and the sixth Narrow Fabrics Conference, titled "The
Value-Added Chain in the Narrow Fabrics Industry."
Approximately 300 attendees from 49 countries around the globe participated in this meeting
of specialists involved in everything from research to manufacturing in the narrow fabrics field.
The conference featured 11 experts who presented information on a range of topics including
value-added management, intelligent products and raw materials. Developments and future potential
for developments over the next decade in the narrow fabrics industry also were highlighted.
State-of-the-art machinery, including new machines from every segment, was presented from
Müller's complete range — from production through finishing and making up. The NF…ds uses brand-new
technology to produce velvet ribbons with pile on both sides. Other machines on display included
the NF80 2/310, used to make elastic and non-elastic products; the MDR42 M24, featuring an
electronic picot device and electronic warp guide bars; and the latest-generation LCFR2
label-cutting and -folding machines.
The company also used the opportunity to officially open the Jakob Müller Museum. The
facility features 51 exhibits including machinery used in the manufacture of ribbons and related
products over the past 200 years. During the opening ceremony, Christian Kuoni, CEO, Müller, not
only looked back over the company's 120-year history, but also gave an optimistic outlook for this
segment of the textile industry, with its enormous potential as it expands to new applications. A
review of the development of the narrow fabrics industry and the evolution of the machinery was
presented by Professor Urs Meyer, ETH Zürich. In addition, Erich Essig presented his new book on
the production of narrow fabrics — "Mübook, Vol. 2, Narrow Fabric Needle Loom Technology." The book
features three sections focusing on technology, technical calculations and weaving theory.
November/December 2006