W

hile in Bangkok on business this spring, I visited an Indian tailor to have some shirts
made. As I was describing the type of collar I wanted, which has a certain curve, the tailor
interjected, "Oh, you want the Pat Riley!"
Pat Riley is, of course, the successful National Basketball Association coach. He may be a
household name among sports fans in America, but among traditionally dressed Indian tailors in
Bangkok?
Globalization has indeed made the
world a smaller place. This is especially true in the fashion industry, in which the design centers
of Milan, Paris, London and New York City are linked more tightly than ever before with the
production centers of the Far East and Central America. For the aggressive fashion manufacturer or
retailer, never has the potential for profit from building international brands been greater. After
all, malls in Dayton, Ohio, and Singapore all carry the same Ralph Lauren Polo shirt these days.
To cope with the ever-changing demands of the global market, it is imperative that today's
retailers efficiently move trendsetting designs from the studio to the store floor as quickly as
possible. As a result, the ability to manage a finely tuned supply chain becomes a key enabler of
success.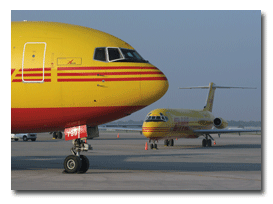 Globalization And Logistics


Every day, manufacturers and
retailers face daunting logistics challenges. As with other industries, government and customs
regulations are always at the forefront. Hot shipments and samples in many instances need to be in
the hands of merchandisers and production staff overnight without fail. Any late delivery or
delayed production at origin, air transit delays, or customs issues at destination can have a
dramatic impact on a merchandiser's ability to present and move product. Time to market is
critical, but time to showroom is often make-or-break for the garment center community. The
industry recognizes that better control of supply chains is the key to being able to meet changing
customer demand at the lowest possible cost, helping companies achieve the overall performance that
will take them to the next level.
Industry members aspiring to global leadership expect their logistics partners to add
significant value, and the bar is constantly rising. To begin with, they recognize the advantages
of having a single entity take responsibility on a global basis for moving goods efficiently from
design to production centers to stores. They seek rapid replenishment, vendor management and other
strategies that will squeeze supply chain costs without jeopardizing delivery commitments. They
seek greater shipment visibility with the assurance that no item on any pallet, or the pallet
itself, is ever simply "missing."
Further, they expect continual innovation so as to maintain and enhance their competitive
positions. Can the vendor conduct consolidation sweeps in which multiple shipments from multiple
factories are consolidated into a reduced number of consignments? How about onsite sample room
management in which the vendor provides all receiving, invoice verification, sorting,
consolidating, documentation and forwarding services? And does the vendor employ multiple
air-transport options, even direct-service aircraft in some cases, designed to move shipments to
market in the most timely and cost-effective manner?
But above all else, the industry expects from its logistics partners flexibility in
responding to everyday issues that can hobble global operations. Needed are quick and imaginative
responses to unforeseen events such as natural disasters, war, or the discovery of wrong addresses
or the wrong number of packages, at either the point of origin or the destination.




Customized Logistics

For Optimized Supply Chain


The trend toward offshore sourcing
can only intensify. Today, China is the world's factory floor, although apparel manufacturing in
India, and to a lesser extent in Vietnam, is on a significant upswing. Also, the passage of the
Central America-Dominican Republic Free Trade Agreement should stimulate activity for certain stock
keeping units manufactured in that region.
Longer supply chains mean more borders to cross and additional complexity. So for the
apparel manufacturer or retailer with global aspirations, particularly those focused on the $250
billion US market, optimizing the supply chain becomes more important than ever. These days, best
logistics practices call for vendors, working collaboratively with their clients, to build their
services around customer needs, not their own systems. Telling clients that exceptions to standard
operating procedures can't be made is no longer considered acceptable, if indeed it ever was.
Winning has always demanded putting the right team on the field. For the truth of that, just
ask Pat Riley.

---
Editor's Note: Thomas E. Hickey is vice president, Fashion and Retail, DHL.