T
he realization that technical textiles will continue to grow as a significant sector of
the US textile industry was at the center of a conference held recently at the North Carolina State
University (NCSU) College of Textiles on the Raleigh, N.C., Centennial campus. The Italian Trade
Commission Seminar, presented by the Italian Trade Commission (ICE) and The Association of Italian
Textile Machinery Manufacturers (ACIMIT) in cooperation with NCSU's College of Textiles and the
Nonwovens Cooperative Research Center (NCRC), brought a delegation of Italian machinery
manufacturers face-to-face with members of the technical textiles industry from throughout the
United States.The two-day event featured presentations including the state of the US industry, the
potential for innovation, tours of the college, an overview of the Italian textile machinery
industry by ACIMIT, and presentations of equipment and technology by Italian machinery companies.
The conference, facilitated by John Hagewood, associate director of the College of Textiles,
opened with welcoming remarks by Blanton Godfrey, dean of the College of Textiles, and Giovanni
Bifulco, trade commissioner in ICE's Atlanta office.
"The American market for textile machinery has undergone some difficult years, but the
numbers show how American manufacturers have been capable of reacting to the crisis that has
overcome the entire textile industry in industrialized nations," said ACIMIT President Paolo Banfi,
who also serves as CEO of Italy-based Comez S.p.A. " American companies have set up restructuring
and concentration programs which have [streamlined] the sector, rendering it also more efficient in
facing international competition. One of the main factors for the recovery of America's textile
industry has certainly been the greater degree of attention paid to market niches with a high
potential for growth — that is, technical textiles and nonwovens," Banfi said.
Mauro Badanelli, ACIMIT economics manager, presented an overview of the Italian textile
machinery industry, which includes approximately 300 companies and more than 23,000 workers. In
2005, Italian textile machinery exports totaled 2 billion euros — 80 percent of the year's total
production of 2.5 billion euros. US companies bought Italian textile equipment worth approximately
82 million euros in 2005. Badanelli said ACIMIT estimates more than 100 of its member companies
have involvement in technical textiles and nonwovens and a steadily growing turnover, currently 5
to 10 percent of the total turnover.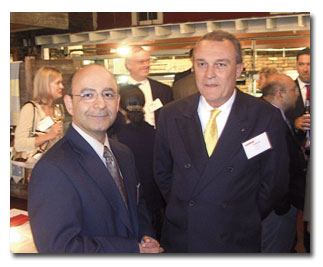 Behnam Pourdeyhimi, Ph.D., NCSU College of Textiles associate dean for industry research
and extension, William A. Klopman Distinguished Professor and director, NCRC (left); with ACIMIT
Chairman Paolo Banfi. Banfi also is CEO of Italy-based Comez S.p.A.
Machinery Companies Featured
Comez, a manufacturer of needlelooms, crochet knitting machines and double-needlebed
warp-knitting machines, presented solutions for technical narrow fabrics. Comez technology assists
in making a wide variety of webbings and nettings as well as 3-D designs that have been used in
markets such as automotive, sports equipment, agriculture and medical applications.
Cormatex S.r.l. has a history of making carding machinery for the woolen and worsted
industries. Coming under new management in 1978, the company diversified to include a full range of
nonwovens technology from bale breakers, openers, feeders, cards and crosslappers to slitters,
winders and proprietary software.
Nuova ROJ Electrotex S.r.l., a well-known supplier of weft feeders for knitting and weaving
applications, is focused on opportunities in technical weaving. Glass, carbon, Kevlar®, polyester,
polypropylene and nylon yarns all place special demands on the equipment, and ROJ has developed
feeders for these technical materials.
OMMI S.p.A. designs and produces opening and blending plants. With almost 1,000 plants
worldwide and more than 40 years of experience, OMMI makes both batch and continuous systems.
PLM Impianti S.r.l. offers measuring, inspection, winding and packing technologies. The
company also supplies transportation and automation systems for the inspection and shipping areas
of the plant.
Well-known weaving machine manufacturer Smit S.p.A. presented the common platform strategy
for its rapier machine for flat fabrics, air-jet for flat fabrics, rapier for terry fabrics and
rapier for technical fabrics. The GS900 rapier weaving machines for technical fabrics and air-bag
production were reviewed.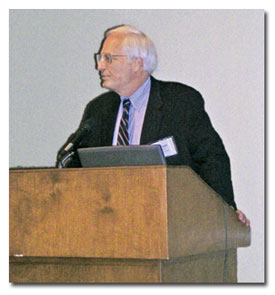 Blanton Godfrey, dean of NCSU's College of Textiles

Room For Growth And Innovation

Edward Gregor of Charlotte-based Edward C. Gregor & Associates LLC touched on emerging
innovations in technical textiles, as well as providing some sense of scope of the current market.
Pointing to data from David Rigby and Associates, Gregor noted the global industrial textiles
market in 2005 was estimated at $72 billion. The Americas are estimated as a $21 billion market;
Europe, $19 billion; and Asia, $27 billion; with the rest of the world accounting for $5 billion.
Gregor also pointed to gross profit margins of successful industrial textile companies in the 25-
to 30-percent range. Regarding nonwoven market sizes in North America, Gregor cited Association of
the Nonwovens Fabric Industry data for 2005 that concluded the largest market in dollar terms was
filtration, at $713 million. Hygiene, at $703 million; medical/surgical, $570 million; and wipes,
$503 million, rounded out the top tier. The furnishings, automotive and flooring/carpet markets
were each estimated at approximately $200 million.
Behnam Pourdeyhimi, Ph.D., NCSU College of Textiles associate dean for industry research and
extension, William A. Klopman Distinguished Professor and director, NCRC, provided a nonwovens
overview. Pourdeyhimi noted the US nonwovens industry is estimated to include more than 550 firms
that employ more than 160,000 people. He characterized the typical firm as fairly small with median
employment of 75 people and annual sales of $7.5 million. Pourdeyhimi showed a wide variety of
products being produced and also discussed the projected life cycles of various nonwoven
manufacturing methods.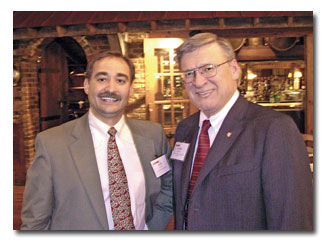 Alex Mussa, assistant trade commissioner, ICE (left); with James Zuiches, NCSU vice
chancellor for extension, engagement and economic development

NCSU Shines

The College of Textiles was open for laboratory tours conducted by university professors. NCSU
continues to grow and invest in textile research as well as in the education of graduate and
post-graduate students.
NCRC was established in 1991 as a partnership between NCSU and nonwovens and allied
industries suppliers. Funding was provided by the National Science Foundation and the State of
North Carolina. The facility's value is estimated to exceed $15 million.

July/August 2006