M

aterial World again will bring sewn products manufacturers and suppliers together Tuesday
through Thursday, April 4-6, 2006, at the Miami Beach Convention Center, Miami Beach, Fla., for its
eighth sourcing exposition in seven years in the Miami area.
As it has every spring since 2003, Material World Miami Beach will collocate with Technology
Solutions, a conference and exposition presenting information technology (IT) to enable the sewn
products industry. Both events are produced and managed by Urban Expositions, Marietta, Ga.;
sponsored by the American Apparel and Footwear Association (AAFA), Arlington, Va.; and endorsed by
the American Apparel Producers' Network (AAPN), Atlanta, and the National Textile Association,
Boston.
Material World endorsers also include the Textile Distributors Association, New York City.
Material World will showcase sewn products contractors and manufacturers; apparel and home
furnishings fabric; trim; yarn; components; full-package providers; and freight forwarding,
financial, color and trend, and forecasting services; as well as publications, associations and
educational institutions. Attendees will include company leaders, sourcing and product development
executives, IT personnel, logistics and supply-chain service providers, and contractors from
throughout the sewn-products supply chain.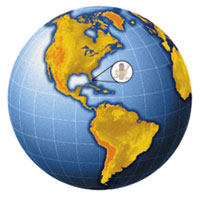 Material World and Technology
Solutions are expected to draw 400 exhibitors from more than 25 countries, largely from the Western
Hemisphere. Textile and trade promotion organizations from countries including Costa Rica,
Nicaragua, the Dominican Republic, Colombia, Peru, Guatemala, El Salvador and Honduras will host
pavilions to present sourcing opportunities in those countries. Another pavilion will promote
products and services offered by Asian countries. A special AAPN Aisle will host a group of AAPN's
expected 50 member exhibitors.

Miami has long been considered an
important trading hub — its spokes radiating out to every market in the Western Hemisphere and
beyond. This central location makes it attractive as the perennial site for Material World's spring
edition, which alternates with a fall show in New York City — scheduled this year to be held
September 26-28 at the Jacob K. Javits Convention Center — that draws a significant contingent of
European and Asian participants.
"The Miami Beach show was the original Material World, and this year's edition is heading
towards being the largest so far," said Tim von Gal, executive vice president, Urban Expositions. "
The show continues to grow and has a strong appeal to companies in the Americas and the Caribbean,
but it also is beginning to get a great deal of attention from Asia."

Educational Programs


A full schedule of educational
programs will accompany Material World and Technology Solutions.
On Tuesday morning, the Material World Headliner Breakfast Program, AAFA's Executive
Sourcing Summit — sponsored by American & Efird Inc., Mt. Holly, N.C.; and SAP America Inc.,
Newtown Square, Pa. — will feature an executive panel comprised of Wilbur Ross, chairman and CEO,
WL Ross & Co. LLC, New York City, and chairman, International Textile Group, Greensboro, N.C.;
Henry Tan, president and CEO, Luen Thai Holdings Ltd., Hong Kong; Tom Travis, managing partner,
Sandler, Travis & Rosenberg PA, Miami; and Bob Zane, senior vice president, Liz Claiborne Inc.,
New York City. Kevin M. Burke, president and CEO, AAFA, will moderate the program, which will cover
future global sourcing and regulatory developments, managing business under the latest US-China
textile trade agreement, short- and long-term growth strategies, possibilities for duty relief,
counterfeiting and other topics. Admission to this program is $100 for advance registration or $150
on-site.
Logistics will be in the spotlight on Wednesday morning, when AAFA's Supplier & Resource
Division will present "When Logistics Goes Strategic! Advanced Practices in Enterprise Logistics."
Rick Ludolph, president, Productive Solutions LLC, Los Angeles, will moderate the program, which
will use case studies to show how businesses can integrate logistics activities throughout their
operations to improve global product delivery to the point of consumption, highlighting the use of
technology to reduce costs and increase flexibility related to transportation, distribution,
compliance and finance. Admission is $50 in advance or $75 on-site.
Steve Lamar, senior vice president, AAFA, will moderate two discussions offered as part of
Material World's line-up: On Wednesday afternoon, AAFA will present "Managing Restricted Substances
Lists," with input from industry and testing experts about staying abreast of governmental,
regulatory agency and customer requirements related to potentially harmful substances.
On Thursday morning, AAFA and Cotton Incorporated, Cary, N.C., will present "What a
Cotton-Picking Mess!" — a discussion of issues related to US subsidies paid to domestic cotton
growers and solutions to problems caused by any future changes in the cotton program. Admission for
each program is $50 in advance or $75 on-site.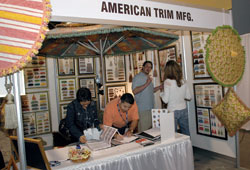 Fabric, trim and yarn will be among productsand services presented at Material
World.

To round out Material World's
educational programs, Cotton Incorporated; Pantone Inc., Carlstadt, N.J.; and Promostyl, Paris,
variously will present fashion trend and color forecasts. These programs will be free.
Other Material World offerings include the Home Furnishings Showcase and the Spring/Summer
2007 Color/Trend Pavilion. The trend pavilion is organized with cooperation from WGSN-Worth Global
Style Network, London.
Technology Solutions programs will include free-of-charge vendor-sponsored presentations,
case studies and other programs that will highlight IT solutions for sourcing, enterprise resource
planning logistics management and other operations. Presenters include Business Management Systems
Inc., Fair Lawn, N.J., and OptiTex™ USA, New York City; Computer Generated Solutions Inc., New York
City; Geac Computer Corp. Ltd., Waltham, Mass.; Gerber Technology, Tolland, Conn.; Jomar Softcorp
International Inc., Canada; Lectra, Paris; New Generation Computing, Miami Lakes, Fla.; PTC,
Needham, Mass.; and TUKATECH Inc., Los Angeles.
"With the continued expansion of global operations and changing manufacturing sectors,
technology plays one of the pivotal roles in a successful supply chain," said AAFA's Burke. "
Through Technology Solutions, we are providing an important venue for industry decision makers to
interface with state-of-the-art resources through programming and the exhibition …."

All About Networking


"Material World has proven to be one
of the most important networking events in our industry," said Sue Strickland, executive director,
AAPN, which was the first apparel organization to endorse the show, in 2001.
AAPN's Sourcing Executive Roundtable and Reception on Monday, April 3, at Casa Casuarina in
Miami Beach will provide networking opportunities for AAPN members and invited sourcing executives
from brands and private label retailers. "Our Sourcing Executive Roundtable each year gives us a
year's worth of work leading to the next," said Mike Todaro, AAPN's managing director, touting
Material World as "the ultimate event for hundreds of our members."

For more information about Material World and Technology Solutions, contact (800) 318-2238
or (678) 285-3976; Material World: inquiry@material-world.com,
www.material-world.com; Technology
Solutions: info@techsolutionsexpo.com,
www.techsolutionsexpo.com.
---
March/April 2006