I

n typical ambulatory style, the general population walks across a variety of floor
covering products each day without giving a passing thought to what's underfoot – a finely
burnished hardwood floor in a neighbor's dining room. A rather shaggy rug left over from the 70s at
Grandmother's house. How bout the rather nondescript carpet that covers every inch of the typical
office floor? Several floor covering companies in recent months have introduced new product lines
that promise to put some color and pattern back under your feet, as well as add stain-lifting,
antimicrobial and environmentally friendly properties.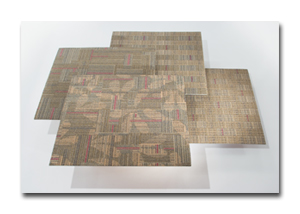 Creating A Vibe


Interior designers looking for a way to jazz up certain carpet designs need look no further
than the new Color Vibe process from LaGrange, Ga.-based Milliken Carpet. The process offers what
the company calls high-energy accent colors such as raspberry, sunshine, ruby, sky, mango, emerald,
violet, aqua and indigo that can be added to existing Milliken carpet patterns for that certain
spark – sure to get the attention of any walker-by.
"Color Vibe allows designers to further customize the floor without spending time and money
on a customs process," said Alison Kitchingman, director of marketing, Milliken Carpet.
Milliken Carpet's Remix collection features the company's color vibe process by which an
accent color of choice may be added to carpets found in the Remix of Step Out collections.
The Remix and Step Out carpet collections from Milliken feature the Color Vibe customization
process. Their base color treatments include neutral grays, beiges and olives, and blues and
greens.
Step Out includes patterns that give a contemporary feel to elliptical loops and Pop Art
dots, as well as bubbles and fizz designs, all overlaid on a funky grid work, according to the
company. The group features five patterns, each in five colors.
Remix patterns display basket weaves, organic botanical and sisal-inspired pinstripes. The
group features four patterns, each in 16 colors.
Colors in the two collections can be specified as is or remixed to include the Color Vibe
accent color of choice.

Taking Upholstery

Fabrics In A New Direction

Quaker Fabric Corp., Fall River, Mass., reports its new sueded velvet collection of
furniture upholstery fabrics offers customers a smart, environmentally friendly alternative to
microdenier faux suede, while also delivering enhanced color and pattern design, softer hand, and
superior performance.
The collection features plaids, contemporary geometrics and coordinated plain and jacquard
stripes all manufactured without releasing toxic effluent into the environment.
"We decided sueded velvet was the best way of capturing the velvety soft hand and the rich
sumptuous look of these fabrics, and that's how they got their name," said Larry A. Liebenow,
president and CEO. "These products come with the service and quality advantages only a US-based
fabric manufacturer can offer the color consistency that flows from the use of pigmented yarns the
performance characteristics inherent in all of Quakers Ultra fabrics – stain resistance, durability
and cleanability."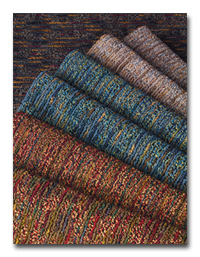 Think Luxury


The Kennesaw, Ga.-based Mohawk Group recently introduced a number of new carpet collections
across a range of brands all devoted to luxury in the contract design market.
"Luxury increasingly is emerging as a trend in contract design, and all of our brands –
Karastan Contract, Durkan Commercial, Mohawk Commercial and Bigelow Commercial – are responding to
it," said Tom Lape, president. "Our newest designs reflect the upscale qualities and
characteristics that help to define luxury, yet they still are practical and purposeful for
commercial applications."
Karastan Contract brought in architect Shashi Caan to design a line of woven carpets that
combine the 3D elements of traditional hard-surface architectural elements such as concrete, rebar,
steel girders and undulating glass with soft floor coverings. The resultant Translations line
contains four patterns Glass Lines, Gridded Steel, Molten Weave and Ribbed Concrete created with a
new yarn system and a re-engineering of the company's looms. Yarns are made from Invista Antron®
enhanced polymer nylon 6,6 skein-dyeable metallic fibers, which impart a high-luster effect. Pile
heights on existing looms were reset to unconventional measures in order to create the 3D effects.
The color palette includes flat neutral tones, sea glass blues and greens, and steely grays
all reflective of the architectural surfaces they are based upon.
Probable end-uses for the Translations line include retail, public and corporate spaces.
Karastan Contract continues its theme of luxury with Chenille Concepts, a woven floor
covering product that takes the look of chenille textiles found in upholstery and applies it to
floor surfaces. The cut pile of space-dyed yarns imparts linear patterns and multicolor tonal
effects. Shown in 13 colors, the new line is able to effectively conceal wear, stains and soil,
according to the company. The collection is a suitable coordinate with Mohawk's Brocatelle
collection – a classic loop cut small-scale grid pattern available in 21 color options.
Durkan Commercial echoes this same theme of all things luxurious, with two new commercial
carpet collections – The Moroccan Series and Etchings.The Moroccan Series features a tufted
construction with a grid-like arrangement of patterned cut and loop texture. The group's four
designs available in 17 colors include: Morocco II, a staggered stripe effect; Agadir, a textured
coordinate; Kenitra, large-scale blocks; and Marrakesh, small-scale blocks.
Mohawk's Ultra Performance System (UPS) – a patented technology that enhances tufted carpet
performance and enables installation flexibility – is incorporated into the carpet construction.
The Etchings collection features a traditional boucltyle enriched with a dimensional, decorative
pattern with subtle tone-on-tone coloring elements. Four patterns – Pin Scribed, Chiseled Edge,
Laser Cut and Etched Weave – are available in 28 colors. The carpet is a precision cut and loop
with a higher percentage of loop to ensure exceptional performance, according to Durkan Commercial.
Bigelow Commercial has put a touch of luxury into its Renaissance collection for the institutional,
retail and corporate environments, among others, that call for a high-end look and feel.Inspired by
chiaroscuro a Renaissance painting technique based on light and shadow interaction the three
patterns in the collection are made of a patterned and loop tufted construction that features a new
proprietary yarn that imparts a shiny effect and the suggestion of shadowy contrasts.
The Fab and Wow paired collection, just as its name implies, delivers a high level of visual
interest and textural effect just what a pair of feet might want to experience as they traverse a
carpeted space. Available in 12 colorways, the collection combines yarns in a range of sizes in
weaves that appear to be overlaid with color fields. Pebbled color and accent tones enhance the
geometric motif.
Mohawk Commercial now offers three new patterns with its Initiative carpet tile collection,
in which very long strands of color repeat and reverse throughout the length and the width of the
tiles, which can be arranged in any configuration.
Pattern choices include Too Fresh, with the look of an abstract non-directional grid; A2Z,
inspired by the look of Art Deco fabrics; and Brain Box, featuring unique swirls with geometric
suggestions. Each pattern is available in nine colorways, each containing seven colors. The new
designs also are offered with companion broadlooms, also available in nine colorways, each with
seven individual colors.
The Initiative collection also features UPS technology, as well as UltraSet Modular system
backing a hard tile back structuring that features a high level of resiliency and performance to
ensure against cupping, dishing and doming.Sisal weaves can be seen underfoot in the Rhythm in
Weave woven carpet collection. Inspired Sisal and Fresh Tapestry patterns impart warm, natural
textures through balanced patterns and natural hues. Thirteen colorways are available.
Mohawk Carpet's commercial contract brands feature the theme of luxury in their latest
collections.

Think Environmentally Friendly


While luxury seems to be a predominant theme at Mohawk, the company never veers from its
goal of producing commercial carpet that is at once attractive and environmentally sound.
"While performance issues are at the forefront of our decisions, our challenge is to
understand the ecological impact of every process, to question our assumptions as we search for a
better way, and to ensure that ultimately we are making the right decision for the right reason,"
said Lape.
UPS re is the latest generation of Mohawks UPS technology. According to Mohawk, the new
technology, which is scheduled to be available by the beginning of next year, provides carpets with
the highest level of post-consumer recycled content of any widely available commercial carpeting in
the industry. Recycled materials are integrated directly into the UPS foundation, producing carpet
that has at least 15 percent post-consumer content based on total product weight. The new
technology: increases the lifespan of tufted carpet, reducing the environmental footprint left by
additional cycles of replacement; reduces the need to use natural resources, substituting them with
materials diverted from landfills; can potentially divert more than 8 million pounds of such
materials from landfills just in the first year; and can be recycled and converted into more useful
products for several generations.
---

European Associations Agree To Standardized Floor Covering
Symbols


In an effort to effectively communicate floor covering product attributes and
classifications in an organized and standardized manner, three European associations representing
resilient, textile and laminate floor coverings have agreed on a list of standardized symbols
related to European testing standards.
The European Resilient Flooring Manufacturers Institute and the European Carpet and Rug
Association, both based in Brussels, and the Germany-based European Producers of Laminate Flooring
in cooperation with the European Committee for Standardization, also based in Brussels, have issued
a report that establishes a system of graphic symbols and specifies their use in the marking of the
following: floor panels for loose laying; laminate floor coverings; textile floor coverings
excluding loose-laid mats; and resilient plastic, linoleum, cork or rubber floor coverings
excluding loose-laid mats.More information can be found at
www.floorsymbols.com.



July 2005