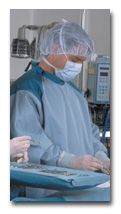 Stedfast Inc., Quebec, manufactures barrier fabrics that protect medical staff and patients
from bacteria and infection.

W
hile many US textile mills and companies have not survived the devastating effects of
what politicians call free trade, the North American specialty textile market remains a bright spot
in this industry for several reasons. Adherence to stringent quality standards, which results in
low product liability, ranks as one of the most critical reasons. Because high liability is a known
risk, steps must be taken to ensure only the highest-quality, defect-free products leave the mill.
The medical and automotive markets are examples of such high-liability sectors.

Medical Textiles

Medical textiles may be divided into two categories: disposable products made of nonwoven
materials; and reusable products made of woven or knitted fabrics.
No matter what these products are made of, they have to perform 100 percent of the time.
Critical medical textile performance properties include:
Barrier properties: Medical staff must be confident they are protected from blood-borne
pathogens. Hydrostatic head testing, usually to AATCC test method (TM) 127, is performed to ensure
this critical property is maintained.
Breathability: A balance between barrier properties and fabric breathability must be achieved.
Therefore, the fabric must comply not only with AATCC TM 127, but also with the ASTM D 737 Air
Permeability standard.
Durability: Linting and fiber loss through abrasion of surgical gowns and drapes is a major
concern for both patient and caregiver. Two of the most common methods used to check this property
are Gelbo Flex Testing to ISO 9073-10 and the Modified Martindale test standard, similar to ASTM D
4966.

Automotive Textiles

The applications for automotive textiles are vast, as is the liability of providing these
products to the industry. One product in particular brings a high level of liability – the airbag.
Imagine the consequences of a failed airbag due to defective fabric or bag construction. No matter
who the manufacturer of the car is, the liability of a safety recall or class action lawsuit could
be astronomical. Therefore, stringent testing and quality control are required, from the yarn used
in the construction of the fabric through to the sewn seams. Critical parameters of airbag fabric
include:
tensile strength (breaking force) and elongation of yarns used to weave the fabric;
tensile strength of the fabric;
fabric construction thread count and area weight;
air permeability of the fabric typically, both static air permeability (ASTM D 737) and dynamic
air permeability (ASTM D 6476) are tested; and
seam slippage in the sewn bag.
April 2005