F
ollowing are some of the most recent developments in the field of weaving machines and
accessories, destined to increase weaving mill productivity, while at the same time achieving
significant savings in labor and energy.

Dornier

Lindauer Dornier GmbH, Germany, used this year's International Textile Machinery Trade Fair
(ITMEX Americas) 2005 in Sao Paulo, Brazil, as a platform to emphasize its drive in technological
progress. New developments cover the complete weaving machine product line. The new performance
generation of air-jet and rapier weaving machines; and the ServoTerry® machine for terry weaving
are complemented by innovative advances in leno technology with the EasyLeno® weaving machine for
technical and decorative fabrics.
ServoTerry is used in the home textiles sector. Its advantage over existing systems is its
direct drive for terry movement using a servomotor while retaining precise but gentle reed impact.
This allows varying pile weave and adjustable pile heights during operation. The 260-centimeter
(cm)-wide machine is equipped with a Staubli dobby with 16 shafts for the production of three-width
terry bath towels at varying speeds of 540 and 600 revolutions per minute (rpm).
Other developments include the AS air-jet weaving machine, which runs with new, patented
ServoControl® pressure regulation. This minimizes thread load and allows automatic, reproducible
pressure adjustments for yarn lot changes to be made, and ensures higher performance with improved
final fabric quality, according to Dornier.
Another recent development is the AirGuide® patented air cushion guide for Dornier rapier
weaving machines. The linear movement of the rigid rapier rod is ideal for this new system – the
perfect technical solution for contact-free, aerostatics support.
The EasyLeno system for rapier and air-jet weaving machines enables up to 100-percent higher
performance in leno technology, and opens up options for completely new fabric design in the
technical textiles and home furnishings sectors.

Jakob Muller

Jakob Muller AG, Frick, Switzerland, offers weaving machines for the production of patterned
elastic and non-elastic narrow fabrics and lace articles, including satin ribbons and tapes. Its
needle weaving machines include models such as the NF, NG and Varitex V5Ni.
The company has improved the NF model, which now is able to insert up to six weft colors,
substantially increasing weft pattern options. The choice of weft colors is practically unlimited.
Length changes are achieved by electronic single heddle control, programmed and controlled via the
Mudata system.The NG3 model is equipped with a Quick-Style-Change system for reeds, heddles, drop
wires and heddle frames; this option also is offered for the warp frame beam. The NG3 is designed
to provide optimum performance for belts, and non-elastic and elastic fabrics.

Picanol

Picanol NV, Belgium, manufactures several kinds of high-tech weaving machines for different
applications in the textile industry. The OMNIplus air-jet machine for the weaving of staple
fibers, filament, high-twist yarns, elastic yarns, chenille and texturing yarns, among others, uses
up to six colors and different types of fillings.The OMNIplus comes in reed widths of 190, 220,
250, 280, 340, 380 and 400 cm. It can produce fabric rolls 720 millimeters (mm) wide, or up to
1,500 mm wide with Picanol's separate Picanol Batching Motion system for rolling of fabric.
Other advantages include digital adjustments and synchronization of the complete weft insertion
cycle; a separate frame for style change in less than 30 minutes; a high level of weft insertion
performance, allowing more weaving using less air; rapid change of the roll and the warp; low
construction with ergonomic characteristics; and a Sumo main motor for the direct drive of the
machine.

Picanol's OMNI
plus air-jet weaving machine is available in a variety of reed widths.

Promatech-Itema Group

Promatech S.p.A., Italy (formed by the merger of Somet and Vamatex), is a member of the Itema
Group, also based in Italy. It is well known for its line of rapier and air-jet weaving machines,
including models such as the Mythos, Thema Super Excel and Alpha (from Somet); as well as the
Leonardo and K88 (from Vamatex).
The latest developments from Promatech include the high-speed, versatile Mythos Tec air-jet
weaving machine. Recently, the company sold several of these machines to a textile manufacturer in
Brazil.
Promatech's Alpha 3200 negative rapier weaving machine is available with a jacquard machine for
double width for use in upholstery production.
Other weaving machines offered by Promatech include the Alpha 2200, equipped with dobby suitable
for the production of high-quality woolen fabrics; the FTS, which works without using hooks and is
suitable for a variety of applications; and the Leonardo Silver, which is equipped with a rapier
guidance system.

SMIT

SMIT S.p.A., Italy, is an international leader in weaving machine technology, supplying
cutting-edge products and prompt and effective after-sales support.
Numerous weaving machine models have been developed since the company introduced the first
gripper weaving machine. These models include the TS, TP, TTPS, FAST, TerryJet, GS900, JS900, G6300
and G6300F models.
(See "SMIT Solutions,"
www.TextileWorld.com, March 2005).

Staubli

Switzerland-based Staubli AG's range of shedding machines and accessories is extensive and
covers all fields. The range includes cam motions, negative dobbies and rotary dobbies; as well as
high-performance harness motions, quick links and frames. Depending on the type of machine,
mechanical controls by cams or electronic controls are used.
Staubli dobbies are simple and user-friendly. The company offers dobbies adapted to all types of
weaving machines and all weft insertion systems, as well as for the production of all types of
fabrics from basic fabrics to technical fabrics and double-pile fabrics and carpets.
The CX 160 electronic jacquard machine is particularly suitable for personalizing flat fabrics
with written selvages. It may be equipped with up to 96 hooks, enabling great production
flexibility.
The CX 990 is a double-lift jacquard machine used in the production of carpets and velvet
fabrics. It is equipped with the CX modulus (Staubli Patent), which does not require any
maintenance, according to the company.
The Delta automatic drawing-in machine is known throughout the world and has demonstrated its
capability in many diverse applications. One of the main advantages of this system is the
reduction of labor costs owing to automation and rationalization, with great flexibility to adapt
to varying needs of the market.The Topmatic tying machine guarantees maximum efficiency during the
warp change process. The use of all yarn types and optimum tying quality lead to minimum
downtime.Stlis Warplink warp welding device enables the laying-in and start-up weaving of newly
drawn-in or stationary tied warps to be accelerated and simplified. The company reports resultant
time savings at style change may exceed 30 minutes.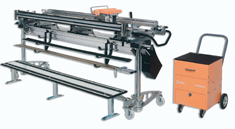 Staubli's Topmatic tying machine helps makethe warp change process more efficient.

Sultex-Itema Group

The Sulzer Textil G6500 from Switzerland-based Sultex Ltd. – another member of the Itema Group –
continues the company's long tradition in rapier technology. With its many innovative features,
this machine stands apart thanks to its performance, gentle handling of warp and weft materials,
compact dimensions and economically efficient production of top-quality fabrics, according to
Sultex.
This new rapier weaving machine already is producing successfully under industrial conditions in
several weaving mills around the world. The machine is offered with several options; its main
characteristics are sturdiness and flexibility.Sultex also offers the G6500 B220 N8/4 SP, a machine
of very high production speed and low vibration levels.The company's newest machine is the L5500
air-jet weaving machine, which it introduced at ITMEX Americas 2005
(See "Sultex Debuts L5500 Air-Jet Machine At ITMEX,"
www.TextileWorld.com, this
issue).

The Sulzer Textil G6500 features compact dimensions, and gentle handling of warp and weft
materials, according to Sultex Ltd.

Toyota

The JAT710 air-jet weaving machine manufactured by Toyota Industries Corp., Japan, was designed
along the same lines as its predecessor, the JAT610, to produce high-quality fabrics at the lowest
possible cost. The machine features such characteristics as a higher speed, reduced vibration and
low energy consumption.
The machine comes equipped with the latest in electronic technology, including a new panel for
the control of colors, and has the capability to be connected to the Internet.The main features of
the JAT710 are: reduced air consumption by up to 20 percent; maximum speed of up to 1,250 rpm due
to a new weft insertion system and new frame structure; and a central processing unit.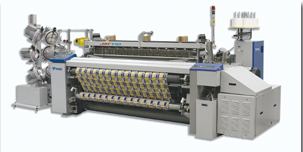 The JAT710 air-jet weaving machine from Toyota Industries may be connected to the
Internet.

Tsudakoma

Tsudakoma Corp., Japan, offers its ZAX-e air-jet machine equipped with an iT control panel. This
panel automatically adjusts several machine functions. The easy-to-use iT panel has a touch-screen
feature with color display interface that automatically adjusts data and diagnoses problems.
New, built-in electromagnetic valves stabilize the air jet and the pressure pulse. New
sub-nozzles contribute to significant savings in energy, even at high operating speeds.

Van de Wiele

NV Michel Van de Wiele, Belgium, a manufacturer of weaving machines for carpets and other
applications, offers new machine models such as the Shaggy Rug eXplorer SRX82; the Carpet and Rug
eXplorer with eight color frames; and a machine for the manufacture of sisal-look carpet with
visible fillings of different colors and cut pile.
March 2005