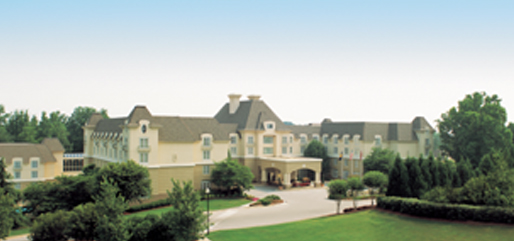 A
fter posting 25-percent growth in total sales in 2004 and posting its best year yet in US
sales, Switzerland-based Datatex AG gathered current and prospective clients at Chateau Elan in
Braselton, Ga., for its first US users group meeting. Jim Noble, director of sales and marketing at
Alpharetta, Ga.-based Datatex-TIS Inc. – the company's US subsidiary – welcomed the attending
companies, which ranged from one of its oldest clients – Swift Textile Inc., Columbus, Ga. –
to one of the newest – Brookwood Co. Inc., New York City. Long Beach, Calif.-based Texollini
traveled the furthest to attend the event.
Datatex offered breakout sessions on information technology (IT) issues, and presented Machine
Queue Management (MQM) a planning and sequencing tool that provides visibility to a shop floor
schedule. The tool provides versatility in how and what it plans, and fits applications across the
textile spectrum. MQM offers manual and automated planning, which can be run with varied rules
creating options for the planner. The focus is on meeting customer dates, maximizing machinery and
labor utilization while minimizing idle time, overtime, step-up delays and lead times. MQM utilizes
user-configured compatibility rules to aid in job-to-job, job-to-resources, job-to-capacity, and
job-to-jobs for grouping issues.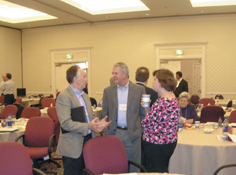 Jim Noble, Datatex, Togar White and Stephanie Bowen, Russell Corp.
Datatex also officially introduced its Network Oriented World (NOW) solution, which is a
browser-based, use-anywhere-at-anytime software. This software offers a new range of flexibility in
a Web-based architecture. The platform independence offered by NOW complies with Java 2 Enterprise
Edition standards, is object-oriented and can be accessed by all browser-enabled devices. According
to the company, NOW features easy integration, a new level of personal productivity, application
flexibility and a host of new functions.
Bill Wilson presented information on the company's MQM solution.
Well-known textile companies such as Wellstone Mills, Greenville; Syntec Industries, Rome, Ga.;
Avondale Mills Inc., Monroe, Ga.; Belton Industries Inc., Belton, S.C.; Milliken and Company,
Spartanburg; Precision Fabrics Group, Greensboro, N.C.; Trio Manufacturing, Forsyth, Ga.; Russell
Corp., Atlanta; and Parkdale Mills, Gastonia, N.C., attended the meeting.
Datatex has four group members: Datatex S.r.l., Italy; Datatex-TIS Inc.; Datatex Ltd., Israel;
and Datatex Automation, Germany. The company had 106 employees including development resources at
the end of 2004.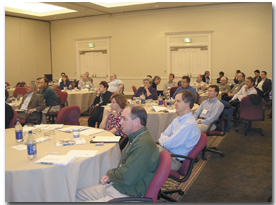 Datatex users attended various sessions to learn about new tools and solutions, and discuss
IT issues.
Datatex CEO Ronnie Hagin spoke of research and development investment reaching 13 percent of
total worldwide sales, with continued investment in software and enhanced modules such as MQM.
Hagin also discussed improved garment functionality, which has garnered international interest from
vertical manufacturers.
"It is our commitment to remain a stable and predictable business partner for our customers,"
Hagin said.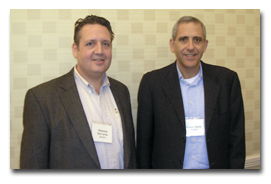 Shannon J. McCarthy (left) and Ronnie Hagin, Datatex
March 2005